Yas Island's latest theme park and mega project was developed by Miral in collaboration with SeaWorld Parks & Entertainment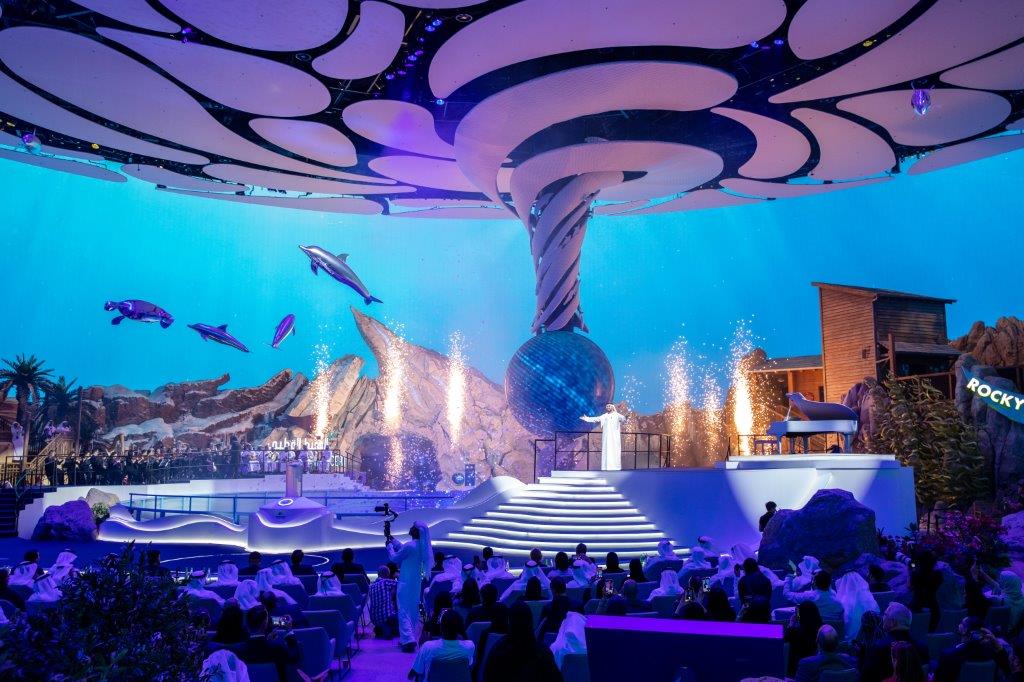 SeaWorld® Yas Island, Abu Dhabi, the region's first Marine Life Theme Park, has officially opened its doors to the public, offering unforgettable experiences and immersive adventures for guests of all ages. The star-studded opening celebrations, which took place on May 22, featured unforgettable performances by Emirati superstar Hussain Al Jassmi, Scottish recording artist Red as well as a sensational orchestra of 120 musicians.
Marking the opening of the next-generation Marine Life Theme Park, the event's captivating opening ceremony featured stunning immersive sound and light shows, which dazzled the crowd. The coveted event was attended by hundreds of special guests and celebrities. The newest theme park on Yas Island, SeaWorld Abu Dhabi was developed by Miral, the leading creator of immersive destinations and experiences, in partnership with SeaWorld® Parks & Entertainment, a leading educational theme park and entertainment company as well as one of the world's foremost zoological organizations.
Kicking off the event, which was held in the One Ocean realm, guests were treated to a special inaugural viewing of SeaWorld Abu Dhabi's One Epic Ocean spectacular. The immersive show features multimedia and state-of-the-art spatial audio, bringing wonders of the ocean to life on an extraordinary 360-degree screen, standing at 15 meters tall and 218 meters wide.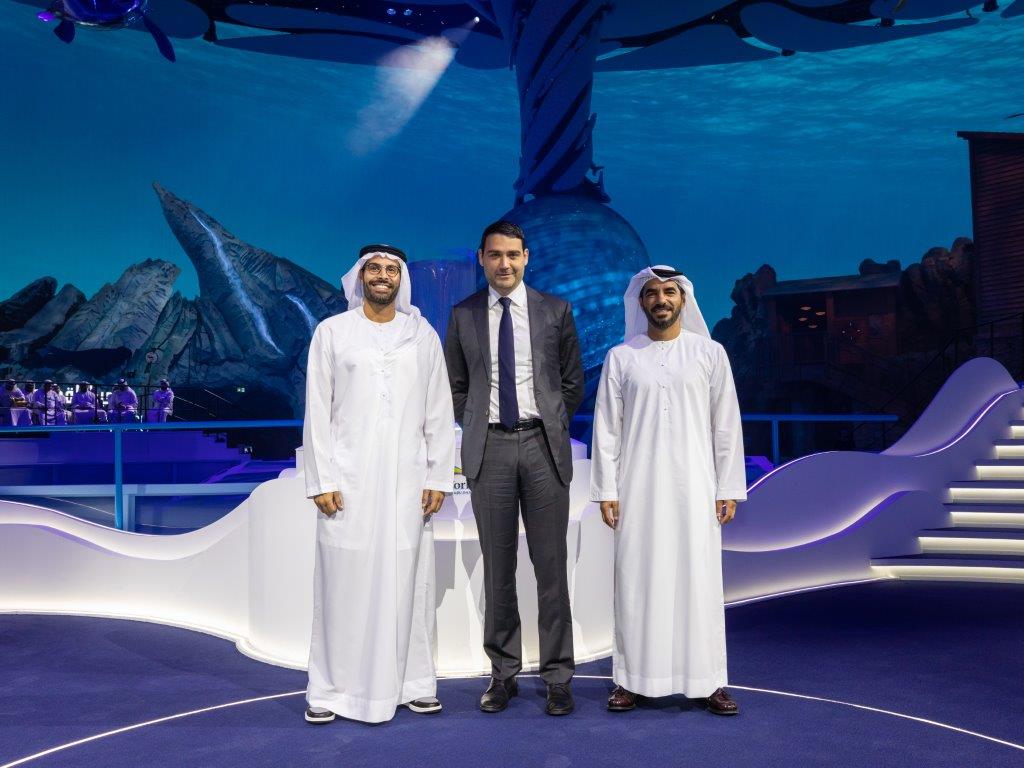 A group of young marine enthusiasts then took to the stage, activating a mesmerizing sound and light display which featured a swirling vortex that lit up the One Ocean globe. Symbolizing the connection between the ocean and all of us and marking the official opening of SeaWorld Abu Dhabi, this moment was a highlight of the majestic event.
Guests in attendance went on to enjoy performances from the orchestra and Red, culminating in a bespoke track dedicated to SeaWorld Abu Dhabi sung by Hussain Al Jassmi. In a stunning finale, a series of silver three-dimensional figures representing marine animals flew across the stage, inviting guests to explore the newly opened park for the first time.
During the event H.E. Mohamed Khalifa Al Mubarak, Chairman of Miral, alongside Scott Ross, Chairman of SeaWorld Parks & Entertainment and Mohamed Abdalla Al Zaabi, Group CEO of Miral welcomed H.E. Dr. Mugheer Khamis Al Khaili, Chairman of the Department of Community Development in addition to other government officials, as well as ambassadors and chargé d'affaires to the UAE from the USA, Japan, Singapore and Belgium among other countries.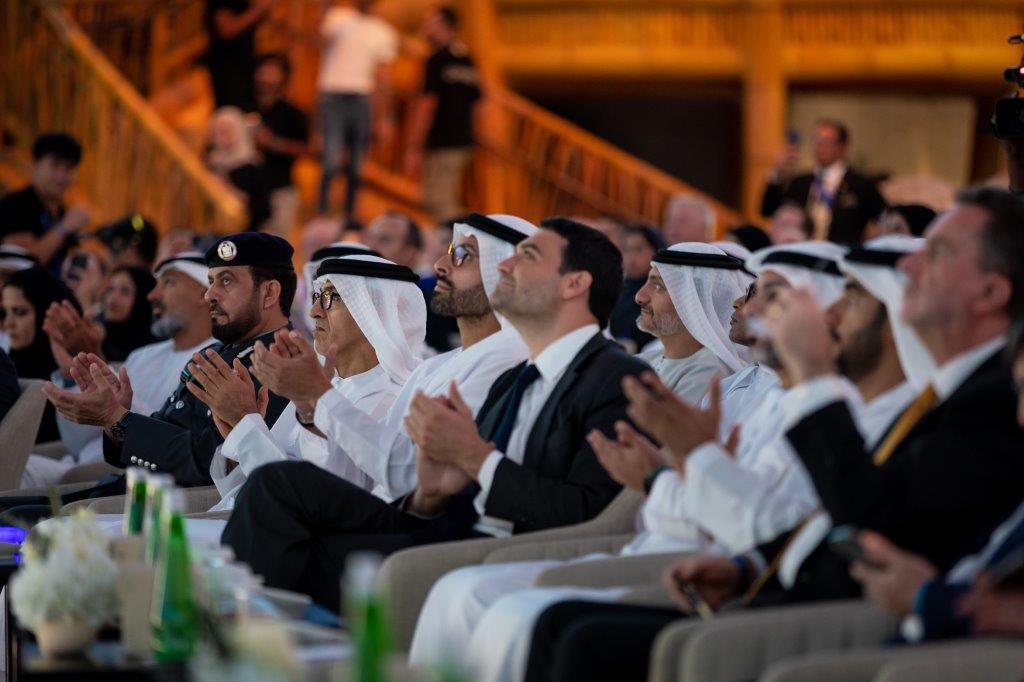 H.E. Mohamed Khalifa Al Mubarak, Chairman of Miral, said: "Today marks a great milestone for Abu Dhabi as we open SeaWorld Yas Island, Abu Dhabi, a landmark attraction that is unparalleled in the region and the world on every level. SeaWorld Abu Dhabi represents the next generation of theme parks, joining the world-class experiences on Yas Island, further positioning it as a top global destination, contributing to the growth of Abu Dhabi's tourism vision.
The Park will also play a key role in promoting environmental awareness and protecting marine life in Abu Dhabi, the UAE and the wider region, undoubtedly inspiring guests to care for and protect our precious marine life for years to come. Together, with our partner, SeaWorld Parks & Entertainment, we are proud to be pushing the limits of science and conservation to create a truly unparalleled knowledge hub, demonstrating our joint commitment to upholding the highest standards of animal care and welfare. We look forward to welcoming guests from around the world to showcase the beauty and wonder of the ocean at this one-of-a-kind park."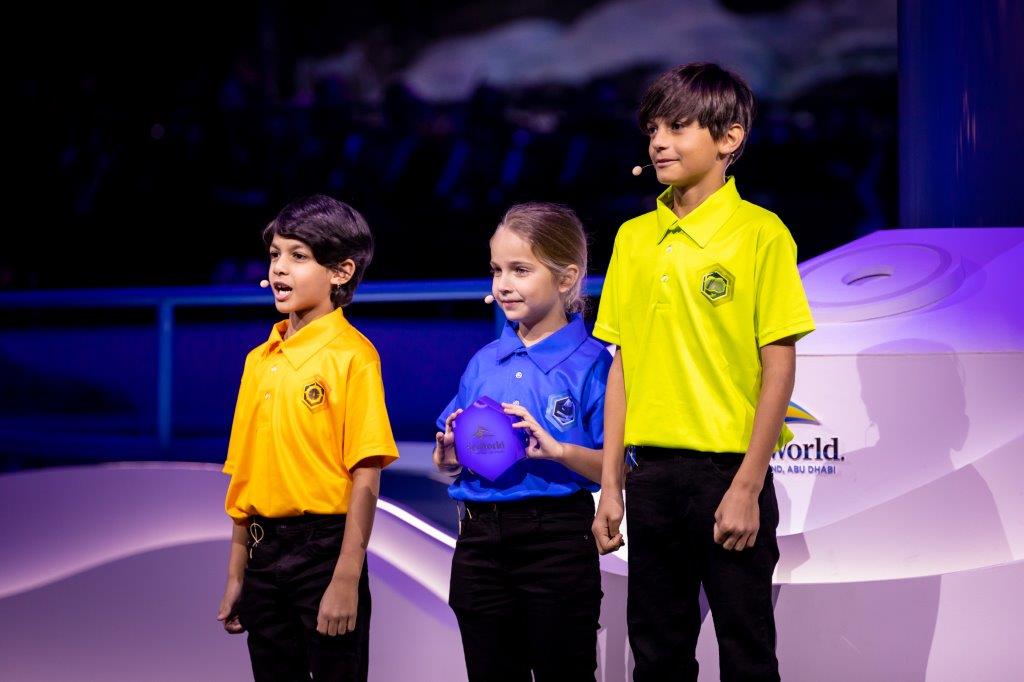 Spanning five indoor levels over 183,000 sqm, the park tells a captivating One Ocean story, taking guests on a journey of discovery seamlessly blending learning and fun across eight immersive realms. At SeaWorld Abu Dhabi, guests of all ages can enjoy unique family-friendly experiences including up-close animal encounters and animal presentations. The park is also home to inspiring entertainment, exciting rides and attractions as well as unmatched dining and shopping experiences.
Scott Ross, Chairman of SeaWorld Parks & Entertainment, said: "As the first SeaWorld park to open outside of the United States, SeaWorld Abu Dhabi marks a significant chapter for SeaWorld Parks & Entertainment.  It is with great privilege we celebrate this highly anticipated opening alongside our valued partners at Miral. T
he extraordinary SeaWorld Abu Dhabi Marine Life Theme Park was born through years of collaboration and innovation, combining SeaWorld's nearly 60 years of experience in animal welfare and commitment to marine conservation with Miral's unprecedented track record as a leading developer of world-class destinations. Together, we have created a state-of-the-art Marine Life Theme Park unlike anything the world has seen to date, truly representing a next generation SeaWorld experience. We have no doubt that guests will be amazed with all that SeaWorld Abu Dhabi has to offer and we are sincerely proud to play our part in inspiring their commitment to marine conservation for years to come."
Each realm at SeaWorld Abu Dhabi is uniquely themed and intricately designed, transporting guests to different marine environments found across the globe. The One Ocean realm acts as the core of the park sharing the One Ocean story through highly immersive media. The realm is also home to the Animal Care Center and houses the portals to the rest of the park, while the Abu Dhabi Ocean realm invites guests to discover the unique marine life of the Arabian Gulf.
At Rocky Point, guests will see sea lions and harbor seals in a hidden cove inspired by the USA's Pacific Northwest. The Tropical Ocean realm features a vibrant and sunny rainforest and a stunning blue lagoon with dolphins, flamingos, fish and birds.
In MicroOcean realm children and families are in for big fun as they explore the microscopic world as plankton and learn that being small can have a big impact.
In Endless Ocean realm guests will marvel at the world's largest multi-species marine life aquarium, featuring over 68,000 marine animals and an astounding 25 million litres of water. I
n the Arctic and Antarctica realms of Polar Ocean, guests will enjoy icy seascapes and learn about the unique habits of polar species.
SeaWorld Abu Dhabi offers 10 up-close animal encounters amongst 100 animal experiences and presentations, where guests can learn about the unique characteristics and behaviours of fascinating marine animals including dolphins, sharks, and sea turtles.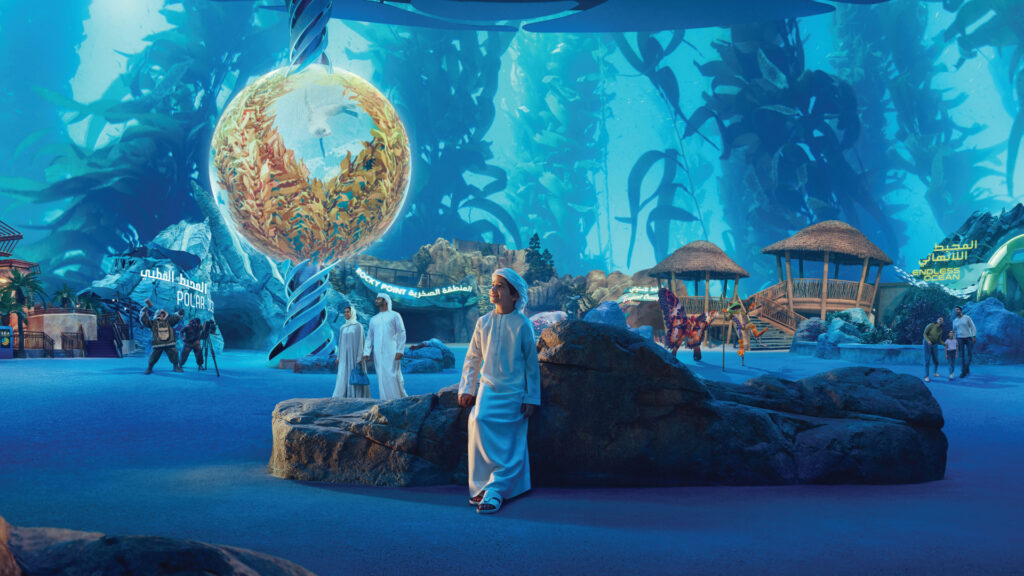 The park is also home to over 15 interactive rides and experiences, each taking guests on a unique journey of discovery beneath the waves. Thrill-seekers can enjoy rides like the Manta Coaster at Tropical Ocean, or hop into the Hypersphere 360o in Polar Ocean's Arctic Realm. Additionally, several family friendly rides await in MicroOcean – there's something for guests of all ages to enjoy at the Marine Life Theme Park.
As guests venture through SeaWorld Abu Dhabi, entertainment is all around with over 20 live characters and performances taking place over the course of each day. Guests can refuel between activities throughout their journey, with 18 different dining experiences to choose from, ranging from quick snacks on-the-go to fine dining options. For those who love to shop, SeaWorld Abu Dhabi is home to 13 retail outlets where guests can find unique souvenirs, gifts and merchandise to commemorate their visit.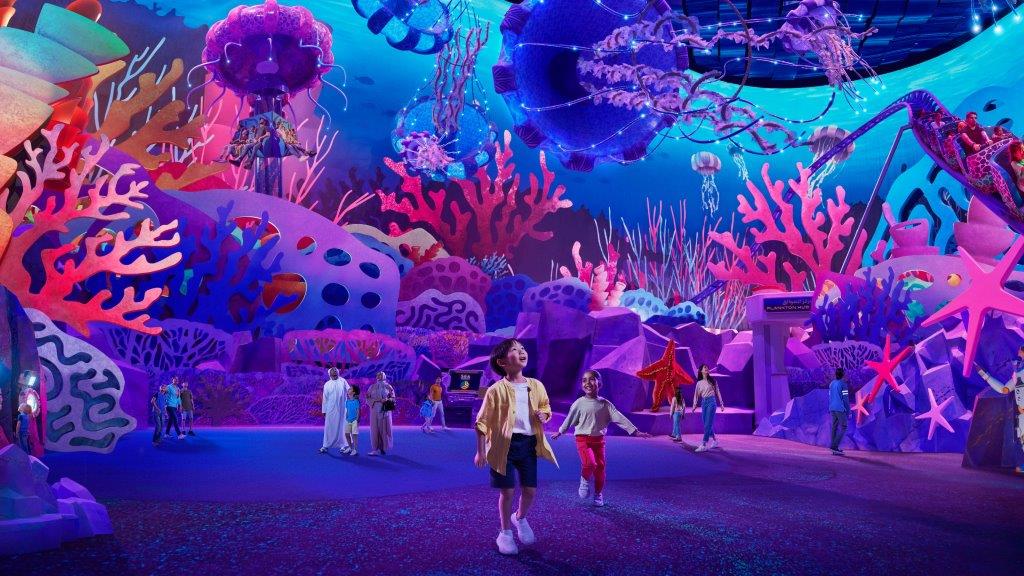 SeaWorld Abu Dhabi has recently announced its certification by Global Humane, the international brand of American Humane and the world's largest certifier of animal welfare. It is the first facility in the MENA region to achieve this certification.
SeaWorld Abu Dhabi is the latest addition to Yas Island's award-winning portfolio of theme parks and attractions, including Warner Bros. World™ Abu Dhabi, Ferrari World Abu Dhabi, Yas Waterworld and CLYMB™ Abu Dhabi. One of the world's fastest growing leisure destinations, Yas Island features some of Abu Dhabi's most iconic entertainment hubs and landmarks.
To purchase tickets and for more information, please visit: www.seaworldabudhabi.com