The Al Wathba regions of Abu Dhabi has a wealth of divers attractions worth a visit.
Situated a mere 40-minute drive away from the Abu Dhabi city, along the Abu Dhabi – Al Ain highway lies the sprawling suburb of Al Wathba.
As part of his plan to develop the city of Abu Dhabi, in the 1980s, the Late Sheikh Zayed invited Sir William Atkins, of the company W.S. Atkins and Partners (Atkins), to plan the development of Abu Dhabi and what would become the satellites cities of Wathba, Shahama and Bani Yas,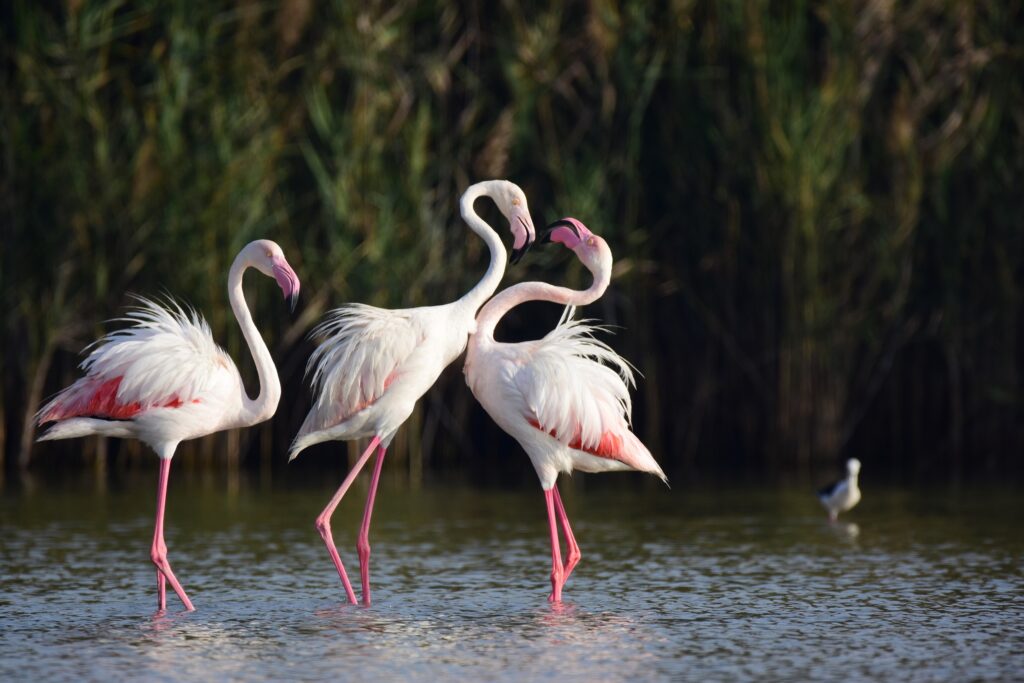 Al Wathba has since developed into quiet a an interesting place not only is it a residential area but is home to a huge variety of interesting places that attract residents and tourists alike.
Not only is Al Wathba a residential suburb but its abundance of diverse natural elements have made if a very special place, here is what Al Wathba has in store.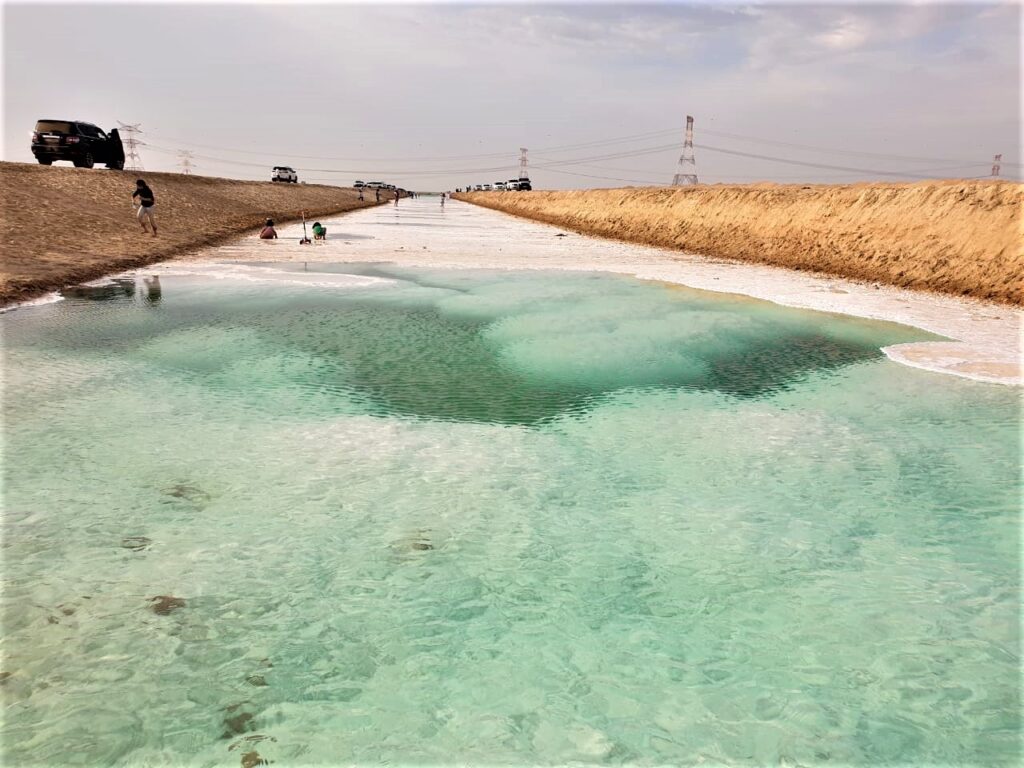 Al Wathba Wetland Reserve
Established by the late Sheikh Zayed bin Sultan Al Nahyan, Al Wathba Wetland Reserve is the first area in the Emirate designated for protection by law and was declared a Ramsar site in 2013.
Once a coastal salt flat (sabkha), it has now flourished into natural and man-made lakes that enable many of Abu Dhabi's wildlife species to thrive.
The reserve is particularly known for its large population of Greater Flamingos – with as many as 4,000 living there during autumn and spring – but also hosts more than 250 species of birds, 37 plant species and a wide range of aquatic life.
There are two self-guided walking trails (1.5 kms or 3 kms) for visitors to explore and a bird-watching hide to observe the flamingos.
It is a great place for families and children to connect with nature. It's rare to see such large numbers of flamingos, making this a particularly exciting trip for children.
There is an air-conditioned visitor centre on-site and shaded areas along the walking trails but remember to stay hydrated and wear a hat and sunscreen.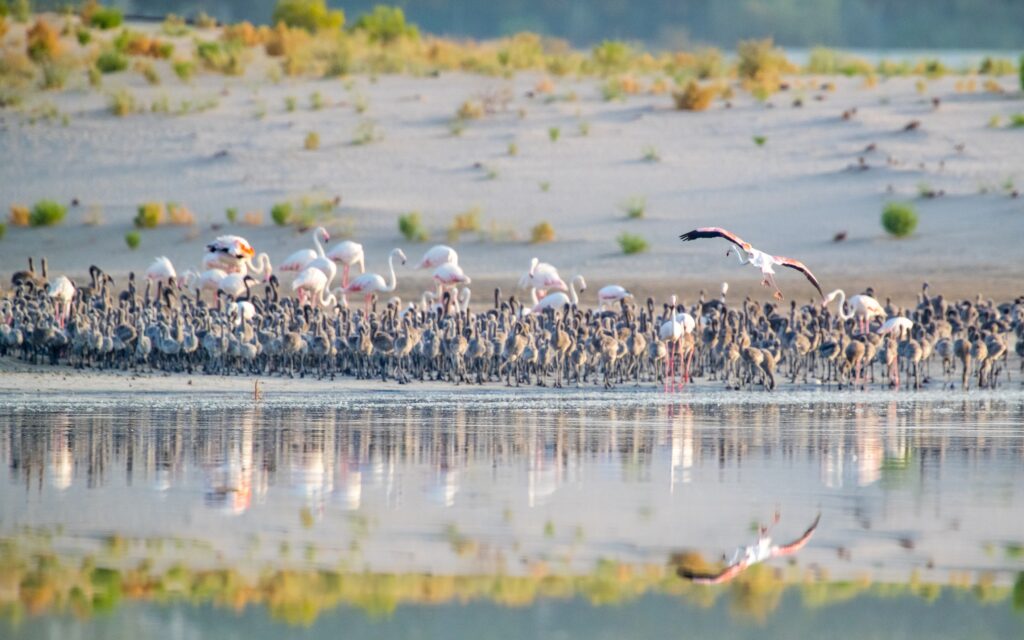 In order to kept the reserve as raw and true to nature as possible there are no cafes available so make sure to bring your own re-usable bottle filled with water.
Read our full article here.
Fossil Dunes of Al Wathba
The stunning Fossil Dunes of the Al Wathba desert are 100% natural landscape formations and were created by a mix of wind, sand and time.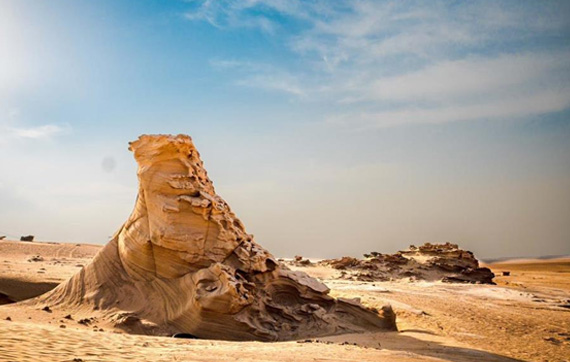 A few million years ago, when the area was covered by water, eroded sediments settled at the bottom of these bodies of water. Over time, the fine-grained sand was covered by other layers of sediment. The layers became compacted and cemented together by different minerals, mostly salt crystals, into stable structures.
The formations got their shape from the interplay of wind strength and sediment supply. These dune patterns are like works of art, each containing its own unique shape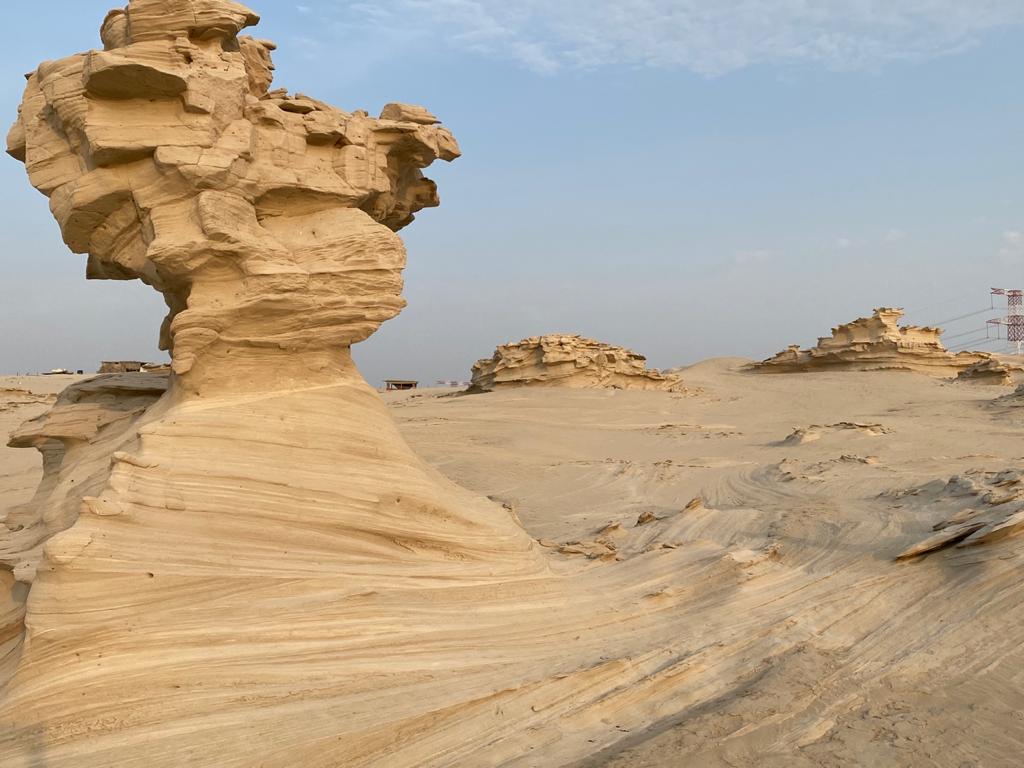 The can be found along a long swath of desert to the right of the Wetland Reserve, just off the Al Ain Truck road. They can be seen all along the area all the away up to the Hameem Road so there are plenty to find.
Although they seem stable, the fossil dunes are fragile and can crack, break and collapse if disturbed.
If you're going to visit please be responsible, look and don't touch, both to preserve these natural wonders and to avoid injury.
Read Full Article here.
Al Wathba Long Salt Lake
Now this is one of the most amazing sights you will ever see in Abu Dhabi and its just up the road form the Fossil Dunes.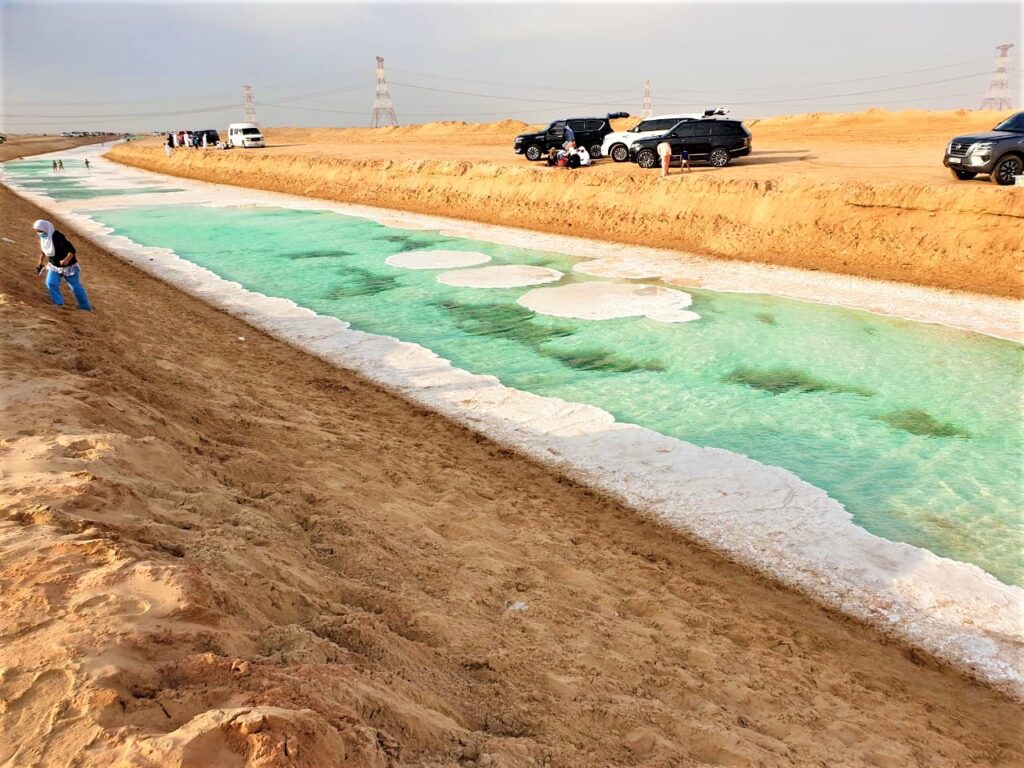 Just off the road, on both sides are these huge man made channels filled with emerald green water completely encrusted in salt that almost looks like a layer of snow along the waters edges.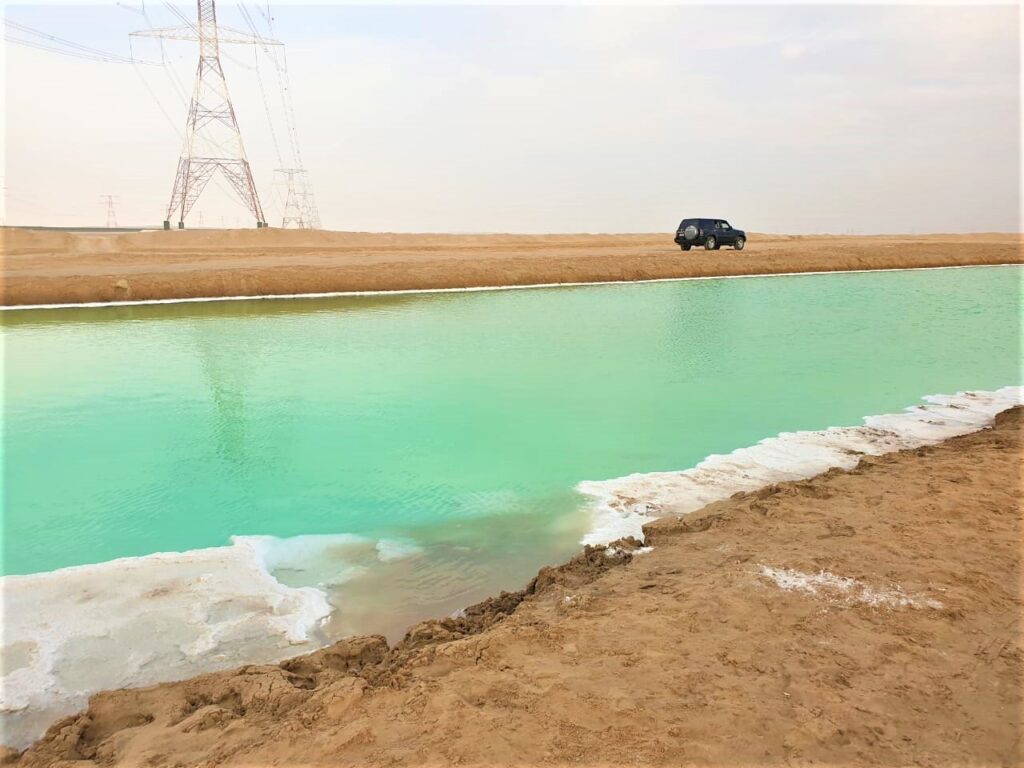 The channel to the left of the road is very short and seems to be a work in progress with water being pumped in which is a sight in itself where it creates a waterfall.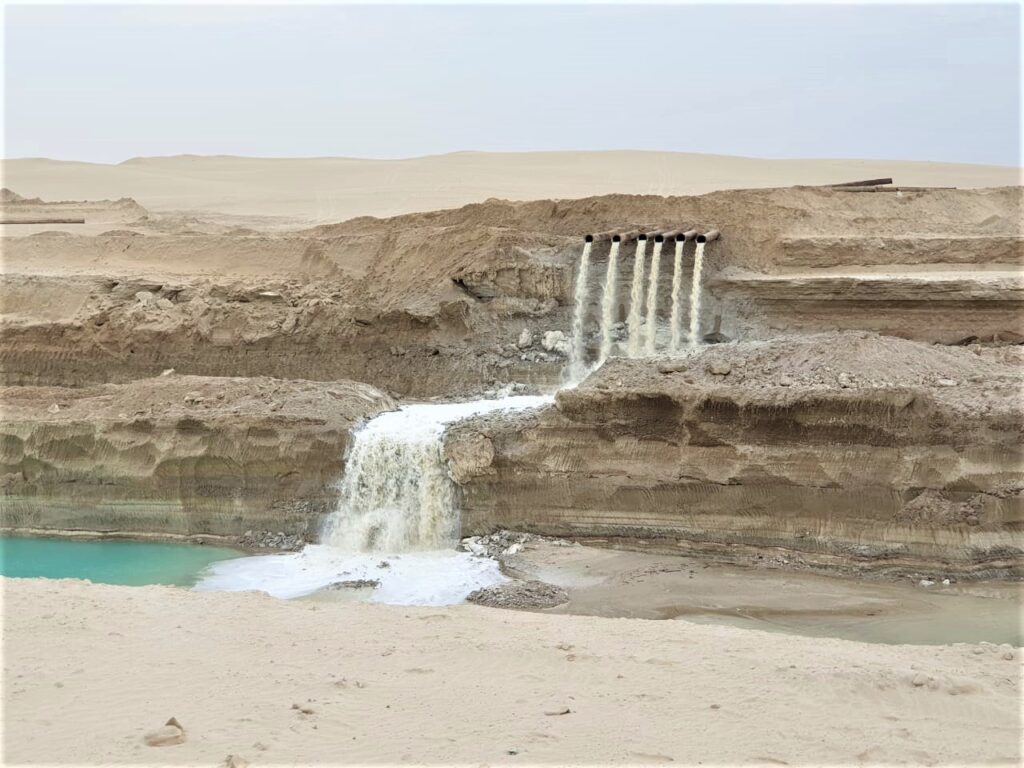 The channel to the right of the road is much longer and as you follow its course you will come to this most spectacular sight that will completely overwhelm your senses.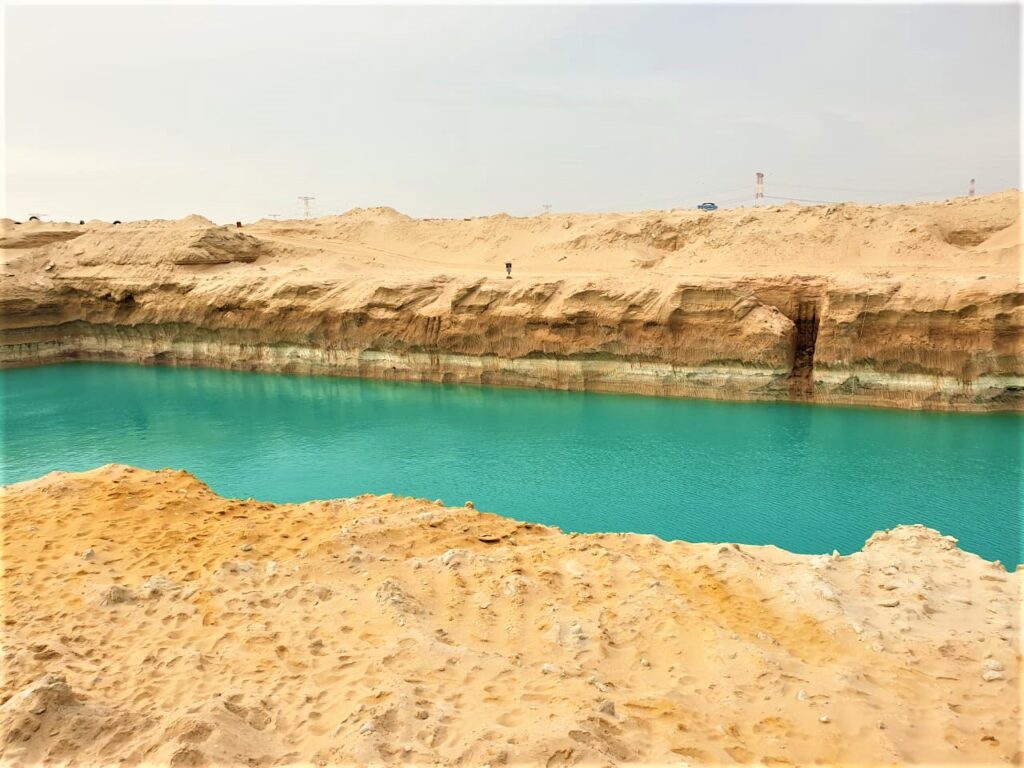 This section has a stretch of green water which has huge salt formations dotted along it forming huge round pads very much like salt mushrooms.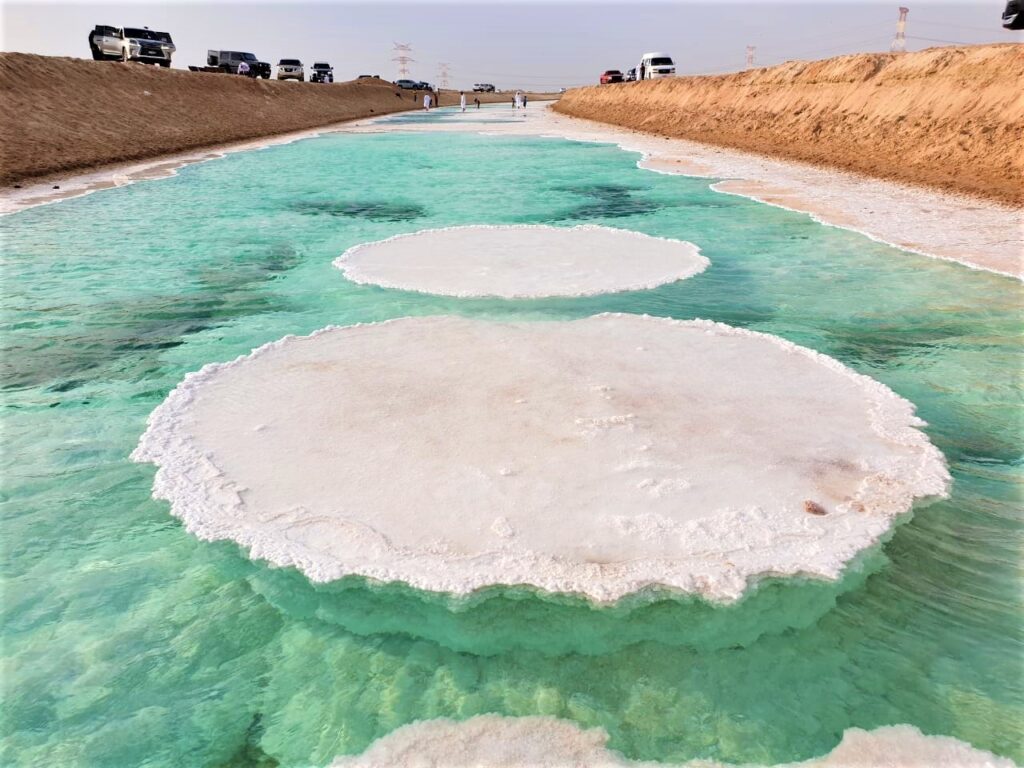 How these salt formations came about in a man made trench is a mystery, they would have taken eons to form, the thought is that they were present below the sands and when the channel was dug and filled with water the sand around them washed away leaving these unique salt mushrooms exposed.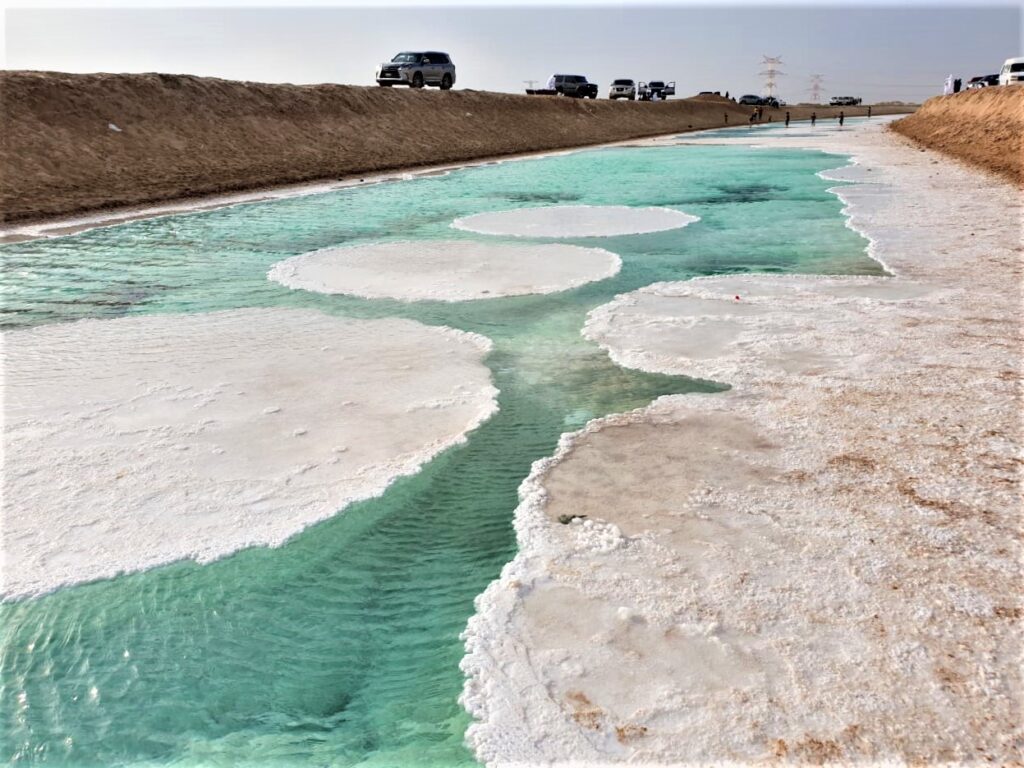 Whatever is the history this is a truly spectacular sight and is highly fragile so if you visit take care as not to damage this delicate ecosystem.
Location
https://maps.app.goo.gl/4V9KpXxSjHAWMcf29
Al Wathba Cycle Track Lake
Snuggled along the back on the Al Wathba Cycle Track is this lovely little man made lake with a few islands in the middle that offers a great picnic spot for families.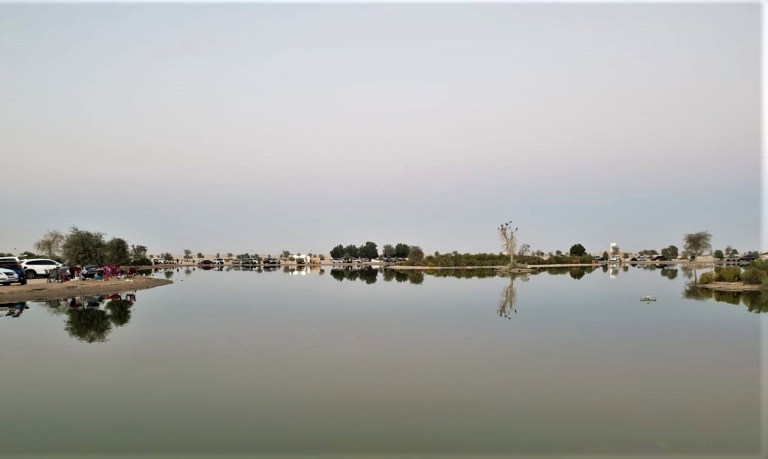 This is a very good camping place open 24/7 and is reserved exclusively for families. This is almost like Abu Dhabi's version of the Al Qudra Lakes.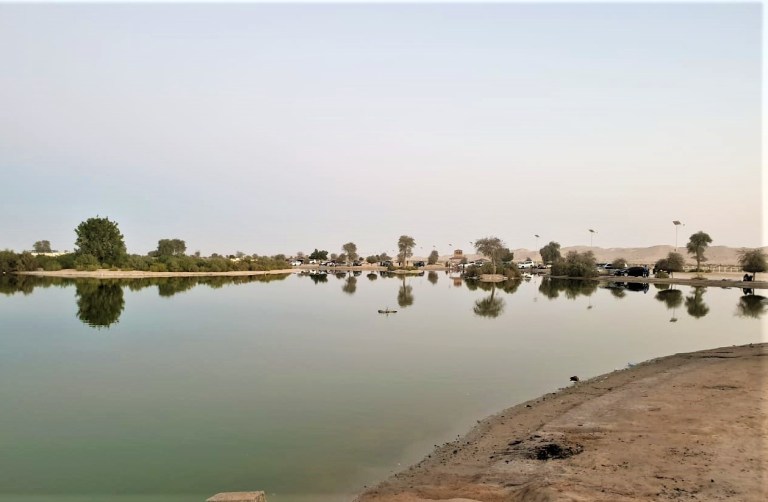 Home to a huge variety of birds the lake is teaming with fish and a great place for birdwatching and nature spotting, no fishing or swimming is allowed though.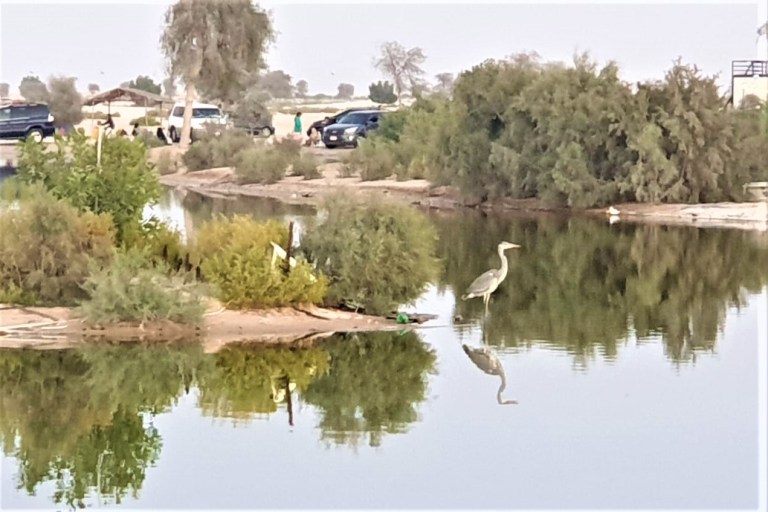 It is free to enter but there are no restroom facilities or any food options, there were two food trucks but appeared closed, the nearest restrooms are a few kilometers up the road at the ADNOC convenience store.
Read full article here.
Sheikh Zayed Heritage Festival
Named in honor of the late Sheikh Zayed bin Sultan Al Nahyan, founding father of the United Arab Emirates, the Sheikh Zayed Heritage Festival celebrates the United Arab Emirates' cultural inheritance, showcases the rich diversity of its traditions and enlightens visitors about the legacy of the nation's founder.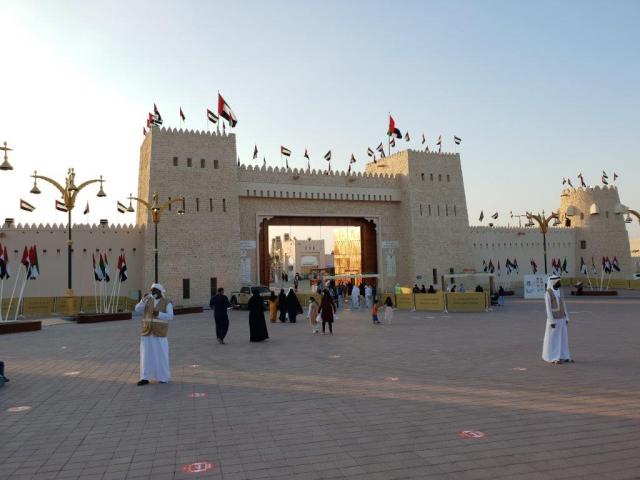 Visitors to the festival can experience Emirati heritage and culture through its arts, crafts, foods and customs. A central feature of the festival is the UAE Heritage District, which hosts exhibitions, events and popular markets reflecting traditional Emirati life.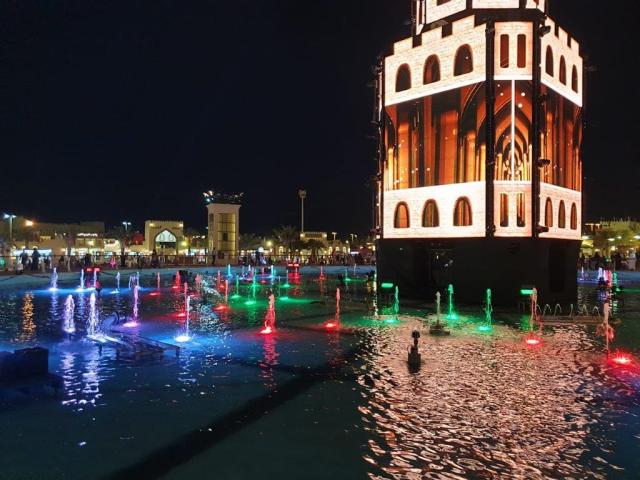 The World Heritage district reflects the architectural heritage, crafts, products and traditional arts of other countries.The festival also features camel races, falconry shows, a variety of competitions and fireworks.
The Festival was host to the Guinness World Record Firework Display that heralded in this new year with a 30 minute firework show.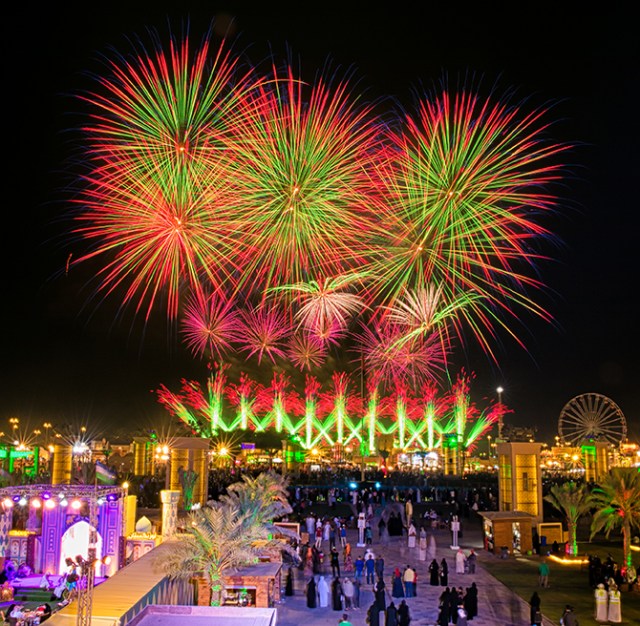 Read full article here.
Al Wathba Hill
Just down the road form the Sheikh Zayed Heritage Festival is this huge man made hill with a flagpole on top that has the UAE flag fluttering proudly in the wind.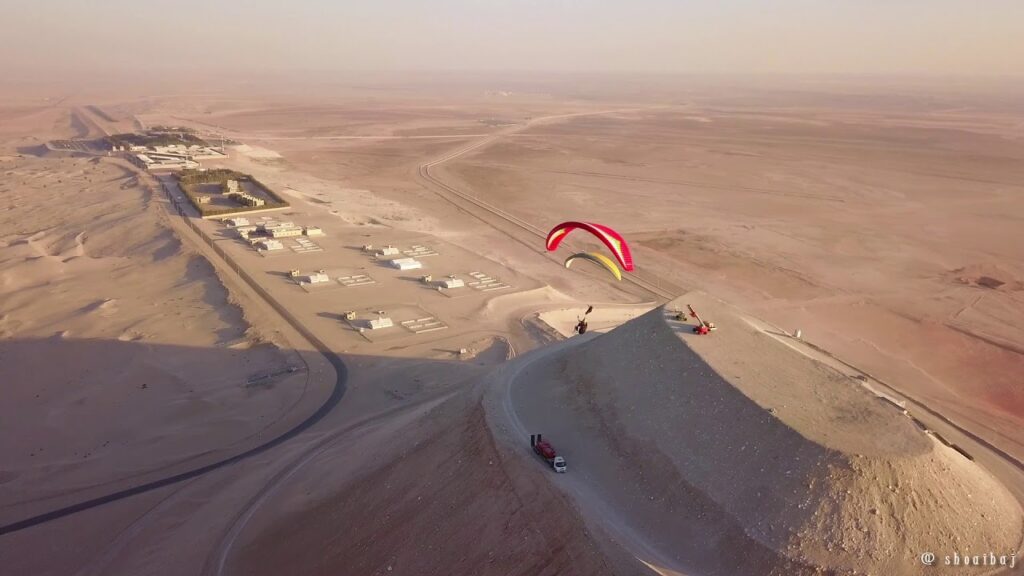 This is another great place to visit and has a track that runs all the way to the top where you will enjoy the most magnificent views of the area possible.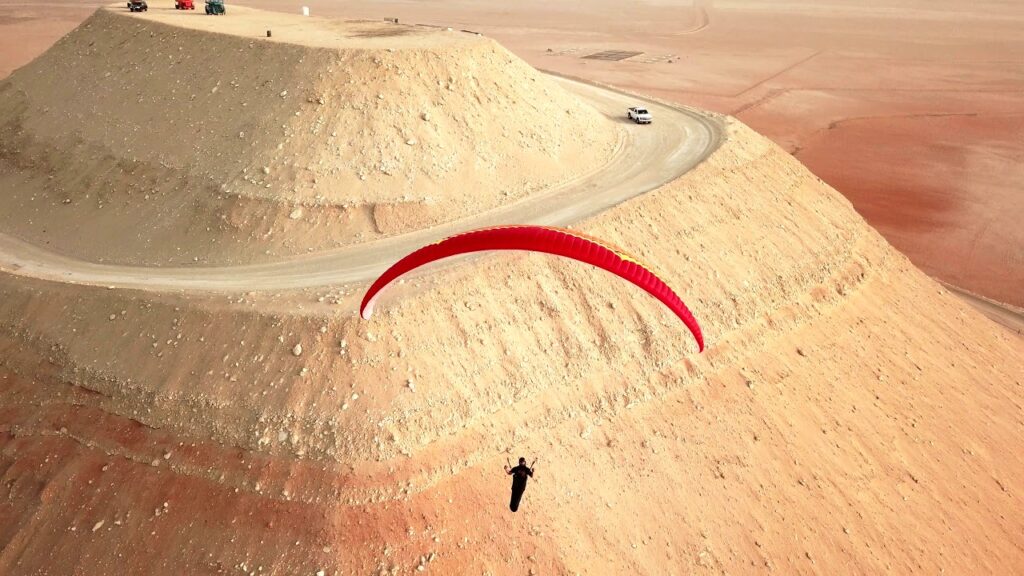 The hill has played host to running challenges, paraglider enthusiasts and of course the motorist who seek the thrills of a swift hill climb.
The road is steep and the access is thru a sandy desert patch so be careful or you might get stuck.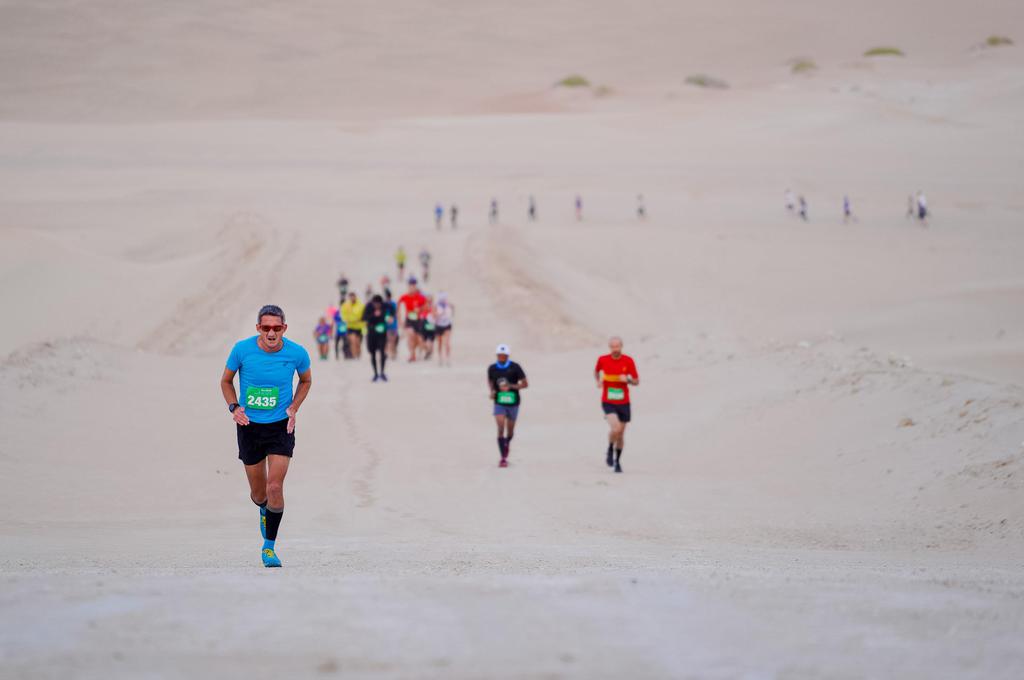 Al Wathba Desert Resort
If you are looking for a luxury stay in the middle of the desert then look no further.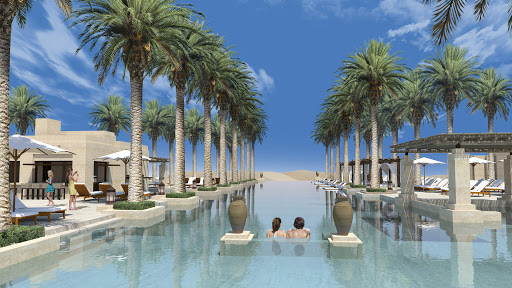 Deep within the desert landscape lies Al Wathba, a Luxury Collection Desert Resort & Spa, Abu Dhabi – an intimate retreat suffused with natural beauty and serene tranquility.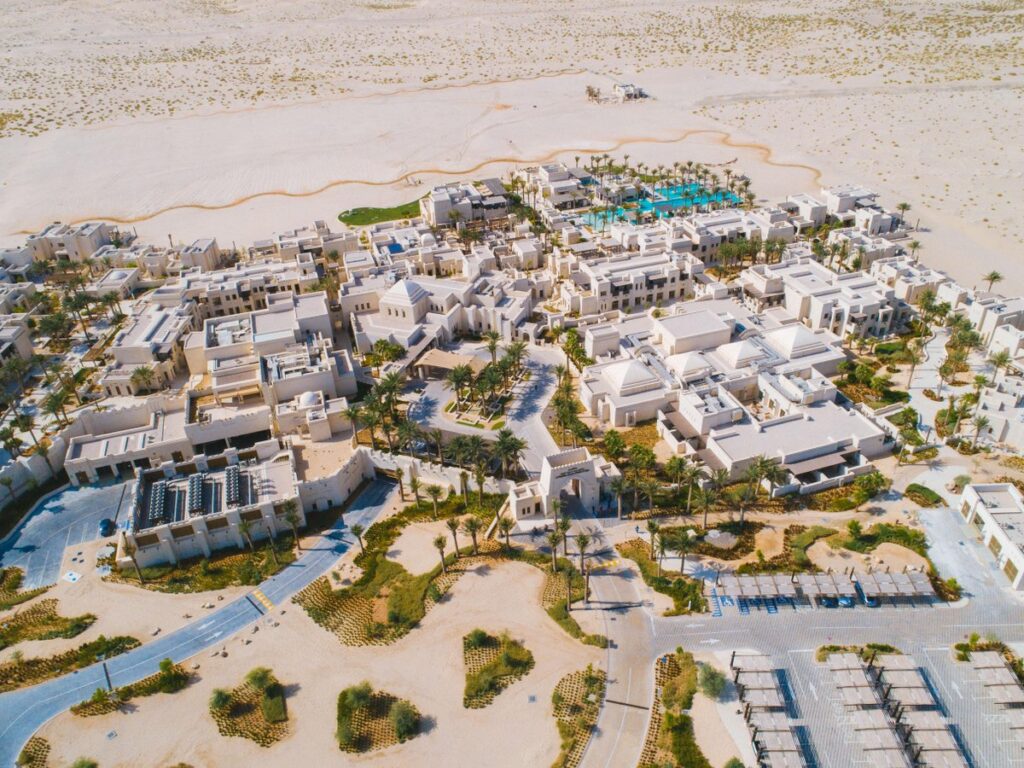 With a distinct Spa as the hallmark of the hotel experience, guests can rebalance their equilibrium and embark on an individual wellness journey. Inspired by classical dwellings, the boutique resort's 103 guest rooms and villas feature timeless local details, traditional artwork, and Arabesque accessories, alongside a range of dining destinations showcasing the dunes to panoramic perfection.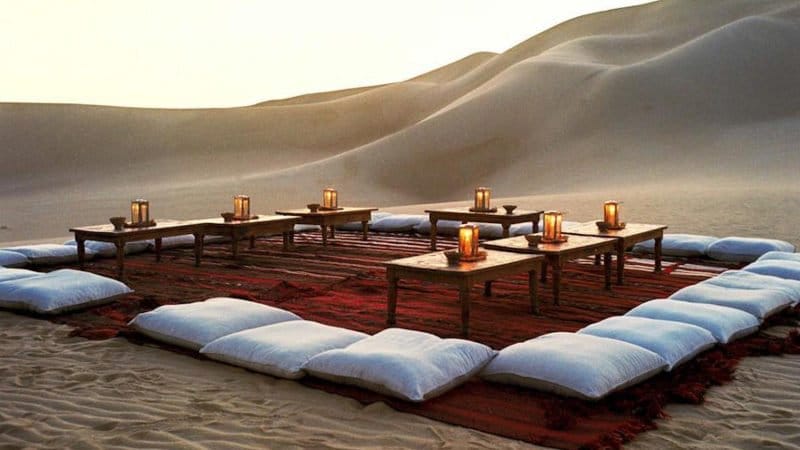 Arabian Nights Village
Hidden away among towering dunes, Arabian Nights Village showcases the soul of old Arabia. Created for travelers to experience the magical and timeless beauty of the desert and authentic aspects of traditional Emirati life, this wonderful stay begins with experienced guides transporting you over the dunes to a charming old-world village with all the modern-day comforts.
Entering through a picturesque courtyard, you will see two traditional-style watchtowers, Zakher and Al Manhal. These are named after the residences of the late Sheikh Zayed Bin Sultan Al Nahyan, The Father of the Nation and Founder of the UAE.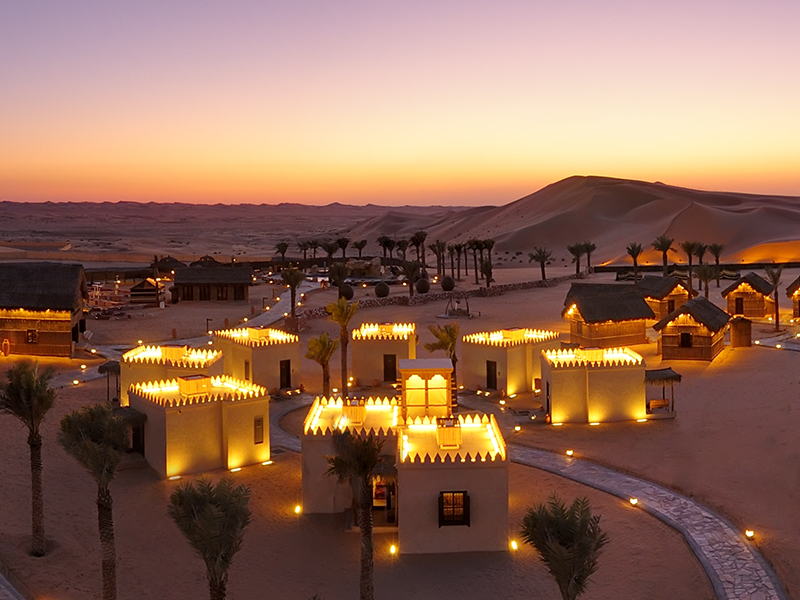 The resort offers some fabulous dining options and there are all sorts of adventure activates on offer for the whole family.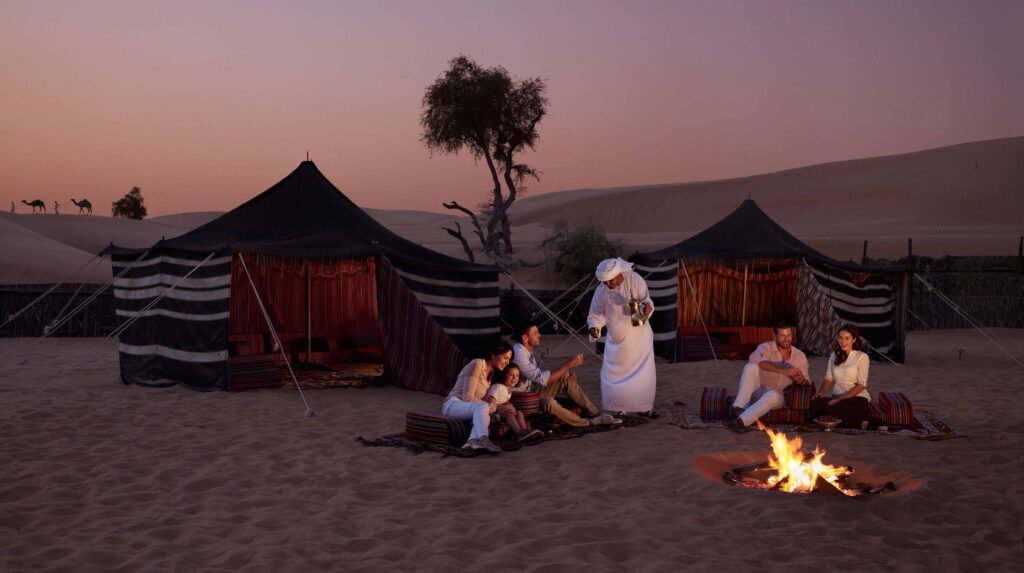 The resort also offers a glimpse into the old Bedouin lifestyle with traditional tents to camp in like it was done in the old days.
Other Attractions of Al Wathba
There is still much more to Al Wathba, there is the Cycle Track and Camel Race Track along with s few more salt lakes dotted around and some very nice sand dunes that are perfect for an afternoons dune bashing.
So take your pick and visit one or all these amazing places and have a great time exploring and learning all about this fantastic area.