Explore the natural sandstone formations of Al Wathba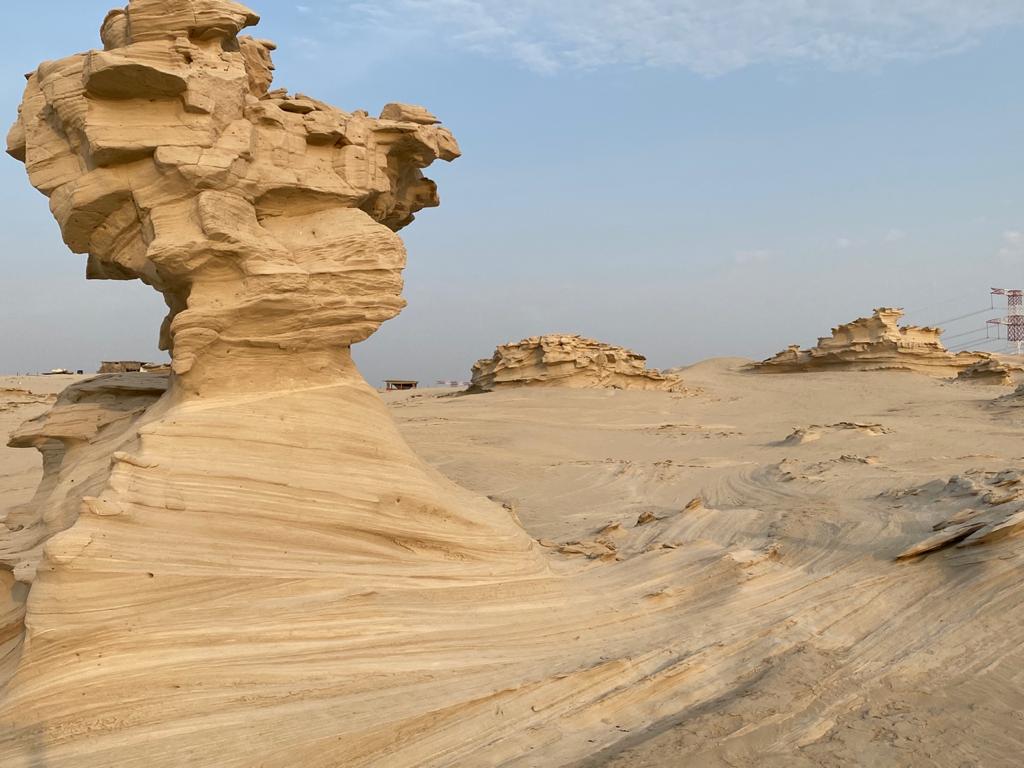 In our mission to provide interesting and unusual things to do in Abu Dhabi The Experience Team was out in Al Wathba exploring and enjoying the unique rock formations that abound there.
Just a short 30-minute drive from Abu Dhabi, off the E30 Al Ain Truck Road lies this magnificent vista that hardly anyone knows exists.
Formed from wind-whipped ancient rock, the gnarly golden formations are punctured with holes, forming eerie, otherworldly towers that could stand in for the surface of some far-flung planet.
This is a perfect afternoon drive with the family, the kids will absolutely love the area and some of the formations are quite easy to climb and offer stunning picture possibilities
The area is relatively flat with lots of well-worn tracks that take you across the flat land to a range of shallow dunes that set off the formations, there are camel farms dotted across the back and there are amazing views of the setting sun to enjoy.
We found a group of armature photographers trying out their skills and equipment and there were some others enjoying a picnic.
The terrain is quite suitable for AWD cars and also perhaps your average sedan could make it too so there's nothing stopping you form experiencing this magical place.
There are several sets of formations in close proximity so do try to visit all and once the weather improves camping is a possibility as well.
How to get there.
Al Wathba Fossil Dunes are just off the E30 Abu Dhabi Al Ain Truck road just after you leave the Musaffah area. You will see a huge embankment to your right covered in lush green grass and tall trees, once you cross this take the right and keep driving till you see the formations set across a flat area to your left, there you will find tracks that take you up close, map below.
https://www.google.com/maps/search/al+wathba+fossil+dunes/@24.1802311,54.5589946,14z/data=!3m1!4b1
Nearby Attractions
Al Wathba Wetlands Reserve – The home of Flamingos in Abu Dhabi, temporary closed.
https://www.ead.gov.ae/en/experience-green-abu-dhabi/places-to-go/al-wathba-wetland-reserve