Free public admission to the "Pixoul Community Cup" Esports Tournament at the Pixoul Event Hall on the opening weekend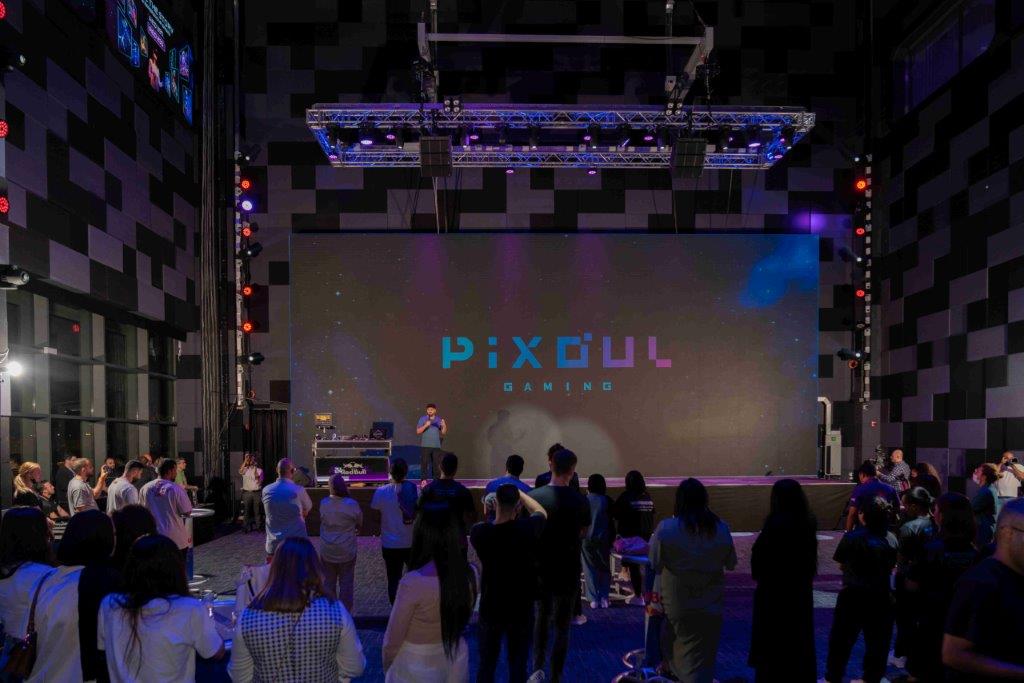 Pixoul Gaming, Abu Dhabi's most anticipated VR and Esports gaming destination, will open at 7 pm on Friday, 4th of November at Al Qana, Abu Dhabi's unique tourist and lifestyle waterfront destination. The opening weekend will hold the first multi-award Esports Tournament "Pixoul Community Cup" in Abu Dhabi city at Pixoul Event Hall.
A gaming destination like no other, the magical, immersive entertainment destination is appealing to professional and amateur gamers alike. Located within the Rabdan Area, Pixoul Gaming is one of 7 anchors found within Al Qana, an integrated entertainment destination suitable for all ages and abilities. This destination serves as an ideal venue for gaming enthusiasts of all ages, whether a gaming enthusiast wanting to connect with the gaming community, a parent wanting to enjoy an interactive VR experience with their children, or a group of friends looking to unleash their competitive side at the latest tournament.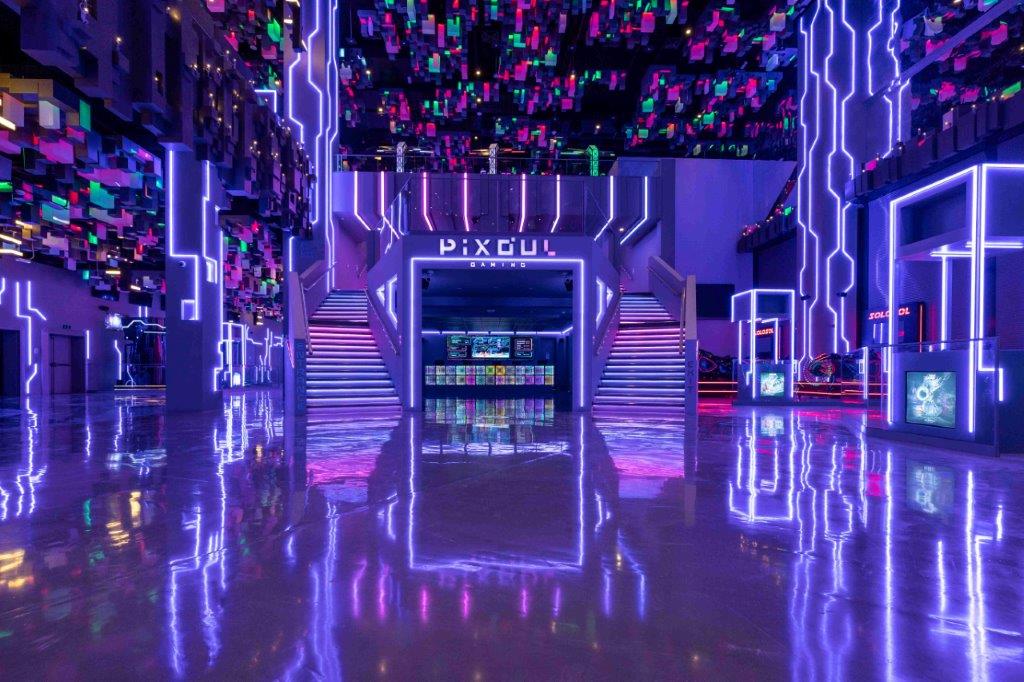 Visitors can experience the entire gaming ecosystem at Pixoul Gaming, through the five zones: VR, retro, console, mobile, and Esports games. One of the main attractions is the VR Pavilion, which houses 10 different heart-pumping virtual reality games, including everything from shooters, virtual roller coasters, and parachuting, to guided spaceship tours of the new intergalactic planet. Prices start at AED 35 per VR game. For a full day out, users can choose the Story Mode, including all 10 VR experiences for AED 250.
Pixoul Gaming also boasts one of the largest gaming arenas in the region, the Pixoul Event Hall, which has a capacity of 800 people and is host to the Pixoul Community Cup, a 4-game Esports tournament. Visitors will see a stimulating event of professional Esports players battling it out in popular console and PC games including Valorant, Fortnight, E-Football, and Super Smash Bros. When the gaming showdown is taking place, the event will be broadcast on a 78m2 LED screen and advanced sound and lighting systems. The free-entry event will take place on 5th and 6th November at the Pixoul Event Hall, where visitors are welcome to cheer for their favourite gamers.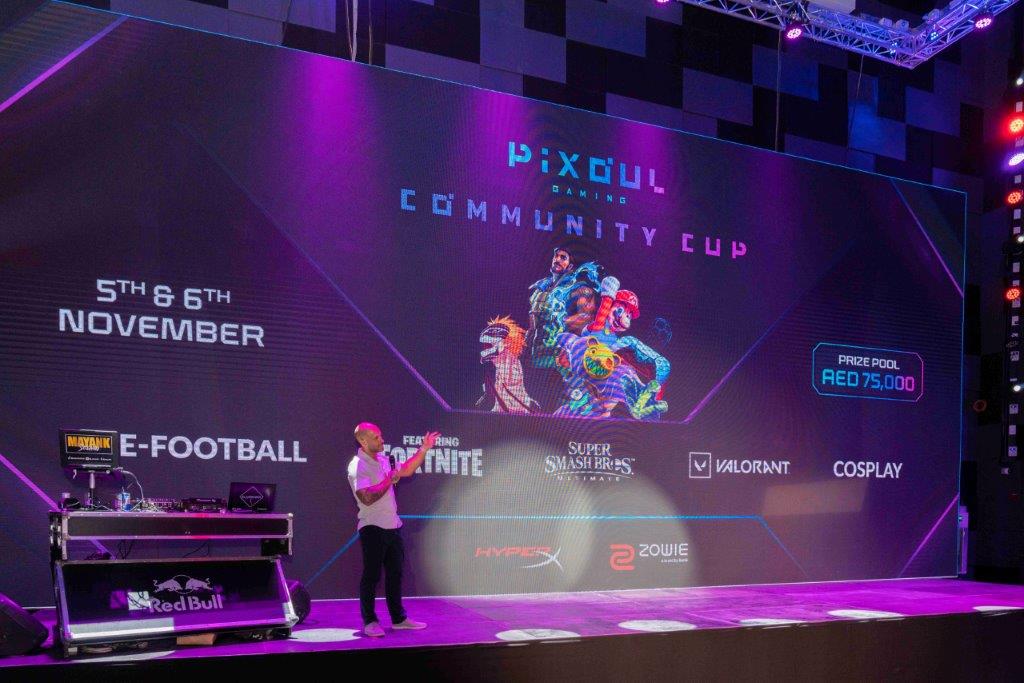 Manish Bakshi, Managing Director of BenQ ME and Turkey said: "We are thrilled to partner with PIXOUL Esports Academy, a leading name in the esports industry. Our collaboration will give gamers around the world access to our latest and most advanced gaming technologies, allowing them to achieve their full potential on the competitive stage. We believe that Zowie & PIXOUL partnership is an exciting development for the esports community, and we look forward to working with PIXOUL Esports Academy to help more gamers unlock their full potential and achieve success in the world of esports."
"With one of the biggest arenas in the region, HyperX is proud to sponsor Pixoul gaming with our peripherals," said Hani Suwwan, Business Development Manager for MENA. "Esports continues to grow in popularity within the mainstream and venues such as this give more accessibility for everyone to play and develop their passions."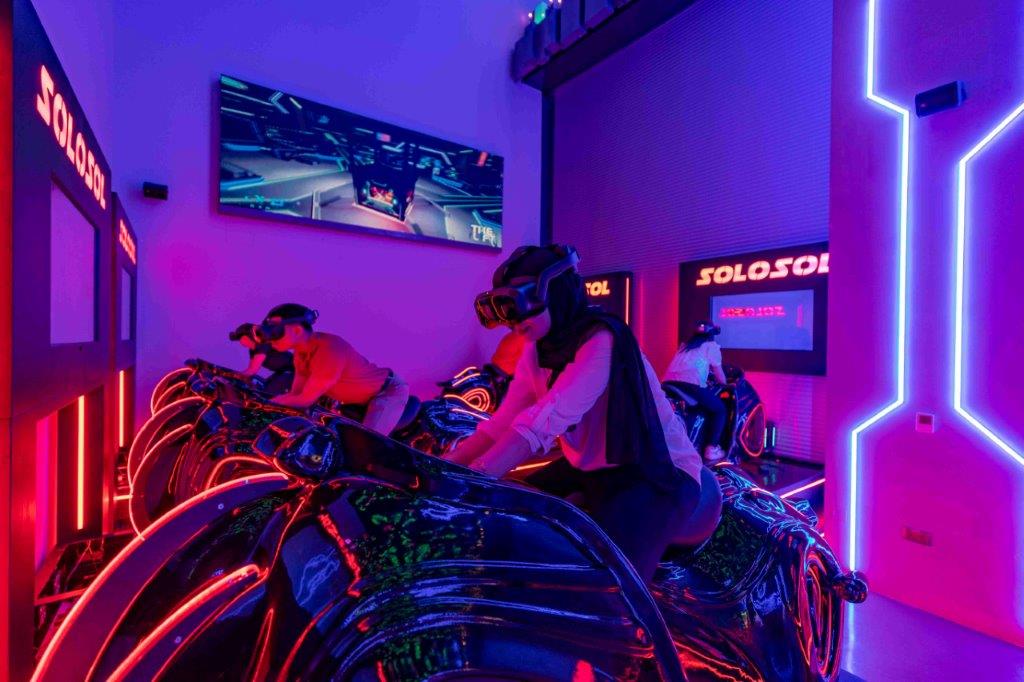 DATE
TIME
EVENT
Saturday, November 5, 2022
11:00 AM – 6:50 PM
e-Football
12:00 PM – 4:20 PM
Fortnite
1:00 PM – 4:40 PM
Valorant
7:00 PM – 11:00 PM
Cosplay Show
Sunday, November 6, 2022
12:50 PM – 6:00 PM
e-Football
2:00 PM – 9:45 PM
Valorant
4:00 PM – 9:40 PM
SSBU
6:00 PM – 7:00 PM
Fortnite
10:00 PM – 10:30 PM
Prize Distribution
The Pixoul Event Hall will serve as an enticing attraction for regional and international sponsors, positioning Abu Dhabi as a regional hub for Esports, and will offer exclusive viewing facilities, such as a VIP Lounge. The first Esports event is part of Pixoul Gaming's upcoming calendar of events to foster an elite community, bringing serious gaming to the Middle East.
For eager gamers, Pixoul Gaming also includes the first-ever Esports Academy where gamers will receive personal training from international gaming champions inclusive of VIP and Masterclasses. Enthusiasts will get the chance to learn winning secrets from the world's top gamers at the Academy, preparing them to compete on a global level.
Pixoul Gaming will open its doors for the 1st time at 7 pm on Friday, November 4, 2022. The complex will open all week long from 10am – 10pm