Conrad Abu Dhabi Etihad Towers welcomes guests back to Abu Dhabi with a tempting array of lively brunches, magical afternoon teas and unmissable dining and nightlife experiences
As the summer break is almost ending, Conrad Abu Dhabi Etihad Towers invites residents and visitors to celebrate their return to the UAE capital at its many luxurious and unique lifestyle destinations.
Socialites are encouraged to mark their first weeks back in Abu Dhabi by indulging in an unforgettable brunch at VaKaVa, Nahaam or Ray's Bar. At the same time, the weekly ladies' nights, gents' nights and happy hours are bound to get everyone in the party mood and excited for the season ahead.
With refreshing pool day passes, hearty Sunday roasts, indulgent chocolate afternoon teas and endless delectable special menus, the iconic hotel offers plenty to delight those of all ages and interests this September.
VaKaVa Saturday Brunch
Inviting guests to party the Latino way and immerse themselves in Latin America's fabulous flavours, colours and aromas, the VaKaVa Brunch is an unforgettable experience from start to finish.
Presenting an exclusive, adults-only ambience infused with uplifting tribal beats, expertly crafted dishes, and unique artistic concoctions, VaKaVa keeps the lively vibes flowing from 2 PM to 7 PM every Saturday.
The perfect way of celebrating being back in town after the summer break, guests are treated to Chef Eber's ever-changing delectable menu of Peruvian bites.
Refreshed every few weeks to provide a new array of enrapturing specialities, friends and loved ones are free to unwind and relax whilst great savouring starters such as creamy signature house guacamole, salmon tiradito, wild mushroom flatbread, lamb anticucho and crispy prawns.
But the fun doesn't stop there. The choice of irresistible mains spans everything from juicy Picanah steak served with potato and chimichurri to light and healthy Chilean sea bass accompanied by chipotle salad, potato tostone or a choice of other delicious sides.
Elevated with a constant flow of premium hops, grapes, and selected cocktails, plus a catchy soundtrack of eclectic beats, the pleasurable afternoon is concluded perfectly with a selection of handcrafted South American sweets.
The VaKaVa Saturday Brunch is available to experience every Saturday from 2 PM to 7 PM, with packages starting from AED 295 for soft drinks and AED 495 for house beverages.
Nahaam Saturday Brunch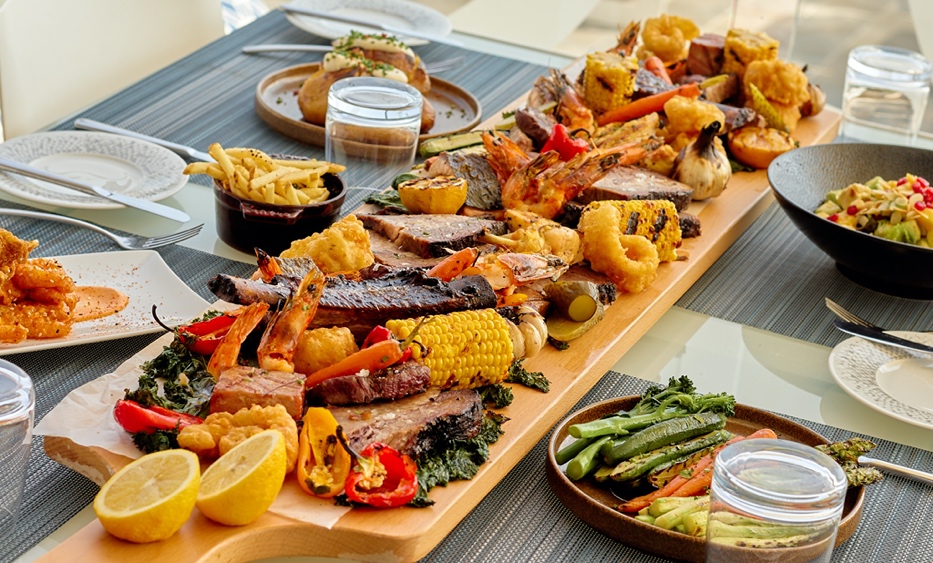 Those looking to mark their return to the UAE capital and celebrate the start of Abu Dhabi's most exciting season should look no further than the reimagined Nahaam Saturday brunch at Conrad Abu Dhabi Etihad Towers.
Inviting guests to escape reality and traverse the world's cuisines without leaving the city, the iconic Saturday brunch has introduced an exclusive new menu that sees endless delicious delicacies delivered straight to the table in a relaxed, sharing-style format.
An opulent culinary celebration that is guaranteed to leave every guest feeling spoiled for choice, the incredibly varied menu offers a selection of exceptional starters, wholesome mains, and decadent desserts.
Starting the affair in a lavish and elegant style, guests are invited to sample light and healthy 'Fresh Beginnings' such as creamy burrata and a selection of sushi, sashimi, and premium quality seafood on ice.
The 'Metre Board' is an awe-inspiring centrepiece that stars an impressive array of favourite bites. Ideal for sharing, the vast spread features juicy meats such as home-smoked beef brisket, lamb fillet, and countless fresh seafood.
Finally, every guest will be left fully satisfied with the pastry chef's signature collection of desserts.
Providing constant refreshments throughout the leisurely afternoon, guests are also encouraged to enhance each course with a carefully paired selection of free-flowing premium spirits, grapes, mixes, and soft drinks.
The revamped family-style sharing Nahaam Brunch is available to enjoy every Saturday from 12:30 PM to 4 PM with packages starting from AED 250 for soft drinks, AED 375 for house beverages, AED 550 for bubbly, and AED 125 for children aged six to 12.
The Gatsby Brunch at Ray's Bar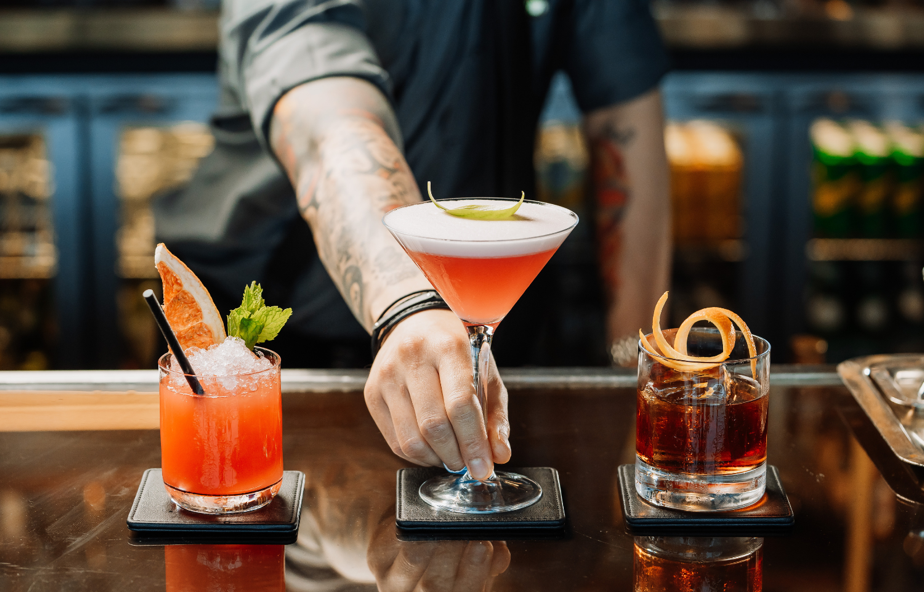 Taking guests back in time to the glamour and elegance of the roaring 1920s, the Gatsby Brunch at Ray's Bar is a compelling and thrilling Friday evening affair like no other.
Starting the weekend with a sophisticated party inspired by Fitzgerald's timeless tale of love, extravagance and success, the hedonistic evening provides a flawless fusion of delicious cuisine, live music, classic cocktails, and sensational views from the 62nd floor.
Oozing retro-style class and nostalgia, Ray's Bar is transformed into an exclusive 1920s speakeasy filled with catchy tunes and endless good times. Guests are encouraged to don their finest 1920s attire and fully immerse themselves in the charm and style of this romantic period.
Guests are free to savour an unlimited array of dainty hot and cold appetisers such as potted Alaskan crab coming straight from the streets of London and New York, while the variety of hearty hot bites features delicious morsels such as braised short rib and lamb.
Finally, bringing the sunny skies and green meadows of the British summertime to the UAE capital, the decadent journey ends on a sweet note with rhubarb and apple pie, wild berry pavlova, and more delectable and perfectly crafted desserts.
Upbeat and atmospheric melodies from the talented live band set the mood perfectly for the night of fun and special memories, while free-flowing cocktails, grapes and bubbly keep spirits joyful throughout the night, showcasing the best flavours and ingredients of 1922.
The Gatsby Evening Brunch at Ray's Bar is available to experience every Friday from 5 PM to 9 PM with packages starting from AED 379 for house beverages, AED 479 for sparkling and AED 679 for bubbly.
Chocolate Afternoon Tea at Lobby Lounge & Observation Deck at 300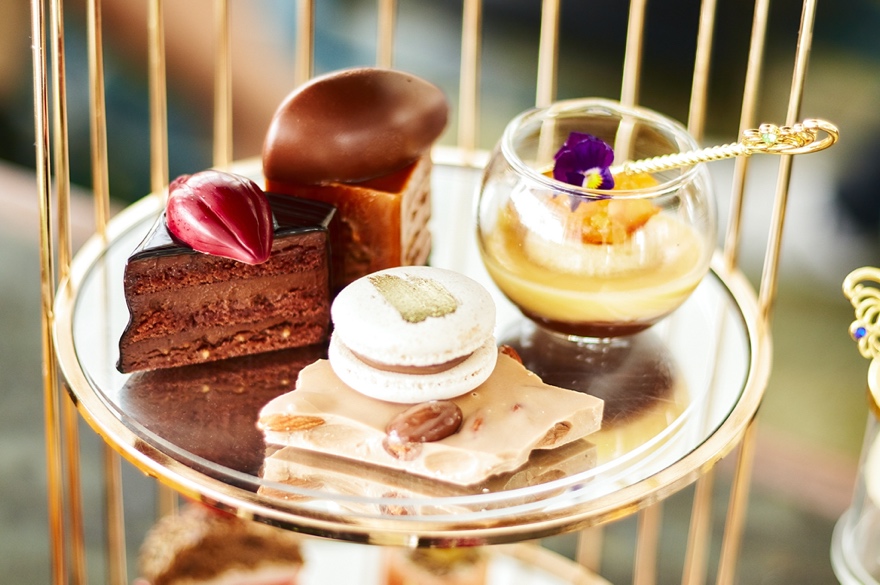 Every chocoholic simply must experience the wonder that is the Chocolate Afternoon Tea at Lobby Lounge and Observation Deck at 300 this September.
Designed to celebrate the sheer joy, versatility and irresistible flavours and textures of quality chocolate, it presents a lavish spread of creative and delectable handcrafted chocolate-inspired delights.
Served within the chic and elegant ambience of the Lobby Lounge, where a live pianist entertains with charming renditions of everyone's favourite modern tunes, or in the beautiful Observation Deck at 300, known for its breath-taking panoramic views of the city skyline and sparkling Arabian Gulf, it's a sophisticated and elegant culinary journey like no other.

Daily, from 2 PM to 6 PM. AED 260 per person at Observation Deck 300 and AED 230 per person at Lobby Lounge.
Live music at Lobby Lounge is available from Tuesday to Sunday, between 3 PM and 5:45 PM.
LADIES AND GENTS NIGHTS
Ladies Night at Ray's Bar
Ladies are invited to take their next girls' night to new heights of incredible at one of the city's highest and most elegant bars. Including free-flowing prosecco and selected cocktails, a food platter, fantastic panoramic views and uplifting live entertainment. Truly an unmissable experience!
Saturday, 8 PM to 11 PM. AED 199 per lady.
Bigotes Gents Night at VaKaVa Lounge
Gentlemen are treated to an exclusive evening of premium beverages and enlightening conversations with the Bigotes Night at VaKaVa Lounge. Presenting three premium beverages for AED 99, gents are free to unwind within the plush furnishings and celebrate the approaching end of the week.
Thursday 8 PM to 10 PM, AED 99 per gent.
Buena Onda Ladies Night at VaKaVa Lounge
Ladies are encouraged to bring along their favourite Señoritas for a Latino-style evening of free-flowing beverages, lively vibes and enrapturing entertainment.
Wednesday 8 PM to 10 PM, AED 125 per lady.
HAPPY HOURS
VaKaVa
Providing the perfect way of ending the day, vibrant and colourful VaKaVa presents a special kind of social hour filled with South American-inspired beverages and ethereal Spanish and Latin beats.
Tuesday to Sunday, from 6 PM to 8 PM. Selected drinks start from AED 25.
Tori No Su
Every day deserves a Happy Hour at Abu Dhabi's most enticing Japanese restaurant. Featuring an exclusive 30% on selected beverages, each mix is designed to complement the extensive menu of tasty and flavoursome sushi, dumplings, nibbles, and authentic Asian specialities.
Daily from 6:30 PM to 10 PM. 30% discount on house beverages.
Ray's Bar
Whether for a post-work wind-down or a catch-up with friends, Ray's Bar sets the scene flawlessly. Oozing glamour and class, its panoramic views from level 62 always amaze, while its premium beverages are ideal for savouring in front of another stunning Abu Dhabi sunset.
Sunday to Thursday, from 6 PM to 9 PM. Discounts apply to selected beverages.
Lillet Pool Bar
There's nowhere more magical to watch the sunset than by the shimmering infinity pool of Conrad Abu Dhabi Etihad Towers. End every day by enjoying a 50% saving on fruity concoctions, cool glasses of hops and more at Lillet Pool Bar.
Daily from 6 PM to 8 PM. 50% discount on selected beverages,
 WEEKLY OFFERS
Surf & Turf Board at Nahaam
Meat lovers will relish every last bite of Nahaam's legendary Surf & Turf board. Exclusively available every Monday evening, it stars a bespoke selection of perfectly seasoned grilled striploin, perch fillet, prawns, chicken thigh, and sweet potato fries, all paired with a glass of wine.
Monday, 7 PM to 10:30 PM. AED 180 per couple
Sunday Roast at Nahaam
Families and friends are encouraged to come together every weekend and tuck into a traditional Sunday roast at Nahaam. Starring roast chicken, root vegetables, potatoes, crispy Yorkshire puddings and all the trimmings, the heart-warming experience is further enhanced with a bottle of wine for two.
Sunday, 12 PM to 5 PM. AED 360 per couple.
Omakase Sushi at Tori No Su
With the phrase Omakase meaning "I'll leave it up to the chef" in Japanese culture, Chef Yosuke Matsuoka is proud to draw on his vast knowledge of Asian cuisine and present each guest with a tailor-made, mouth-watering curated set menu of premium and hand-rolled sushi.
Wednesday to Sunday, 6:30 PM to 10 PM. AED 350 per person.
Business Lunch at Sole
Experience the art of dining like the Italians with the ever-popular business lunch menu at Sole. Spanning two or three courses of pasta, pizza, meat, fish and every kind of traditional Italian speciality imaginable, the experience is complemented with a bottle of water and an authentic Italian espresso coffee.
Monday to Friday, 12 PM to 3 PM. Two courses for AED 125 and three courses for AED 165.
Pool Pass
Including full access to the resort's glorious infinity pool and pristine private beach, guests are invited to cool off and lap up the remainder of the summer sun at one of the most iconic addresses in the city. Available seven days a week and including food and beverage credit, families and friends are encouraged to make their experience even more magical with an array of à la carte snacks, beverages and meals served straight to their sunbed.
Monday to Friday, AED 150 per person, including AED 100 Food and Beverage credit.
Saturday to Sunday. AED 300 per person inclusive of AED 200 food and Beverage credit.
Flavours of Lebanon at Li Beirut
There is no finer way of spending an evening in the UAE capital than with a spread of Arabic specialities on the terrace of Li Beirut. Offering beautiful views over the Corniche, each delightful recipe is enhanced with a pot of Turkish coffee or Moroccan tea, plus one premium shisha flavour.
Thursday to Tuesday, 7 PM to 11:30 PM. AED 185 per person. To book your table for any of the above experiences, please call 02 811 5666