There is always something interesting to look forward to and here area the current offers at their various venues.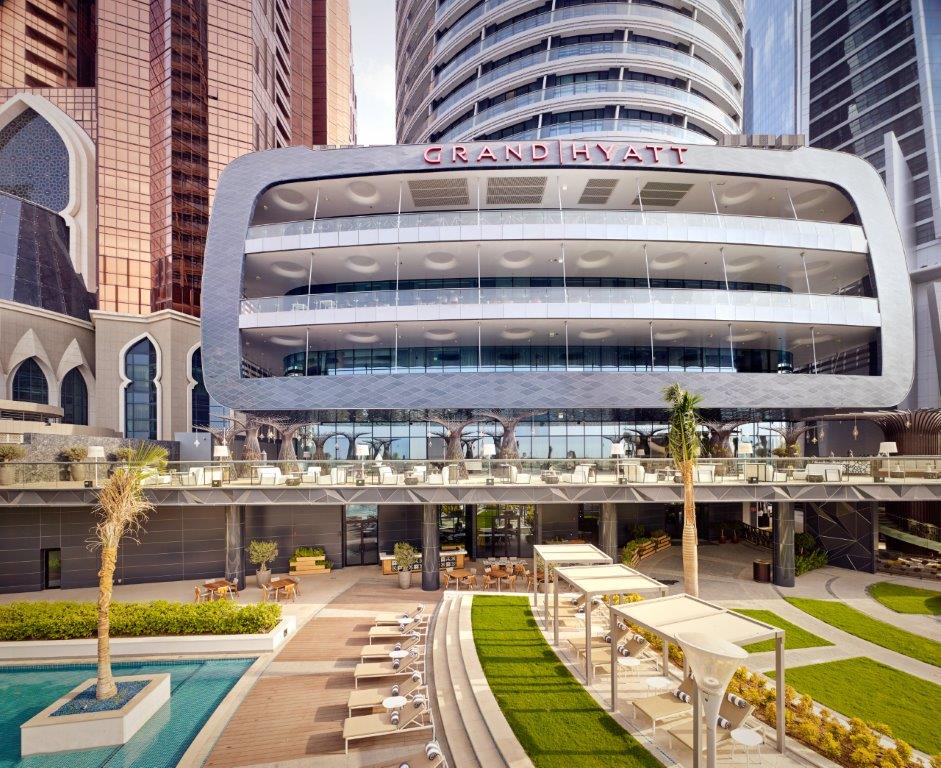 Grand Hyatt Abu Dhabi Hotel & Residences Emirates Pearl offers a 5 star luxury hotel and events venue of awe-inspiring design and extraordinary architecture, located in the iconic West Corniche district of Abu Dhabi,
The hotel's restaurants offer a flair for the dramatic, the very special and the memorable. There is always something interesting to look forward to, and here area the current offers at their various venues.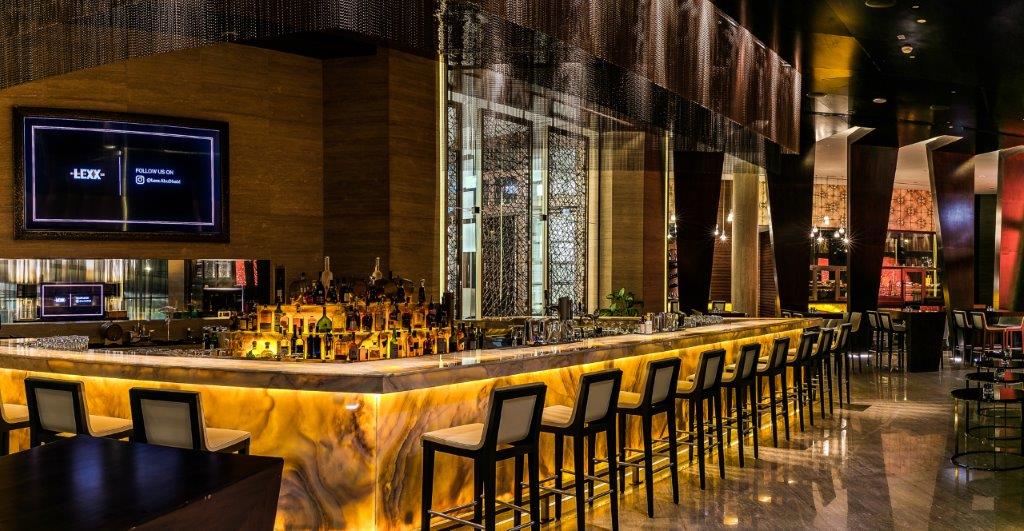 LEXX
A sophisticated bar, where legendary moments are made around cellar wines, vintage cigars and classic cocktails complemented by fine cheese and charcuterie. It features a large outdoor terrace with some of the Corniche's most spectacular views.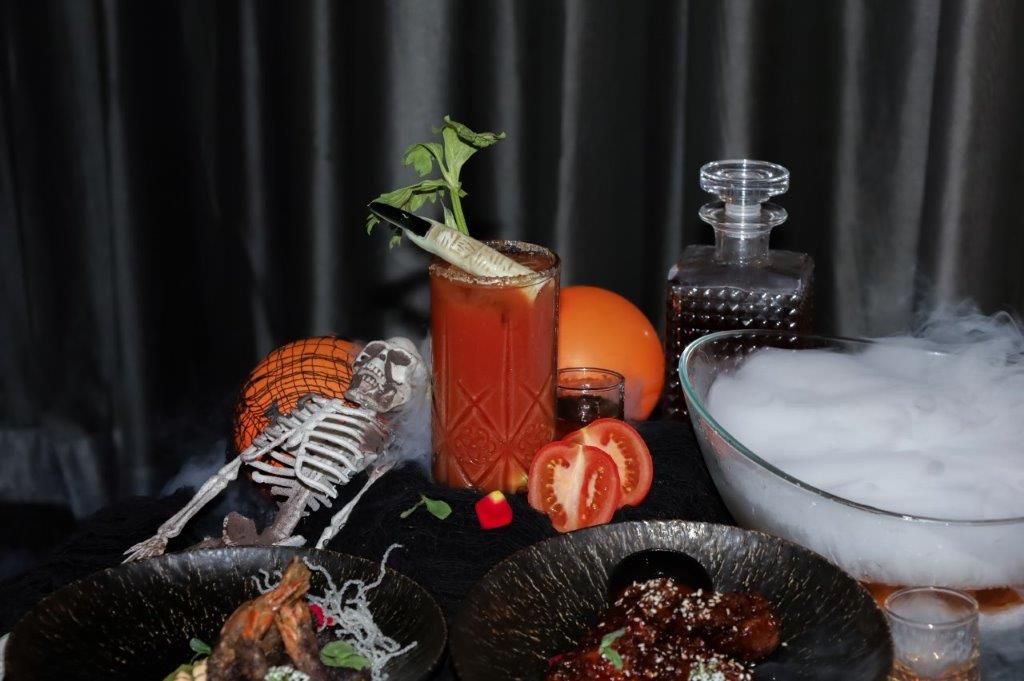 Bloody Mary Night
The wind is howling and the owls have spoken, unlimited Bloody Mary's for all those who
dare this Halloween.
Join in on the spooky season, as Lexx hosts a buy on get one frenzy
on all drinks, with an unlucky draw where the last 5 remaining creatures get to walk
away with a grand prize.
31 October | 7 pm – 2 am
Complimentary flow of Bloody Mary
Buy one get one on all drinks
Unlucky draw from 8 pm to 9 pm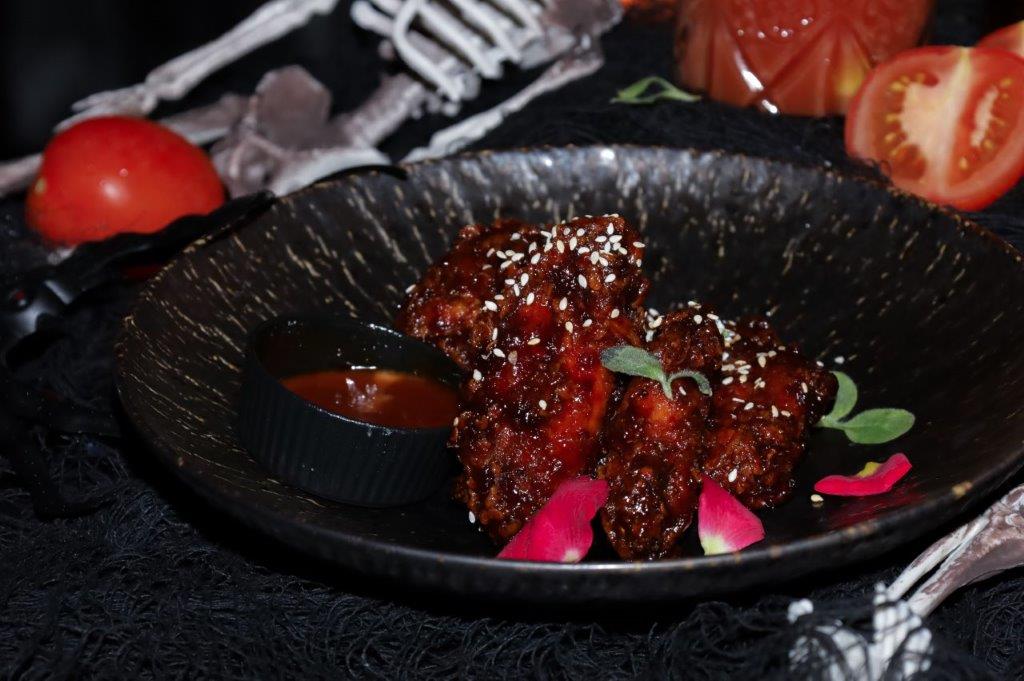 FIFA

Kicking off the season on 22 November, fans can watch all the action unfold with a
massive screen taking over the spacious terrace at Lexx.

Offering an exclusive fan-favourite menu featuring jalapeno bites, and a
complimentary bucket of chicken wings to those who settle in to watch the match in
their team's jersey, Lexx also offers multiple screens in the opulent indoor lounge for the
ultimate match-day viewing experience.

22 November – 18 December
Complimentary bucket of chicken wings when you show up in your team's jersey

Minimum spend applies on premium seating for the quarter finals, semi-finals and finals.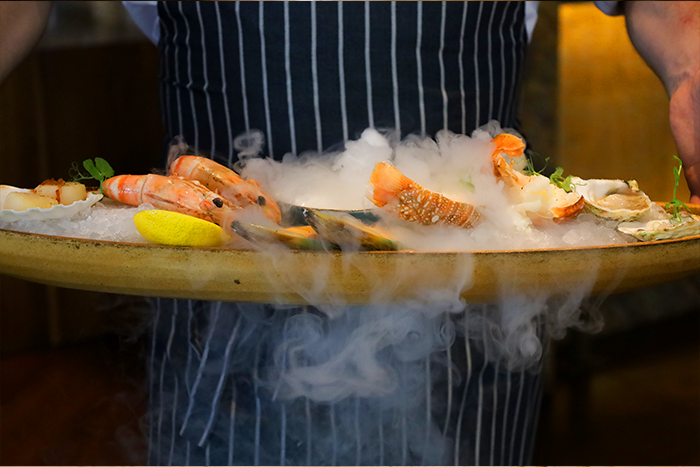 Lexx B- Tableside & Liquid Brunch

Blending together the best of brunch for a superb Saturday experience that offers an
impressive tableside feast at one venue and an intoxicating flow with electrifying beats
at the other.

The immersive afternoon starts off at 12:30 pm with an aperitif upon arrival and
continues with a tableside spread of Carpaccio with Black Truffle, Tuna Tartare, Grilled
Octopus and more followed by the 2 top-tier main courses, Grilled Classic T-Bone and
Royal Sea Bream.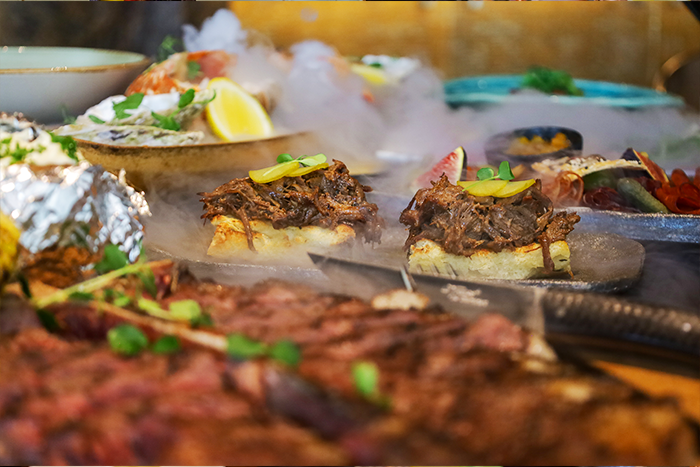 From here, hop on over to the compelling liquid brunch from 4 pm for the perfect after party as the Liquid Brunch serves a tantalising selection of oversized cocktails, draft beer, endless wine flow and electrifying beats.

12:30 pm to 4:00 pm | Lexx B Tableside Brunch
AED 290 Soft beverage package
AED 390 House beverage package
AED 490 Bubbly package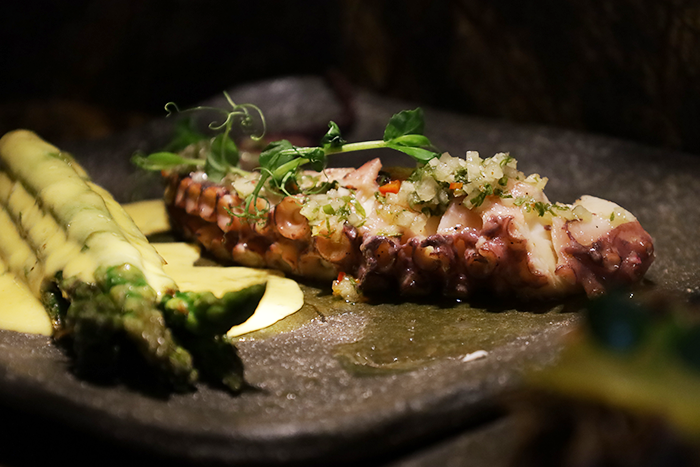 4:00 pm to 8:00 pm | Lexx B Liquid Brunch
AED 250 – 4 Hour Free-flow
AED 150 – 2 Hour Free-flow 2
12:30 pm to 8:00 pm | Ultimate Lexx B (Tableside & Liquid Brunch)
AED 550 –Tableside Brunch with the house beverage package & 2 hour free-flow Liquid
Brunch experience.
Wine, Cheese & Charcuterie Experience.

Enjoy unhurried conversations over cellar wines and fine cheese and charcuterie
at Lexx's Wine, Cheese & Charcuterie Experience.

The experience includes pairing a cheese, charcuterie or mixed cheese & charcuterie
board with 3 selected wines.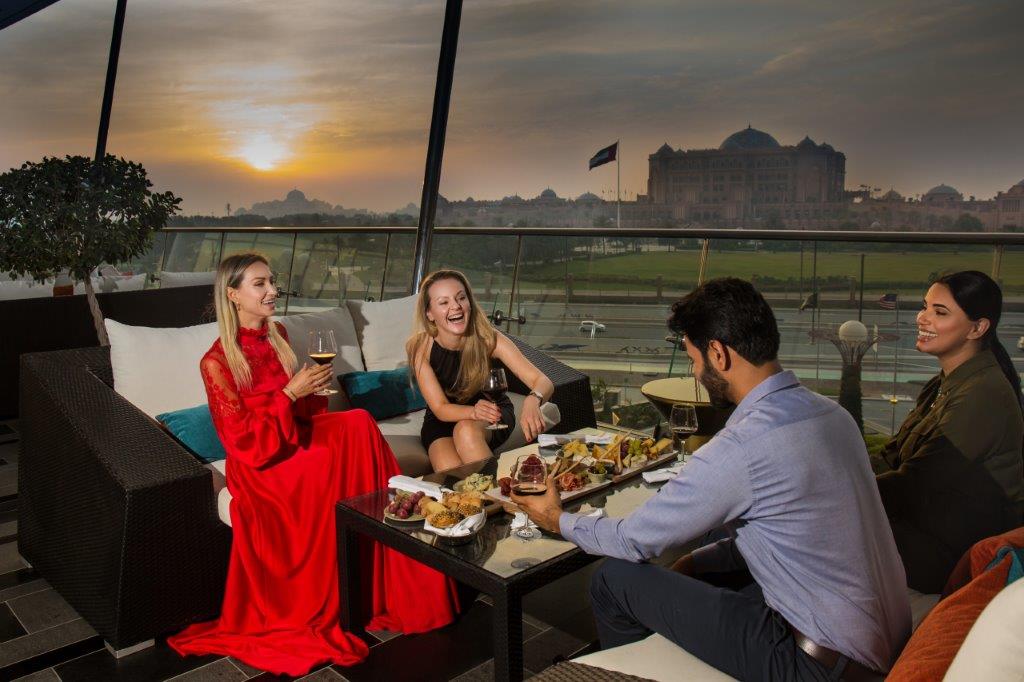 Daily| 5 pm – 1:30 am
AED 125- Cheese/charcuterie/cheese & charcuterie board and wine pairing (3 glasses
of wine – 50ml)
AED 150- Cheese/charcuterie/cheese & charcuterie board and wine pairing (3 glasses
of wine – 100ml)
AED 175- Cheese/charcuterie/cheese & charcuterie board and wine pairing (3 glasses
of wine – 150ml)
  
Additional bottle of cellar wine starts from AED 85 per bottle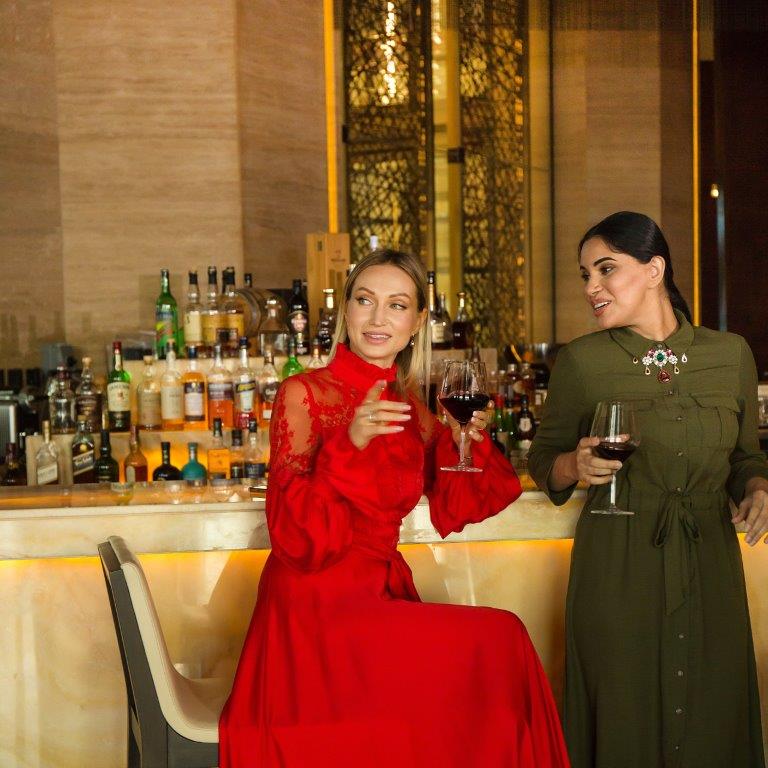 Ladies Night

Enjoy refreshing beverages & signature bar bites while creating legendary moments as
you catch up with your girlfriend
Fridays | 8 pm – 12 am
AED 99 for 3 drinks from a selection of cocktails, wine, beer & 1 choice of a wide range
of bar bites.
Cellar wine is available at prices starting from AED 85 per bottle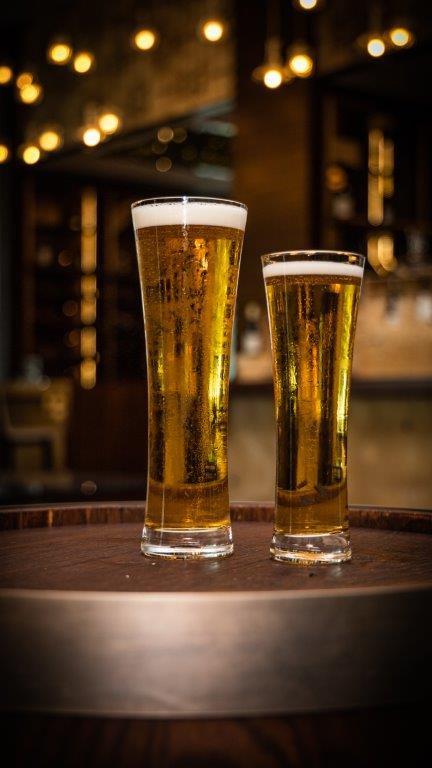 Happy Hour

Wind up your day at Lexx and take advantage of Happy Hour offers.
Daily | 5 pm – 7 pm
50% off on selected drinks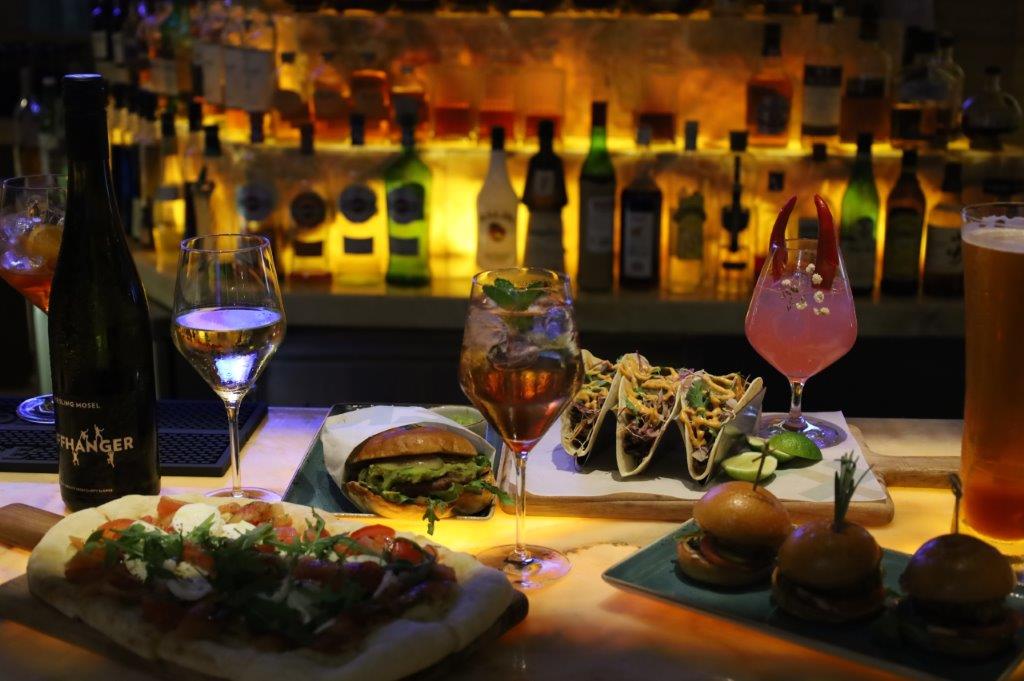 AED 95 Theme Nights at LEXX

Every night can be legendary when you shake up your daily routine with a drink & bite
pairing for AED 95.
Irish Mondays– Beef Bie & a Guinness Beer
Mediterranean Tuesdays- Vegan burger with a Glass of Pinot Grigio
Latin Wednesdays– Beef tacos & our signature Picante Ccocktail
American Thursdays– Beef sliders & a pint of Heineken Beer
Italian Sundays– Flat bread with our signature "6 pm" cocktail
Sundays to Thursdays | 7 pm – 01:30 am
AED 95 for selected drink & bar bite pairing
Enjoy an extra drink pairing at 50% off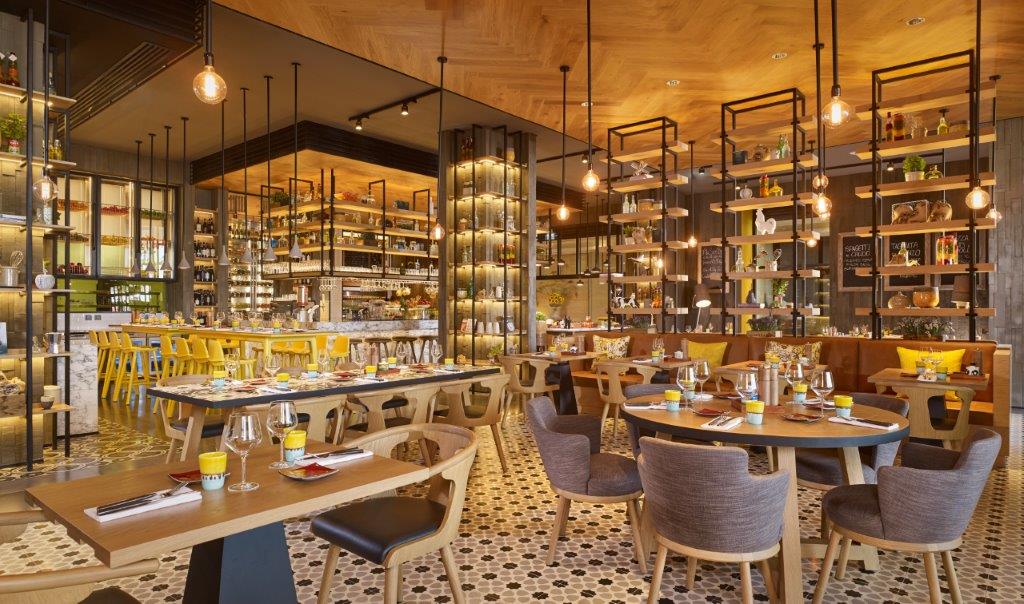 Verso
Verso offers good food that is made to be enjoyed slowly and socially. Slow, because eating the Italian way is about so much more than the meal, it's about sharing moments.
La Famiglia Sunday Brunch
Centred around savouring precious moments, the gourmet brunch starts off with a
"welcome to the family" aperitif and a spread of Antipasti and our signature seafood
platter to commence the all-you-can-eat extravaganza.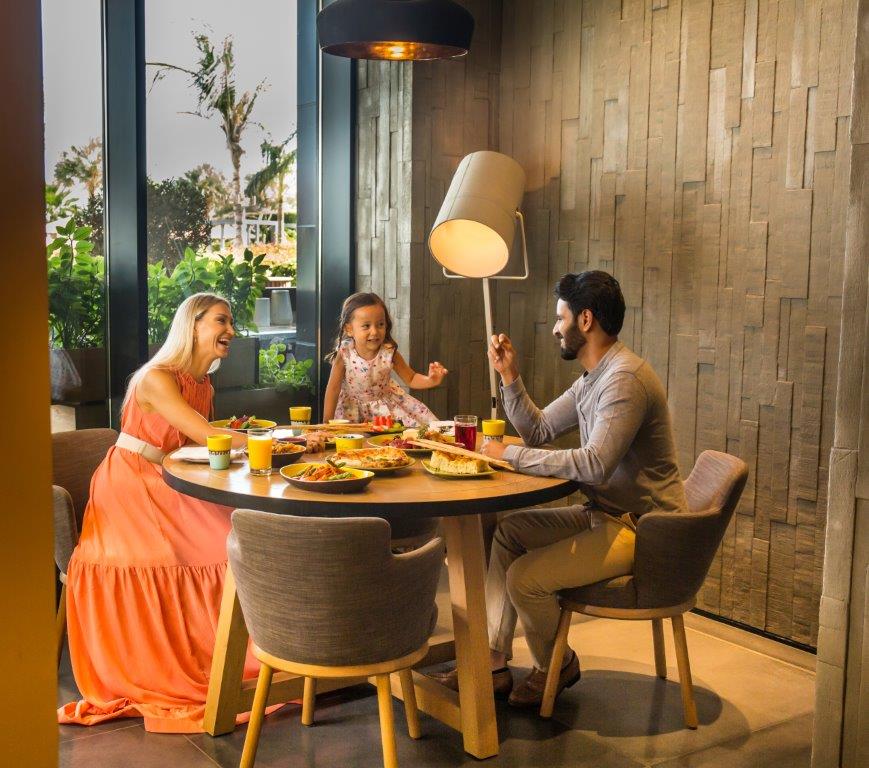 In addition to the array of dishes, the brunch is set to keep the little ones entertained on
the lawn with a lineup of kids activities and a fun addition of popcorn confection as
well as the classic Tiramisu.
Sundays | 1:00 pm – 4:00 pm
AED 180- Soft Beverage Package
AED 280 – Unlimited Italian grapes, fizz and hops.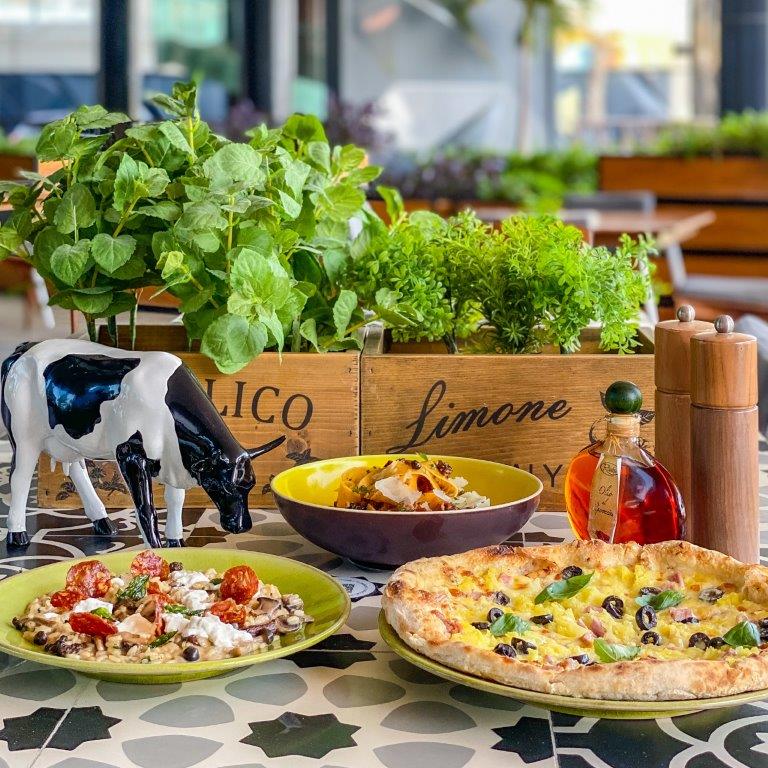 Chef's Specials

Experience Italy through the tastes of the Trattoria, one authentically sourced meal at a
time as the bi-weekly rotational menu offers new and exciting Italian dishes.
Available daily for lunch and dinner
Sweet Finale

Spend the afternoon surrounded by the colourful setting of the trattoria as you enjoy a
dessert and coffee.
AED 55- Dessert and coffee or tea of your choice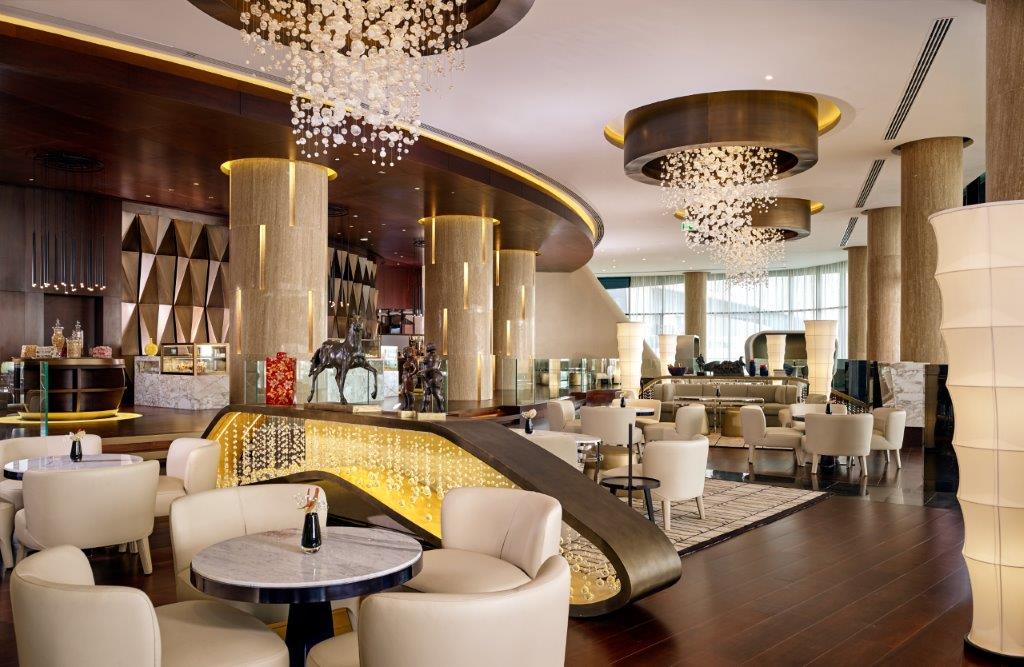 Pearl Lounge
It is a lobby lounge, a café, a shop, a crêperie, and a bar. It is a place to meet and talk, eat or wait, think or drink. Or simply to pause by yourself to relax. Pearl Lounge is what you want it to be.
Healthy Lunch Menu

Add a healthy step to your day with a delicious selection of nutritious and organic
offerings.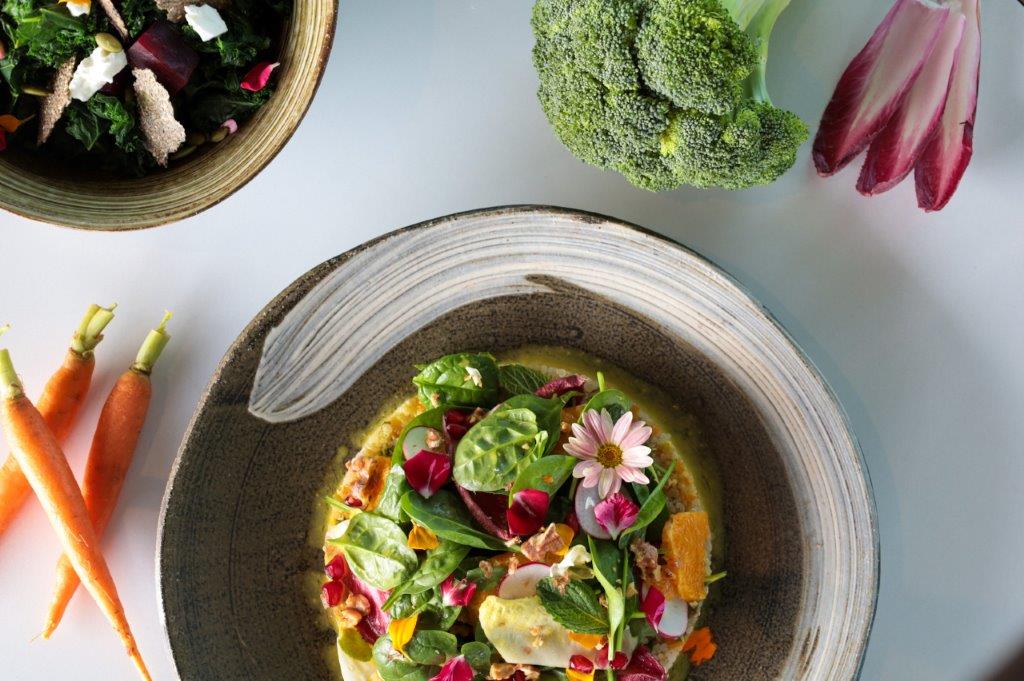 From Baby Gem and Arugula Salad with a crisp Honey Mustard Vinaigrette to the
addition of Protein Shakes, the new Healthy Lunch Menu offers something for every
guest.
Daily | 12:30 pm – 3 pm
AED 60 Per Organic Salad
AED 50 Per Protein Shake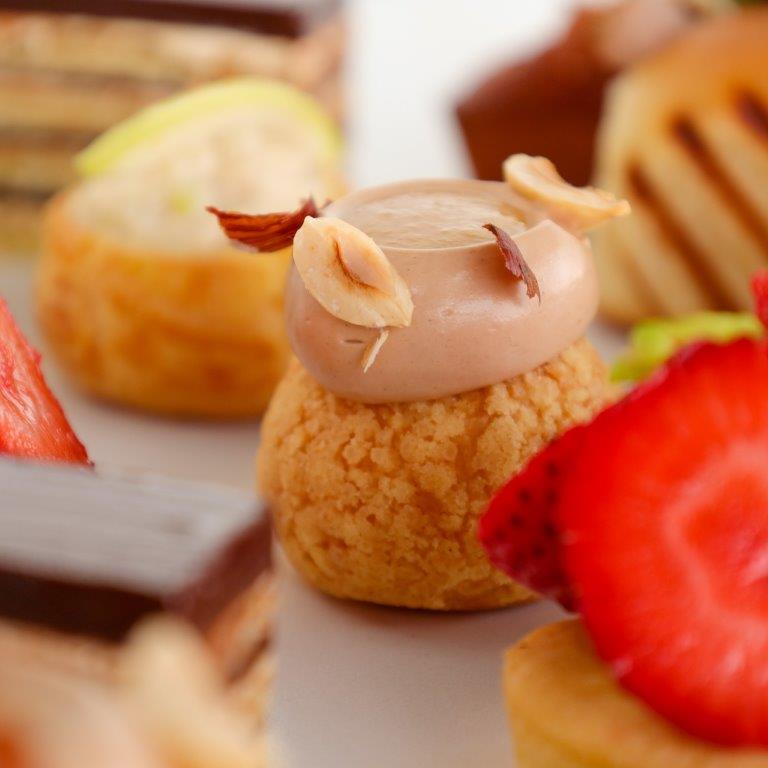 The Pearl Afternoon Tea

The sweet and savoury selection of The Pearl Afternoon Tea makes for an afternoon of
elegant indulgences. Featuring a renowned Opera Cake with all of its delicate layers,
Earl Grey infused Madeleines, a crêpe selection of pure decadence, and more.
Daily | 3 pm – 7 pm

AED 160- Afternoon Tea Set for One Inclusive of Hot Beverages
AED 199- Afternoon Tea Set for One inclusive of 1 Organic Mocktail/ 1 glass of Sparkling Wine
AED 280- Afternoon Tea Set for Two Inclusive of Hot Beverages
AED 320- Afternoon Tea Set for Two Inclusive of 2 Organic Mocktails/ 2 glasses of Sparkling Wine.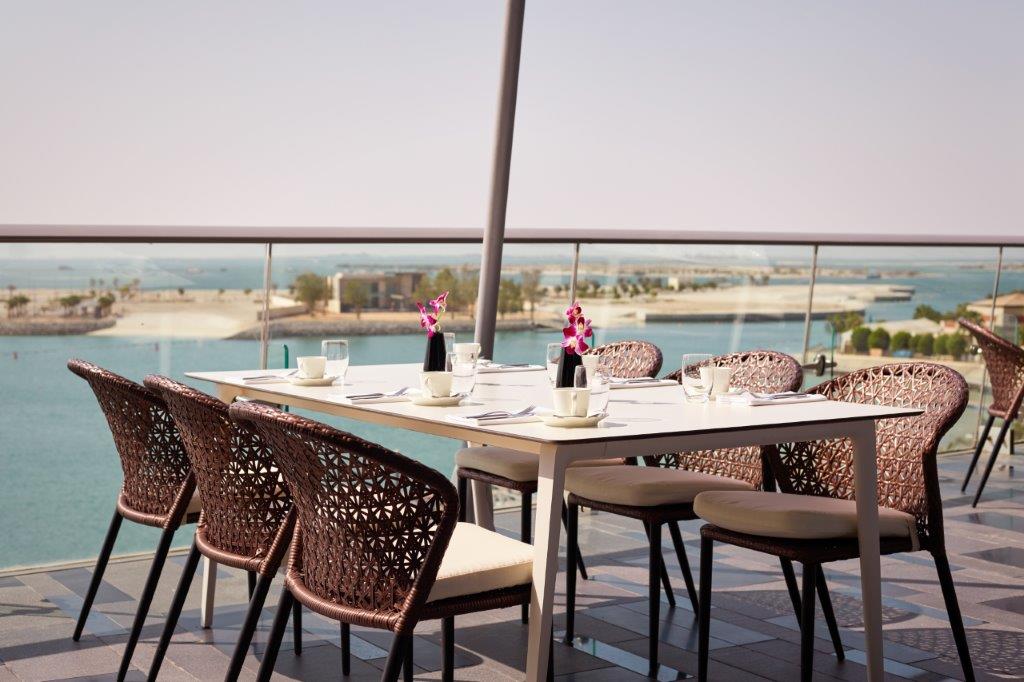 Saha
Sahha means "health" and is an adventurous market where every visit serves a new, exciting culinary experience.
Breakfast Buffet

Enjoy the pleasant aromas of morning classics and start your day on the right side of
breakfast.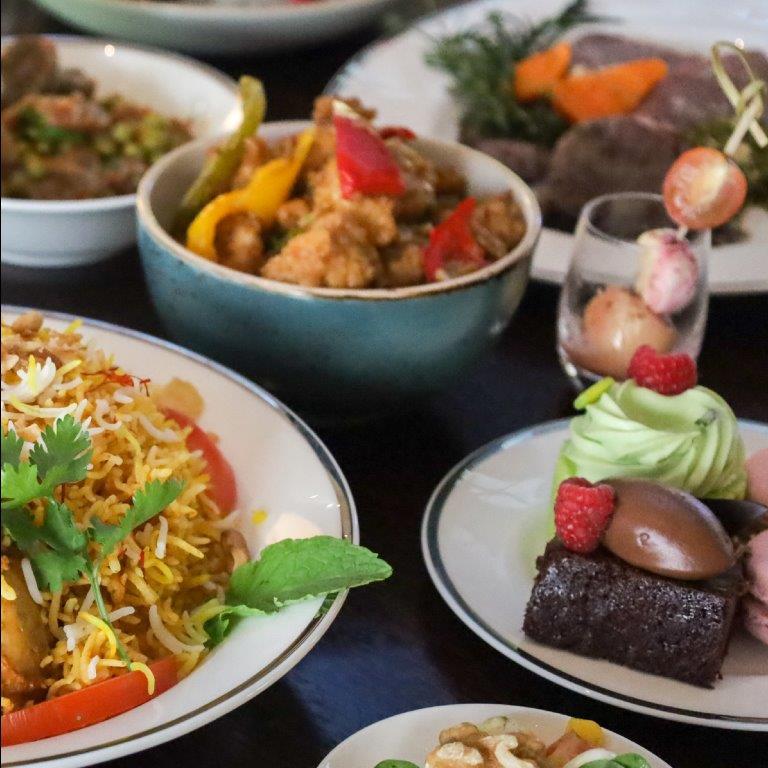 The breakfast buffet includes a wide selection of assorted cheese, seasonal cut fruits,
freshly baked pastries and expertly prepared eggs in any style.

Daily | 6:30 am – 11 am
AED 110 per person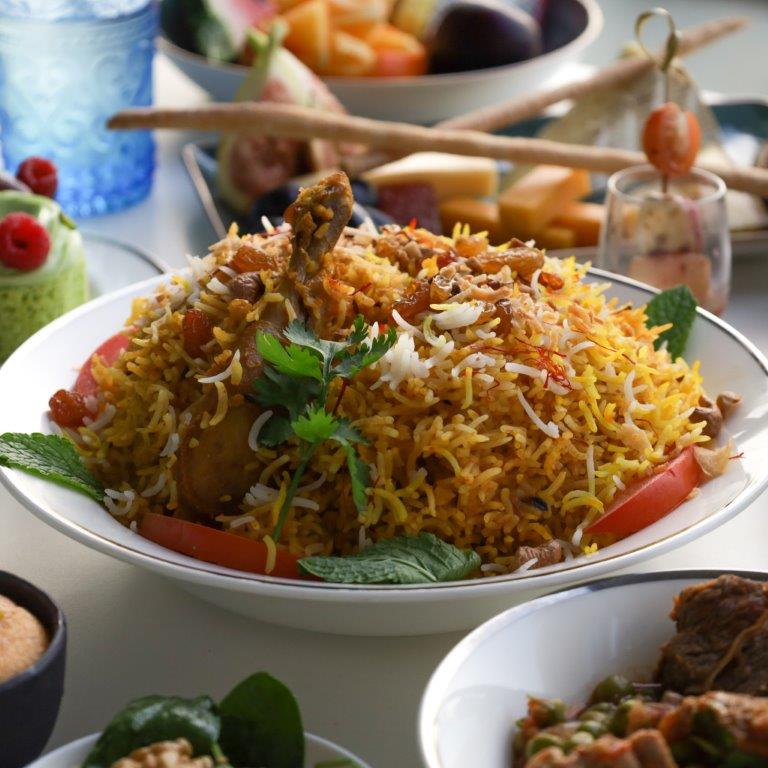 2 For 1 Dinner Buffet

Explore a world of tastes with the Market Buffet. The buffet dinner depicts the
authenticity of culturally-inspired cuisine from all along the Silk Route, presented within
the warm and welcoming setting of an adventurous market.
Daily | 6:30 pm – 10:30 pm
AED 210 for 2 persons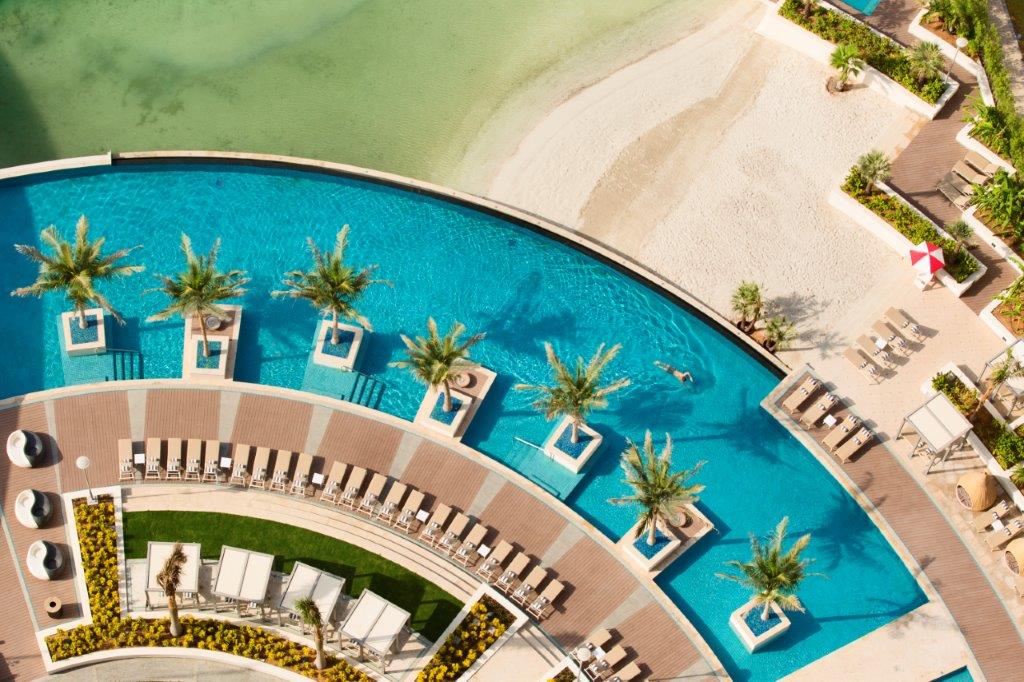 Pool

Open daily | 7 am – 8 pm
POOL DAY PASS
Get your extra dose of sunshine and tan lines from dawn to dusk at the Gulfside infinity
Pool at Grand Hyatt Abu Dhabi.

Mondays to Fridays | AED 99 with AED 50 redeemable towards food and beverage
Saturdays to Sundays | AED 150 with AED 50 redeemable towards food and beverage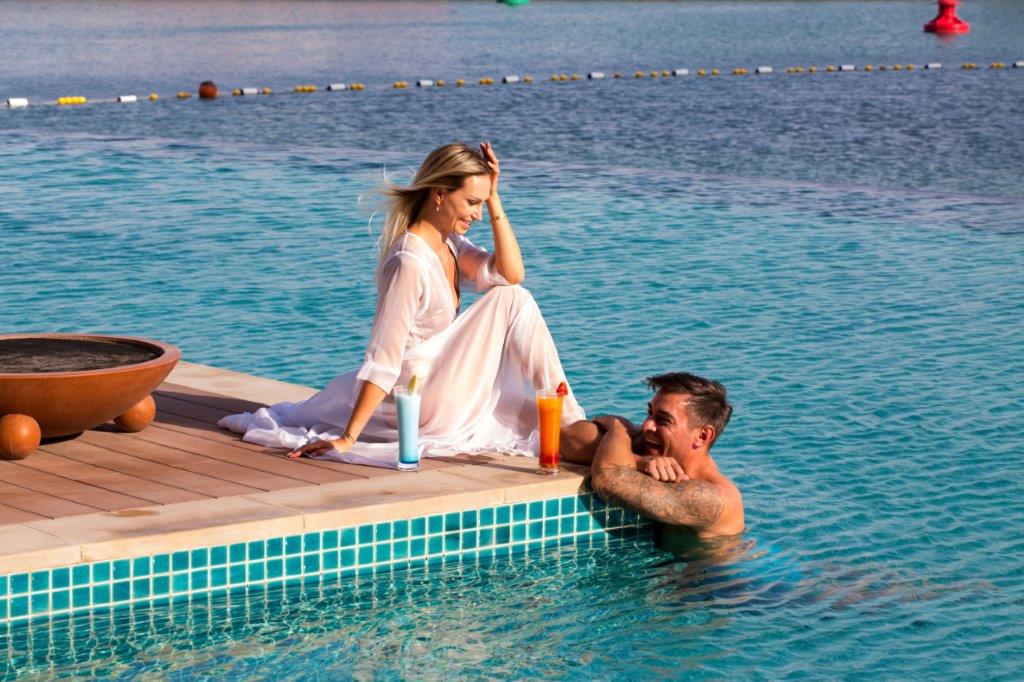 Poolside Happy Hour

Soak in the iconic poolside views as you lounge next to the Arabian Gulf.
Daily | 5 pm to 8 pm
Buy one, get one on selected grapes spirits and hops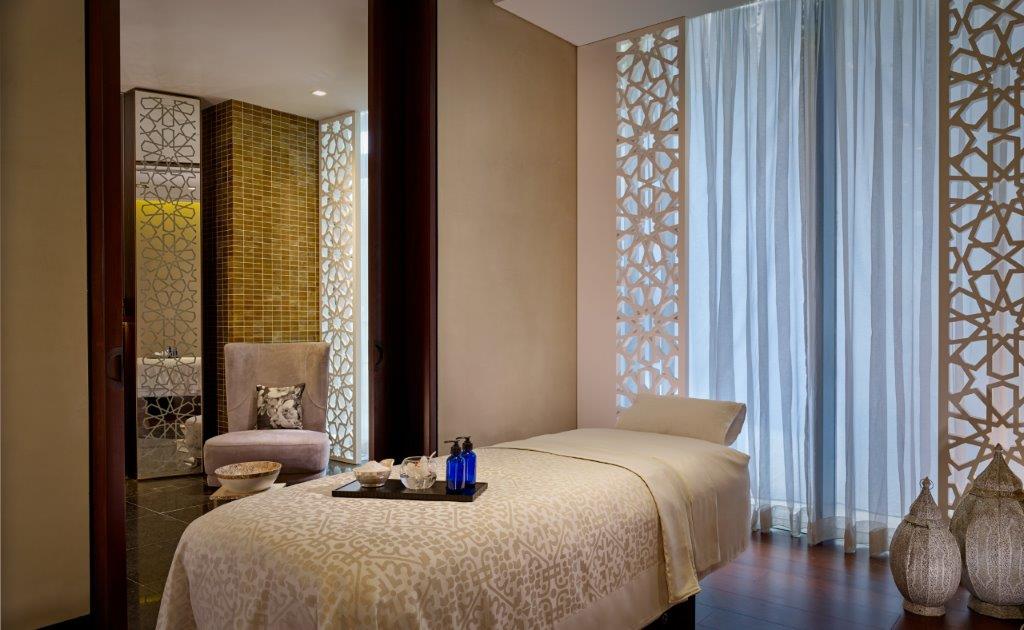 Luma's Spa

Enjoy a luxurious selection of spa and wellness experiences rooted in bliss and designed
to restore energy and take advantage of the Lum'a Spa October offers
Biorhythm Ritual

Classical Swedish Massage 60 minutes + detoxifying scrub 30 minutes
Duration: 90 minutes
Price: AED 650 (All Inclusive)
The Sweet Surrender

Classical Swedish Massage 90 minutes + detoxifying scrub 30 minutes
Duration: 120 minutes
Price: AED 800 (All Inclusive)