Nobu Dubai, Hakkasan Dubai and estiatorio Milos of Atlantis Dubai, and The MAINE, headline new additions to the 15 award-winning hospitality experiences lined up for 2023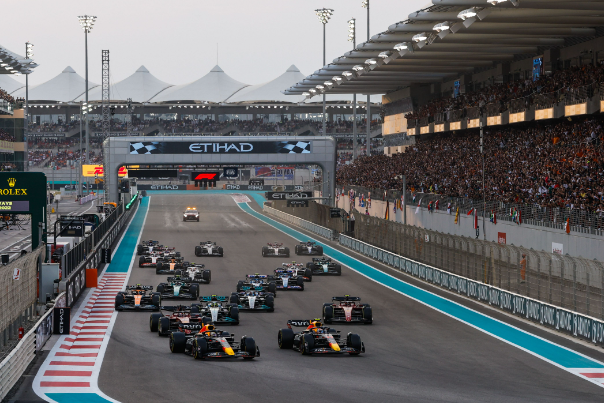 As Formula 1 prepares to return for the second half of the 2023 season, and with a limited number of experience packages remaining, the Formula 1 Etihad Airways Abu Dhabi Grand Prix 2023 is set to feature an award-winning line-up of international cuisine and incredible dining experiences for fans to enjoy while the 10 teams race around the Yas Marina Circuit track in November.  
With a number of new additions for 2023's event, the 15th edition of the Formula 1 Etihad Airways Abu Dhabi Grand Prix 2023 weekend sees 15 exciting hospitality experiences placed across the iconic track, including the all-new Deck at Two, a VIP-viewing platform at Turn 2, with exclusive menus from Nobu Dubai, estiatorio Milos and Hakkasan Dubai of Atlantis Dubai. Renowned for its premium sushi and grilled Japanese offerings, Roka also makes a debut this year at Club 58.
Bringing its world-renowned Japanese cuisine with a Peruvian twist, F1 fans will be wowed by the event's exclusive menu curated by Head Chef Damien Duviau of Nobu Dubai for #AbuDhabiGP weekend. Simultaneously, guests can also choose to indulge in the one Michelin-starred Hakkasan Dubai, featuring a tailored blend of Cantonese recipes as part of an "Only At" collection, designed exclusively for the F1 weekend on Yas Island by Chef Andy Toh. With one of the finest Greek Mediterranean restaurants in the world, estiatorio Milos, the Deck at Two is being touted as the place to be for this year's Formula 1 Etihad Airways Abu Dhabi Grand Prix 2023.
Motorsport fans looking to enjoy the thrilling high speeds in a luxurious setting can enjoy the party atmosphere at this year's event from the new Hillside Terrace. With a uniquely curated menu from The MAINE Oyster Bar & Grill, Dubai's first homegrown New England Seaside Brasserie, fans can enjoy this year's F1 weekend from day to night atop the Abu Dhabi Hill overlooking the iconic North Hairpin.
The historic turn also serves as a backdrop to the new The Garage @Sunset for those looking to bring their whole team to the race weekend, with intimate private boxes and free-flowing F&B options for all.
At the end of the fastest section on the Yas Marina Circuit track, fans can witness the action from the all-new Club 58, an eye in the sky with views of the circuit's longest straight and the start-finish line at the F1 season finale in a modern, relaxed setting.
Alongside the new additions, fan favourites will return for this year's event, with Turns at West, North Straight Hospitality, Deck At Nine with Opa, Luna Lounge featuring Ce La Vi, Turn 1 with Il Borro, Alici and Maya Bay and Shams Suites with Gohan and Ninive all back by popular demand for 2023.
Bringing a unique fusion of Greek flair and specialty dishes, the views overlooking Yas Marina from Deck at Nine have returned due to unprecedented demand from fans, alongside the rooftop Luna Lounge which proved to be a hit with its Instagrammable swing.
Fans looking for a true experience in culinary and sporting excellence can alternatively enjoy the dining experience from Shams Suite, with Japanese-inspired Gohan and the atmospheric Ninive bringing a new way to enjoy the F1 action.
Organisers have confirmed these experiences will remain on sale for a limited time, with the demand for this year's F1 season finale tickets continuing to see unparalleled interest from fans across the globe. Fans looking to not miss out on a weekend filled with entertainment on and off the track can find more details at: www.abudhabigp.com
Alongside the ultimate F1 weekend experience, all Formula 1 Etihad Airways Abu Dhabi Grand Prix 2023 ticket holders can also enjoy a range of unrivalled perks, with access to one of Yas Island's incredible theme parks, Qasr Al Watan and the Louvre Abu Dhabi through the 'Yas All In' ticket, valid between Wednesday 22nd to Monday 27th November.
Formula 1 Etihad Airways Abu Dhabi Grand Prix 2023, which will conclude the longest season in F1 history, is set to break records both on and off the track following 2022's biggest-ever attendance, with new Grandstand and Hospitality packages being unveiled to ensure fans can experience the #AbuDhabiGP in a variety of ways during 23rd to 26th November on Yas Island.
With more exciting announcements still to come, fans can still secure their experience package at the region's biggest sports and entertainment event at: www.abudhabigp.com