Here's some exciting stuff happening this year for Halloween that you can enjoy.
Spooktacular times are around the corner and there is no shortage of Halloween activities, from spooky activities for kids to spine-tingling brunches and frighteningly fun parties.
We bring you the best Halloween activities for 2020 and we will even tell you where you can get the spookiest attire to match.
Did you know this year Halloween is on a Blue Moon night making it extra spooky.
Halloween Brunches
What's better than a delicious brunch spread with spinetingling drinks, here are a few of the best Halloween Brunches in Abu Dhabi.
Fairmont Bab Al Bahr
A spookily fun stay is up for grab at Fairmont Bab Al Bahr. Because this year's Halloween is a Blue Moon, we thought of crafting something really special & safe for the entire family.
Start your spooktacular weekend experience with the "halloween-perfect" Fairmont Friday Brunch at CuiScene followed by a comfy stay in a Fairmont View Room. Wake up to a generous buffet breakfast at CuiScene, and enjoy a rejuvenating day by the beach and poolside.
For more details and reservations click here
Saadiyat Beach Club
This famous brunch is getting a Halloween makeover and we will be the ghostess with the mostest with bewitched themed drinks added to the menu,
Treats for all the kids and a makeup artist on-hand to get you in the spirit.
Eat, drink and be scary for a chance to win our best dressed competition.
For more details and reservations click here
MARINA AL BATEEN
Are you ready for the longest Halloween brunch in Abu Dhabi? Prepare yourself for a night of spine-tingling fun at Marina Al Bateen, which will be transformed beyond your imagination!
Party till the early hours of the morning to beats from DJ Rizal, DJ Kadd and Eyjey. Enjoy free-flowing drinks and bites, along with indoor and outdoor seating.
For reservations call 050 258 5544
The Haunted HipHop Brunch at BYB Abu Dhabi
This Halloween BYB throws a Haunted HIPHOP BRUNCH!
Expect an afternoon of trick and treats, lip-smacking food AND unlimited beverages!
DJ's supplying the 90's, 00's and new classic RnB & HipHop vibes will be Cliff Townley, DJ Allad and Fab!
For reservations call – 050 114 3666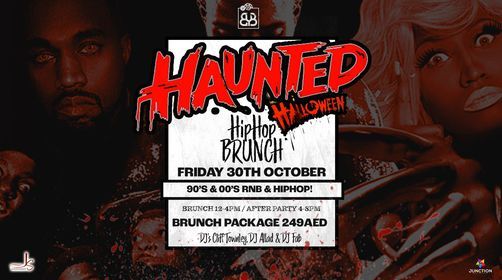 Jazz Pizza Express
Tuck into a delicious Halloween brunch at a rooftop terrace setting at Jazz Pizza Express! Aside from a tantalizing menu of Italian specialties, you can also participate in their fancy dress competition and win a special prize.
For reservations call 02 444 7752
Barfly by Buddha Bar
With an unmatched location this brunch cannot be beaten and with an after party as well what better place to be.
For reservations call – 056 177 7557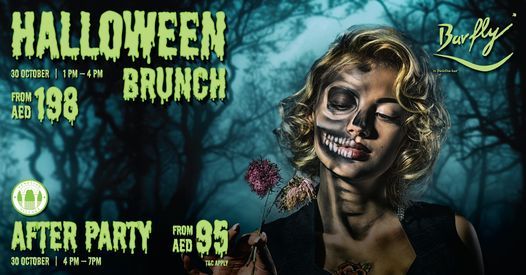 Mr Miyagi's – The Boo's Brunch
Another superb Halloween Brunch, Mr. Miyagi's sure knows how to throw a party.
This terrifyingly fun brunch will be taking place on Thursday and Friday, with five mouth-watering courses and free-flowing drinks.
Make sure your Halloween costumes are ready in time for this Halloween brunch because there will be prizes for the best dressed!
For reservations call – 02 565 1150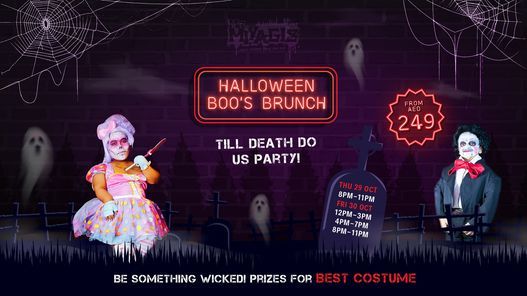 Victor's Abu Dhabi
Victor's Abu Dhabi Halloween brunch is a must-attend. Not only will you dine on unlimited grape and table sharing platters, but you will also have the chance to solve a murder mystery.
You'll have to work out the clues, interpret the evidence and identify the murderer with the help of the host!
For reservations call – 050 393 5529
Halloween Costumes
Well you just cant turn up in your flipflops for one of these Halloween affairs can you ? Head over to the below for all your Spooktacular needs.
Party Centre – Al Wahda Mall / Raha Mall
Posters – Al Wahda Mall / Dalma Mall.
So that's a brief roundup for Halloween activities in Abu Dhabi and if you are the adventure types who crave a trip to Dubai here is the best of Dubai for you as well.
Read our feature on the activities at Atlantis The Palm.