Indulge your senses and experience exquisite creations by the extremely talented Chef Sandeep at an equally remarkable venue.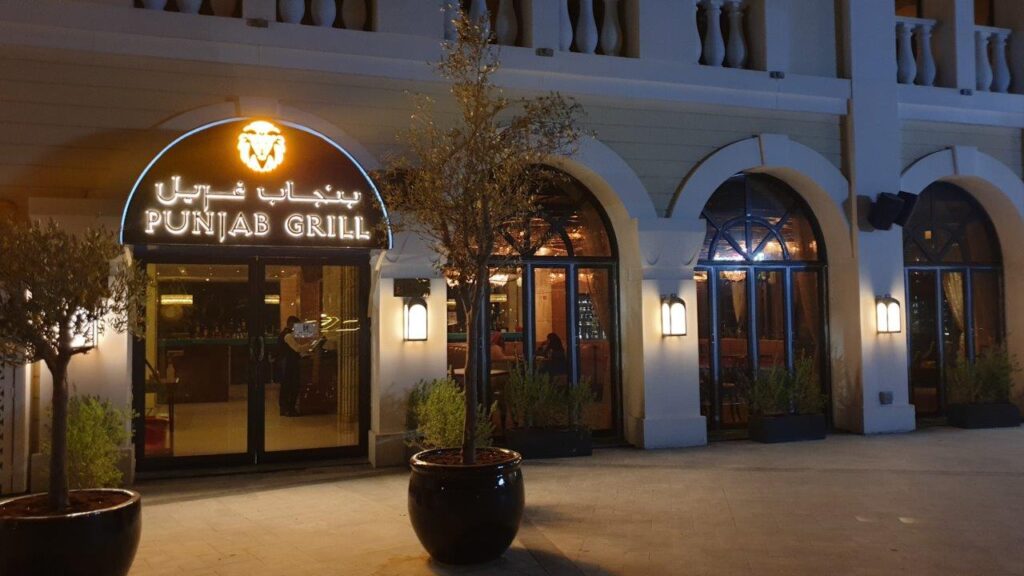 Dining at Punjab Grill is a gastronomic experience where the chef outdoes himself presenting the diverse cuisine of India seamlessly integrated with local influences creating unmatched flavors with exquisite presentations.
The Venue
Set on the banks of the Khor Maqtaa in the Venetian Village, Punjab Grill offers indoor and outdoor seating with stunning views across the water and a modern, stylish interior with tables well-spaced apart with all necessary precautions in place.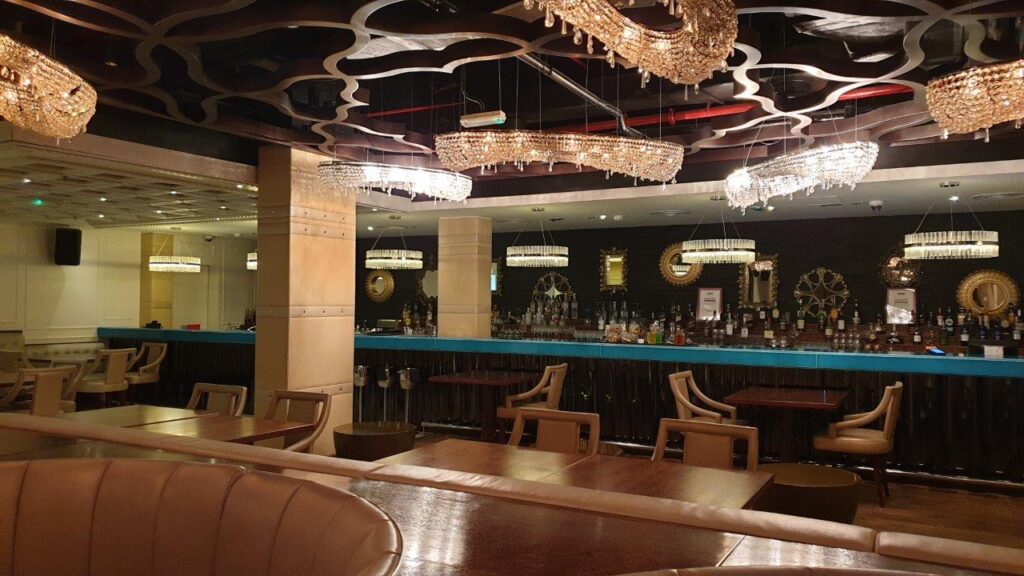 The ambience is classy with friendly staff who welcome you with a discreet temperature check and a warm, sanitized towel to freshen up as you get comfortable at your table.
They offer a full a la carte menu and a special five-course Chef Table menu designed to highlight the chef's novel creations taking diners on a whimsical culinary journey across Indian cuisine.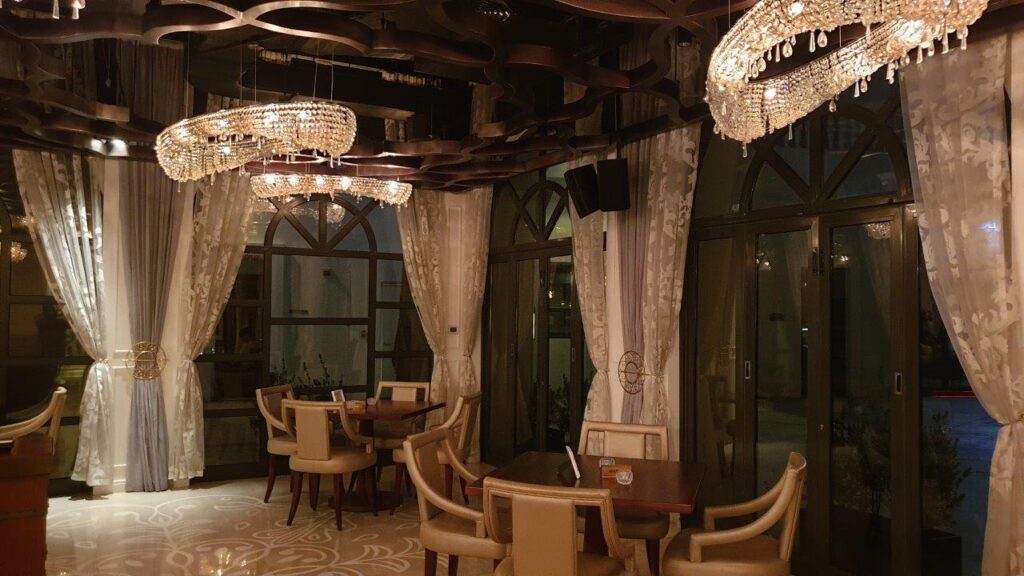 The Experience
The Chef had curated a special version of his stunning Chefs Table concept for us to try and even had a customized menu featuring The Experience Team on it with was such a nice touch.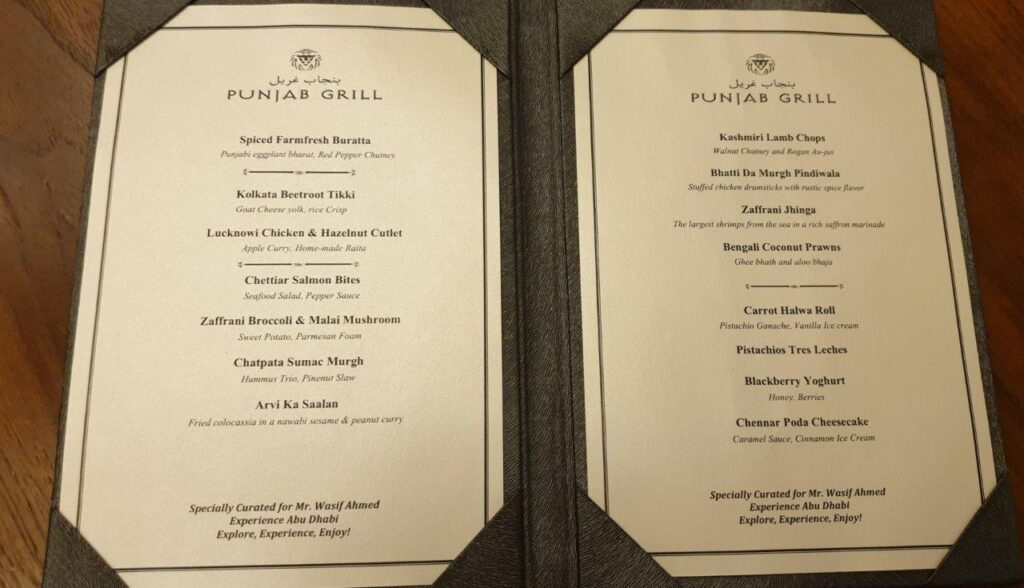 The journey starts with a platter of bread and papad accompanied by not one or two but eight exquisite home-made dips that certainly enhanced the flavors of each bite.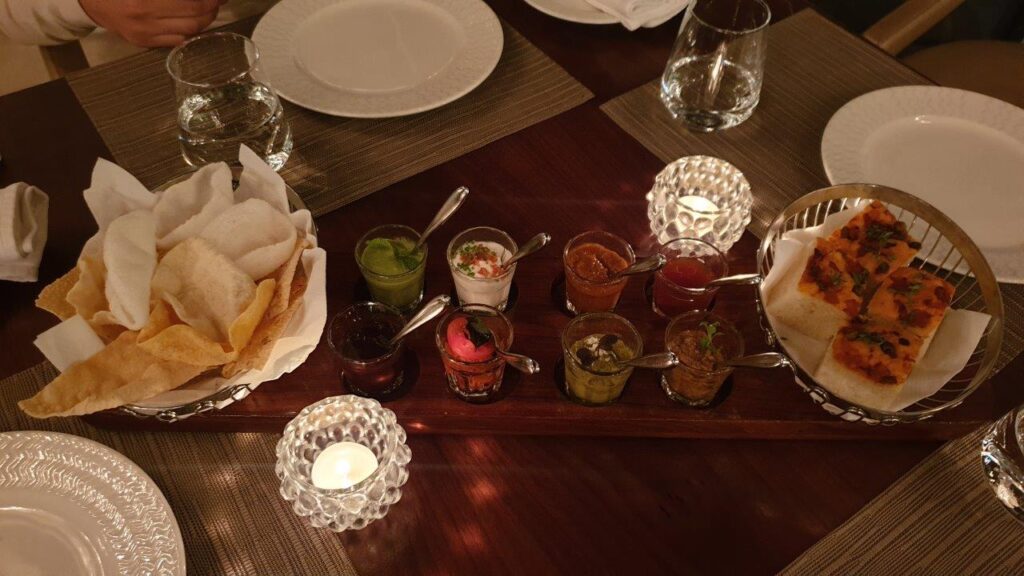 Salad
Spiced Farmfresh Buratta – The Buratta was soft, aromatic, and moist on a bed of greens with a ball of crisp eggplant bhurta delicately spiced and a tomato chutney, perfectly executed.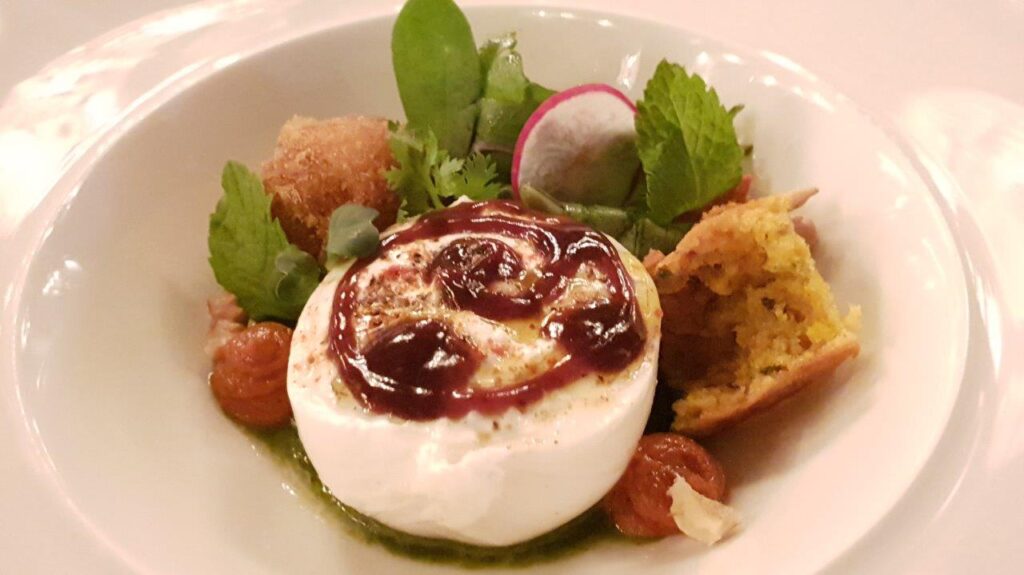 Starters
Kolkata Beetroot Tikki – A stunning creation, beetroot cutlet topped with a spherical ball of cottage cheese that you make your way into and it bursts delicious sauce. It is encapsulated in a Kolkata style chaat base; the flavors are tarty and sweet.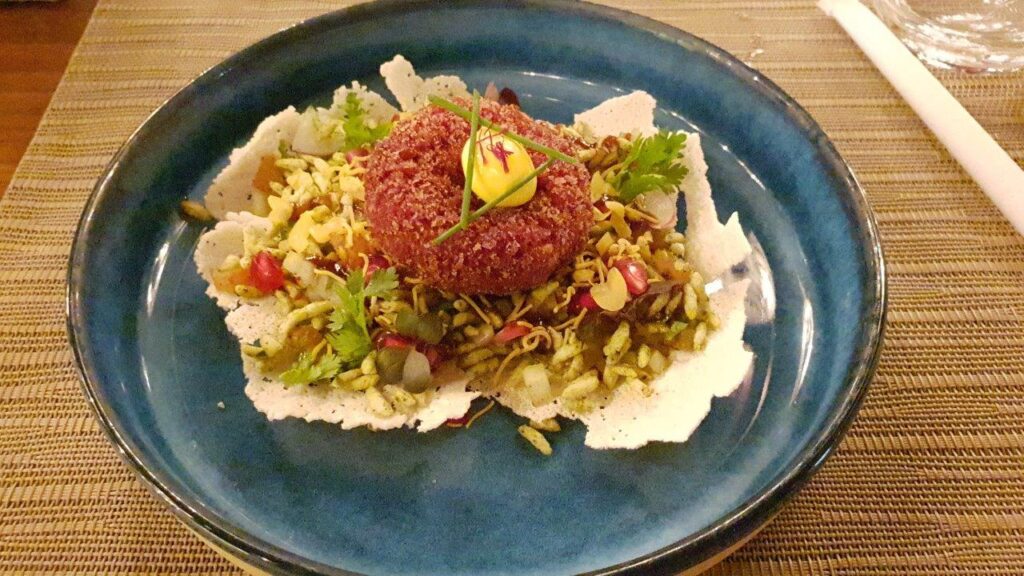 Lucknowi Chicken & Hazelnut Cutlet – This came under a class clauche with exotic smoke wafting out, chicken coated with a hazelnut crust, deep-fried with apple curry and fresh raita for contrast, tasted incredible.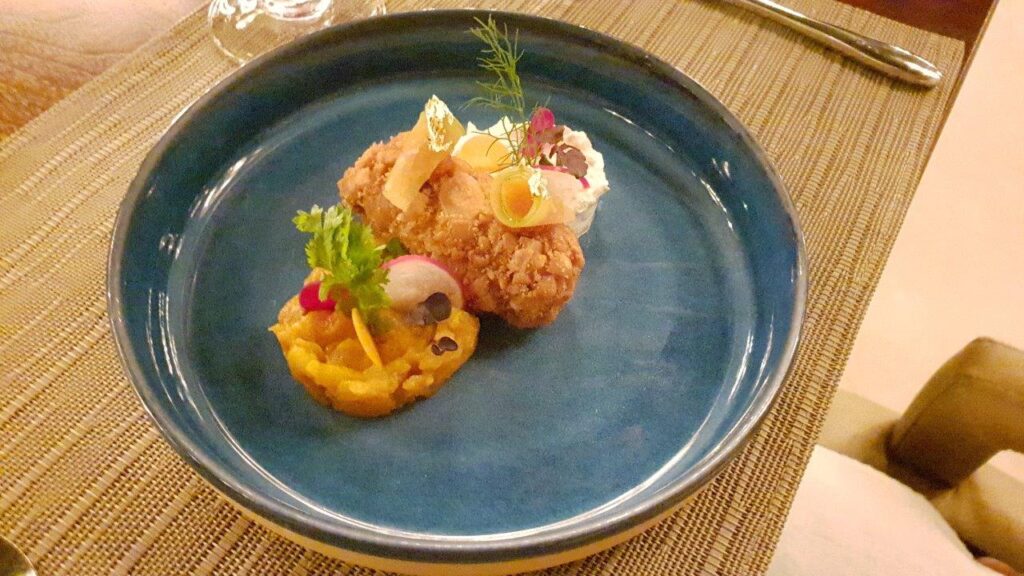 Entrees
Chettiar Salmon Bites – An exquisite bite of Norwegian salmon subtly spiced on a seafood salad base, delicate and crunch with a slight heat from the pepper sauce.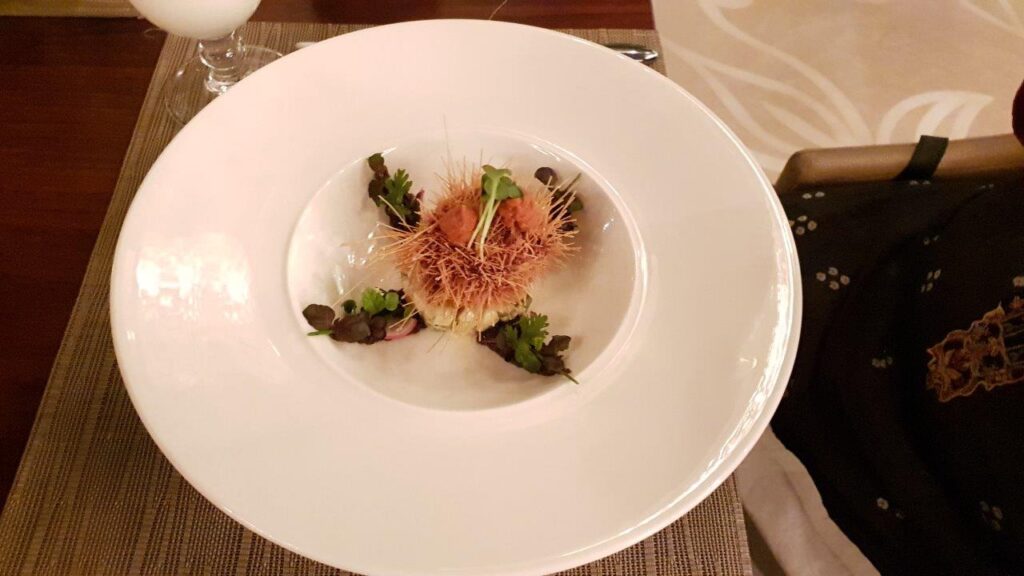 Zafrani Broccoli & Malai Mushroom – A beautiful medley of saffron-flavored broccoli and tender mushrooms. With sweet potato puree and parmesan foam, it gave a unique twist to the dish.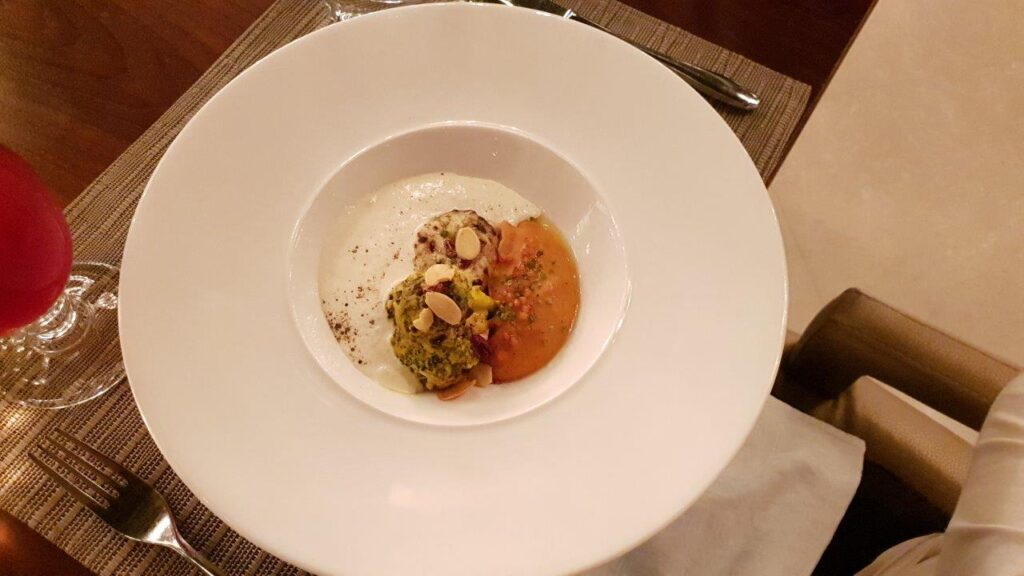 Chatpata Sumac Murg – A tender piece of chicken stuffed with chicken mince with a trio of hummus and pineapple slaw, the combinations are astounding and gave a unique taste.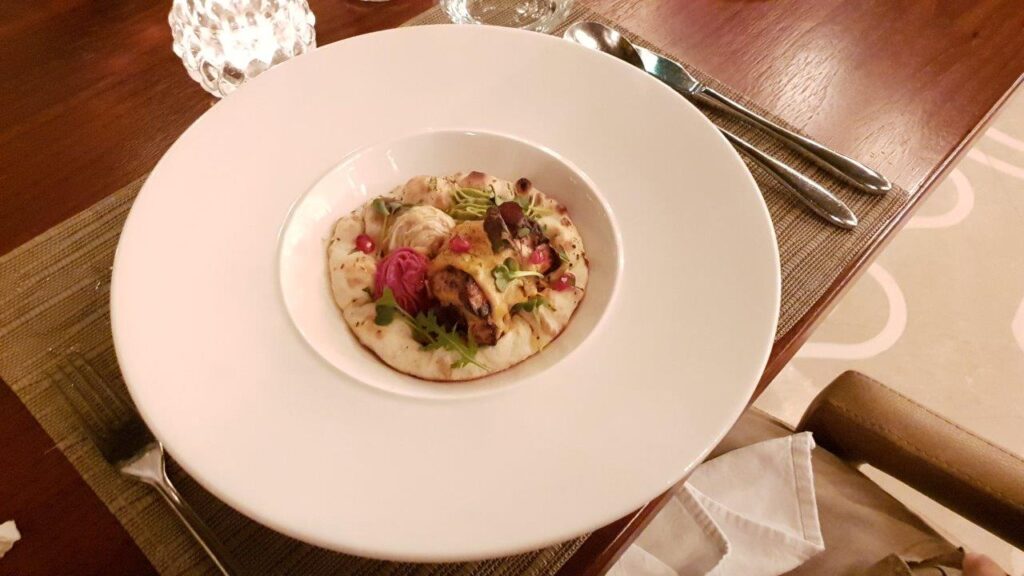 Arvi ka Salan – A bite of crusted, fried taro root with sesame and peanut sauce.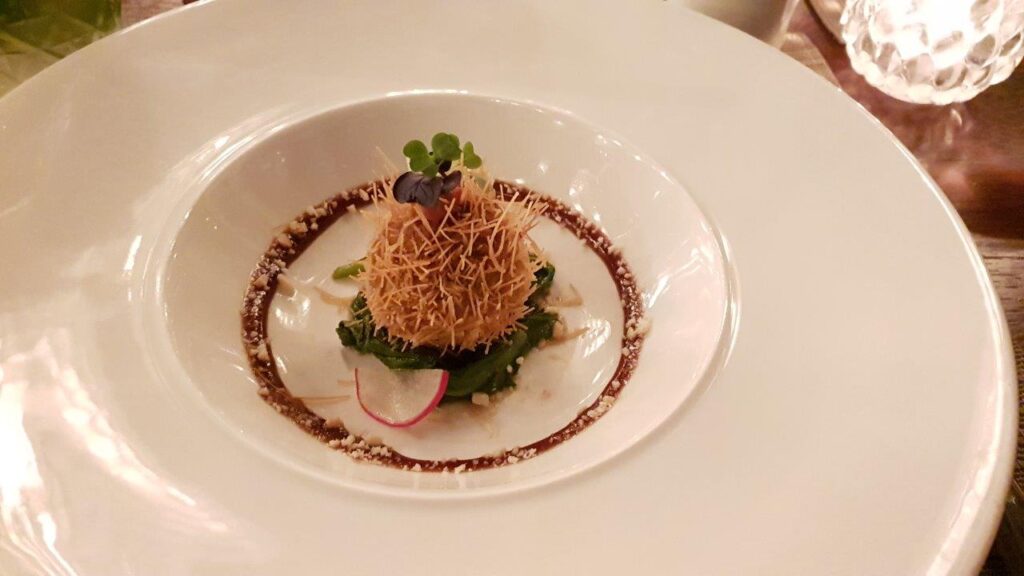 Mains
Kashmiri Lamb Chop – A Punjab Grill signature dish, the lamb was perfectly cooked with a walnut chutney and a Kashmiri roghan au- jus, absolutely divine!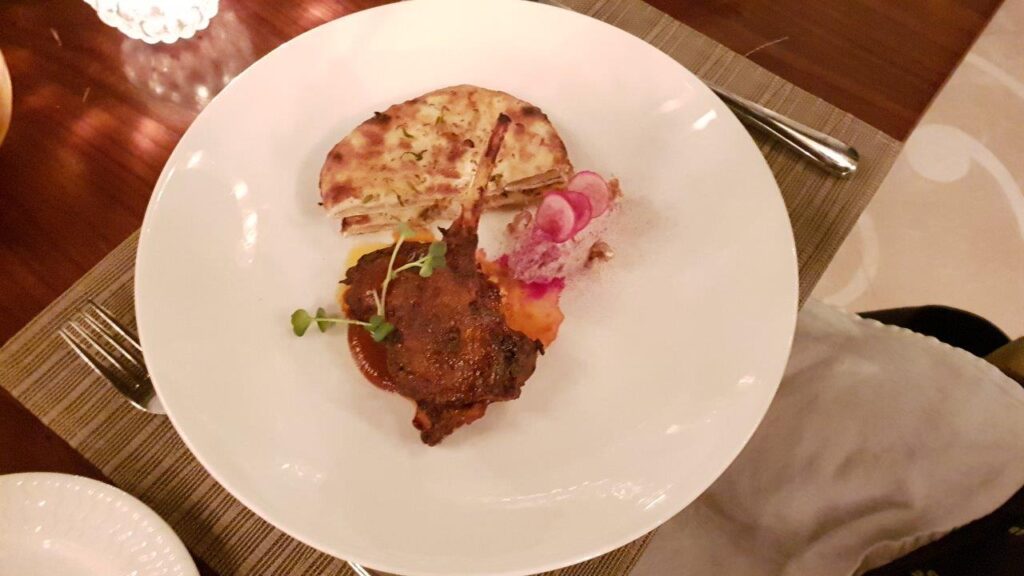 Bhatti da Murgh Pindwala – A stuffed chicken drumstick delicately spiced on a bed of salad with a butter chick style gravy that elevated the flavors. A modern version of a classic Punjabi dish worth trying.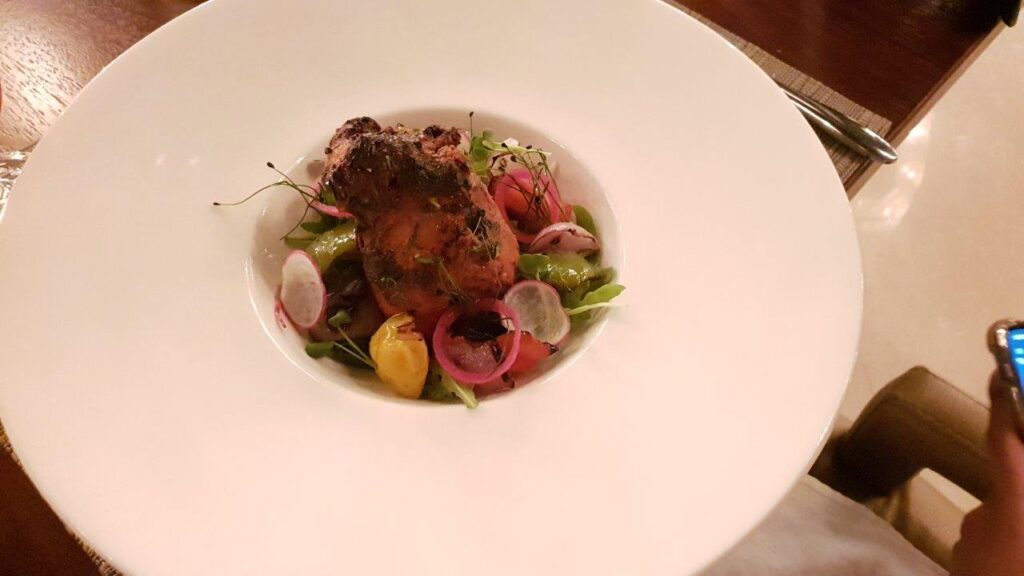 Zafrani Jhinga – Two of the biggest shrimp we have ever seen delicately flavored with saffron marmalade, completely out of this world.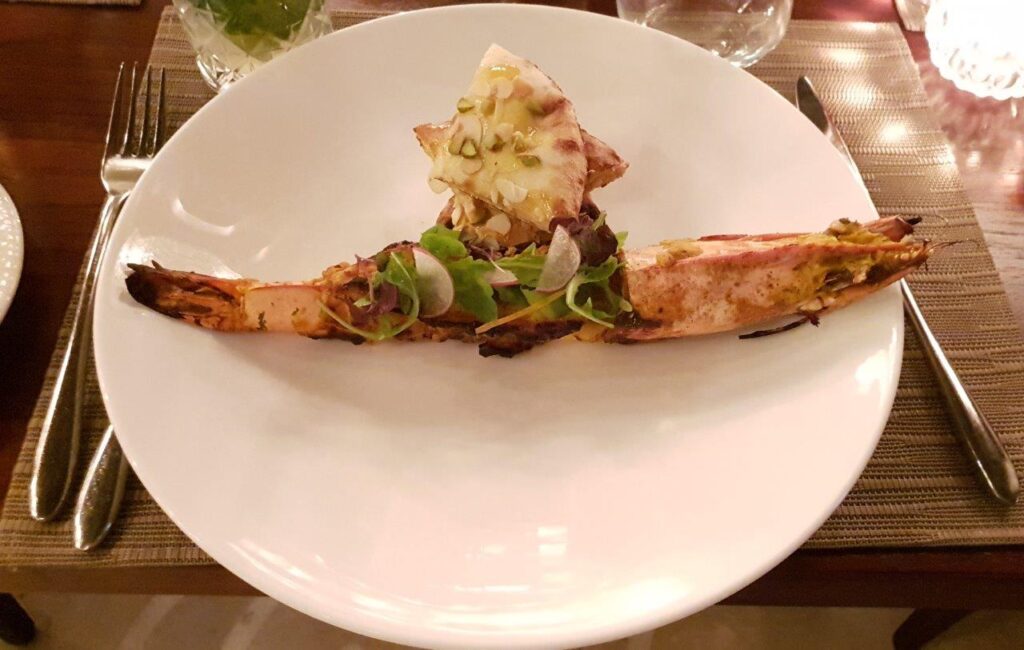 Bengali Coconut Prawns – A striking presentation of prawns in a coconut half-shell laid on a bed of leaves with a bowl of Ghee rice and a deep-fried kachori on the side that collectively entice your taste buds with unique flavors.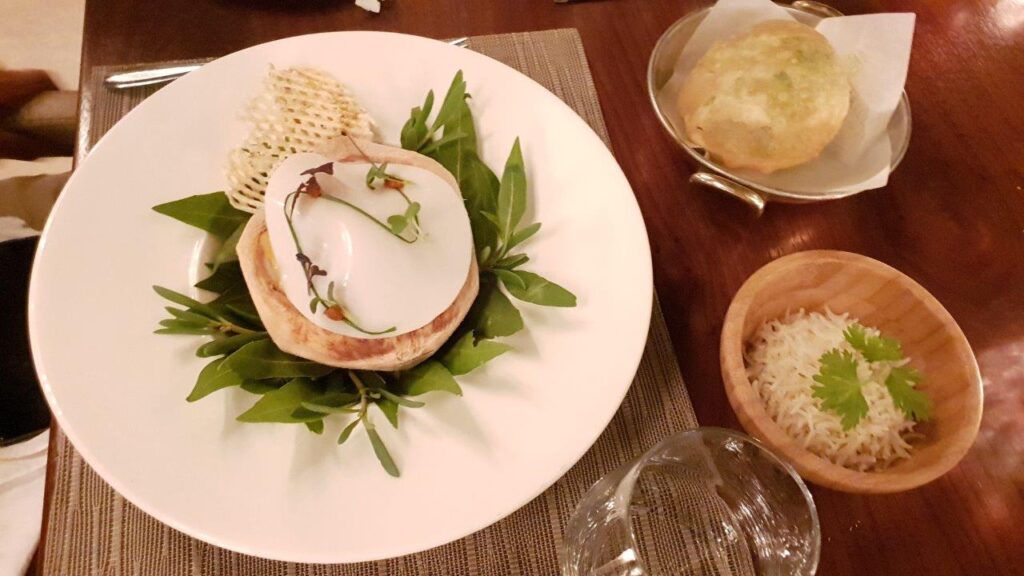 Dessert
Carrot Halwa Roll – Classic carrot halwa stuffed in a roll with vanilla ice cream on the side, a delicate combination that worked perfectly.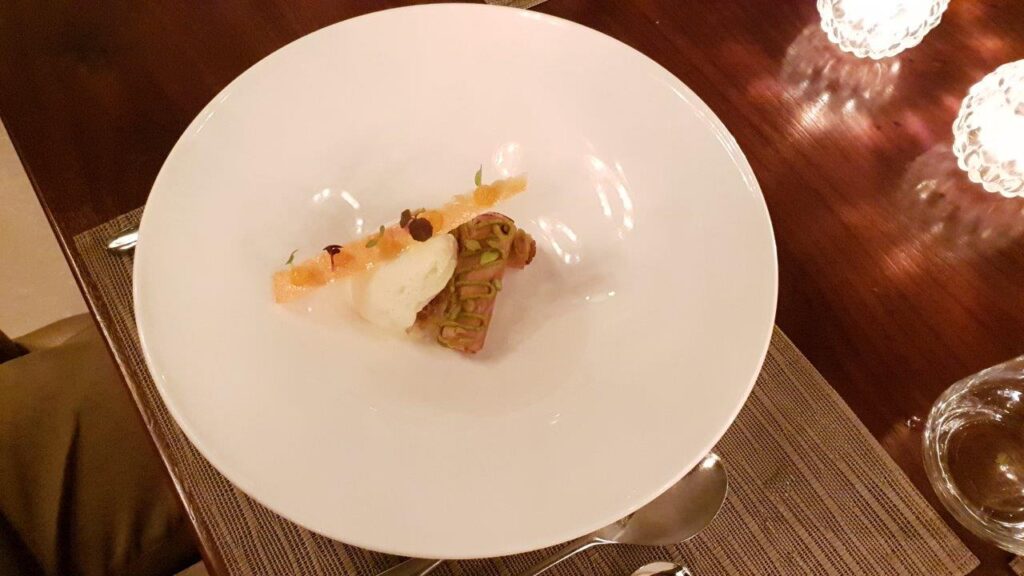 Blackberry Yoghurt – A superb blend of sweet and tart flavors on a bed of frozen sugar with stuffed berries, very light and refreshing.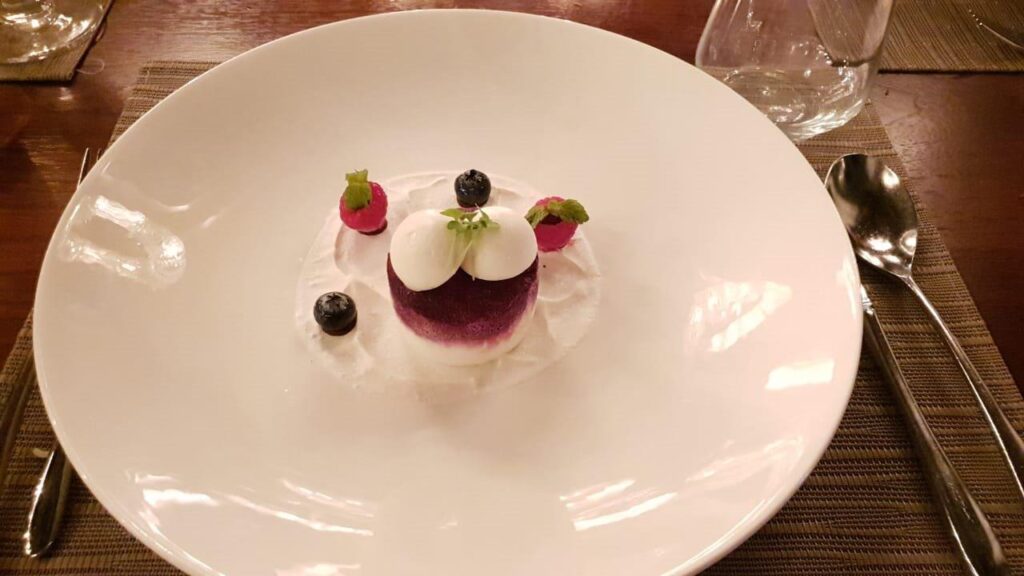 The Verdict
There are no words to describe. Each dish was perfectly executed and the presentation was spectacular. The cocktails were flawlessly crafted and the desserts were divine.
There is no other restaurant in Abu Dhabi that can offer such a novel experience with service and ambiance to match. The whole meal took around three hours, with the chef coming over to explain each dish as it was served which transformed into an extraordinary experience.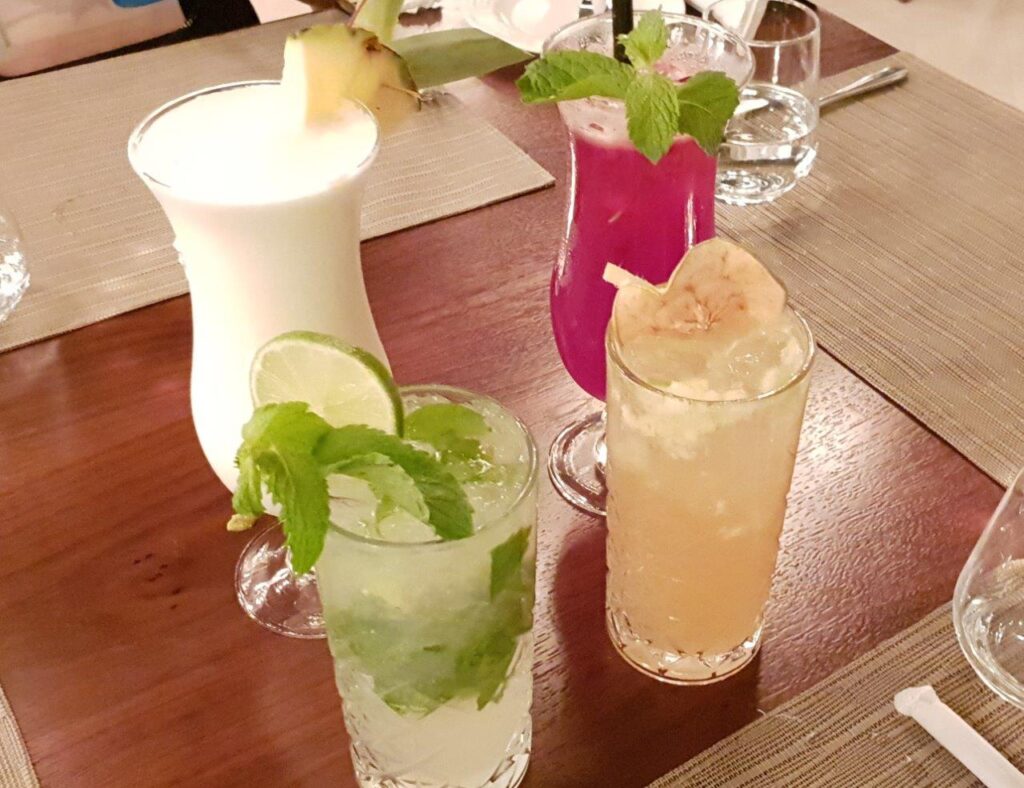 A place that is fairly suited for an intimate meal for two to a full-blown gastronomic extravaganza that we experienced. Full marks to Chef Sandeep and the team at Punjab Grill.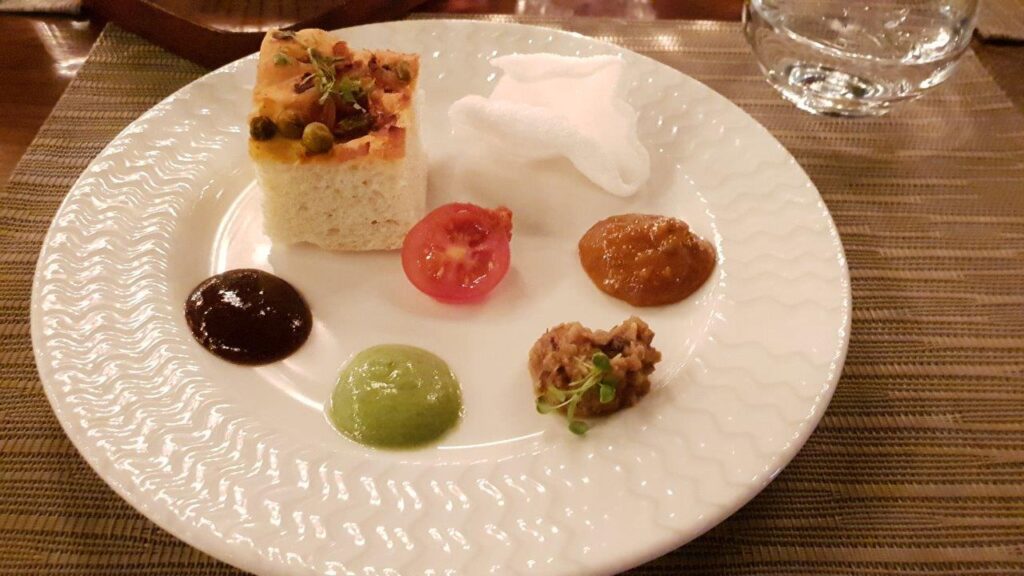 Contact
Phone – +971 2 449 9839 / +971 50 668 3054
Map