Exciting stuff to do this October at the Pearl Rotana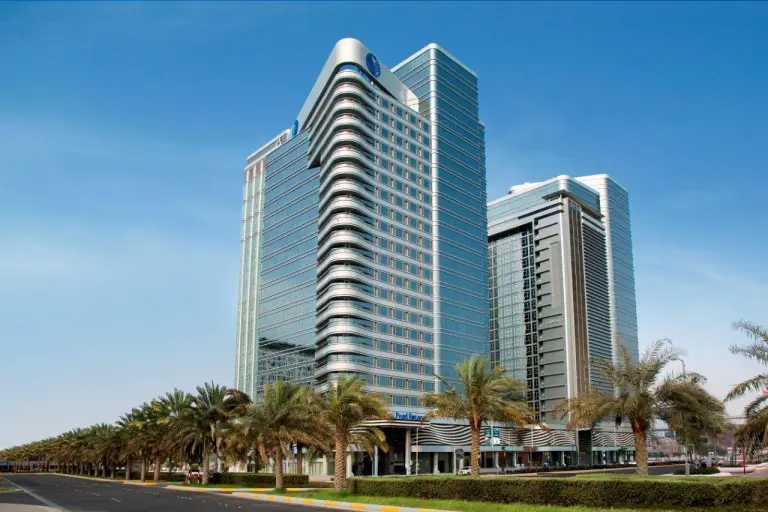 The team at the Pearl Rotana Capital Center has an exciting calendar of events and special offers for the season,from World Cup Happy Hours to Theme nights and brunches they have it all, read on.
The Warehouse Wine & Tapas bar
A unique dining experience to Abu Dhabi, The Warehouse Wine & Tapas bar wows guests with its urban chic interiors, its irresistible menu of small plates and a lively roster of global wines to tempt even the most discerning palate. Inspired by Mediterranean-style dining, paired with warehouse-stimulated
Open Daily From 5:00 pm till 2:00 am & Fridays 3:00 pm till 2:00 am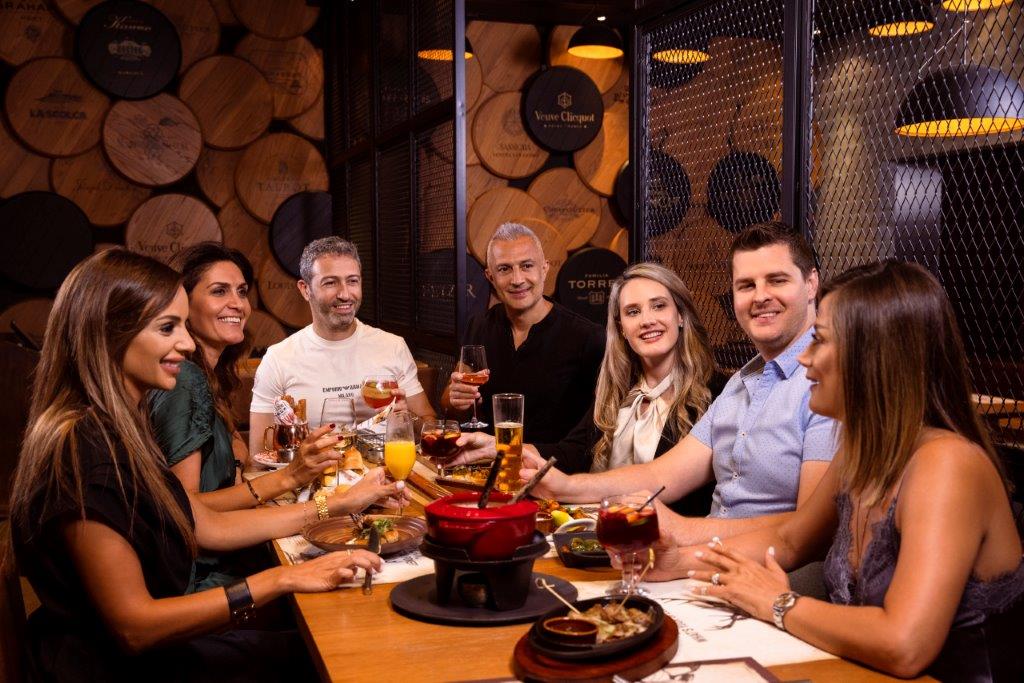 Newly Launched Nights

Saturdays Fado e Amigos at The Warehouse
Live Portuguese Artist, Saturdays Unlimited house Portuguese wines or beer for 2 hours
Packages from:
o Any 2 Portuguese tapas / Petiscos AED 165
o Additional tapas from AED 28
o 30% off our Portuguese Wines

Newly Launched Specials & Updated Pricing
Weekly Smashing Specials at The Warehouse wine & tapas bar, including:
Daily:
 'Happy Hours', 5 PM to 8 PM. 50% off on house beverages, jars & dips, flat breads & unordinary fries
 'Cheese and Wine – Wine not? ', Indulge in free-flowing selected wines paired with a variety of cheese and cold cuts. Daily at the Warehouse, from 5:00 to closing. AED 180 net per person for 2 hours.
 'Vine Hour', Pick your bottle of wine from our AED 125 – AED 175 Barrels. These great finds will blow your mind. From 5 PM to 8 PM.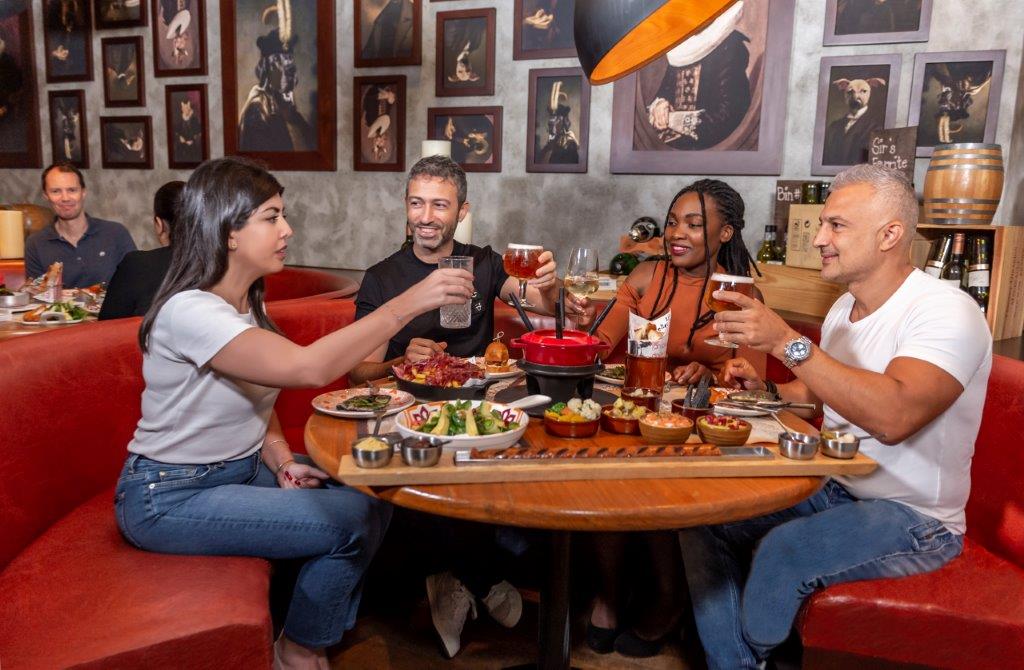 Mondays: 'Fiesta Mondays' (New)
Promotional Mexican Tapas menu accompanied with Margaritas and Tequila Flavored Beer. Mexican Tapas priced individually from AED 45
Packages:
2 Mexican Tapas + 2 Hours Unlimited Margaritas and House Beverages, AED 170
3 Mexican Tapas + 2 Hours Unlimited Margaritas and House Beverages, AED 210
30% Off Tacos Boards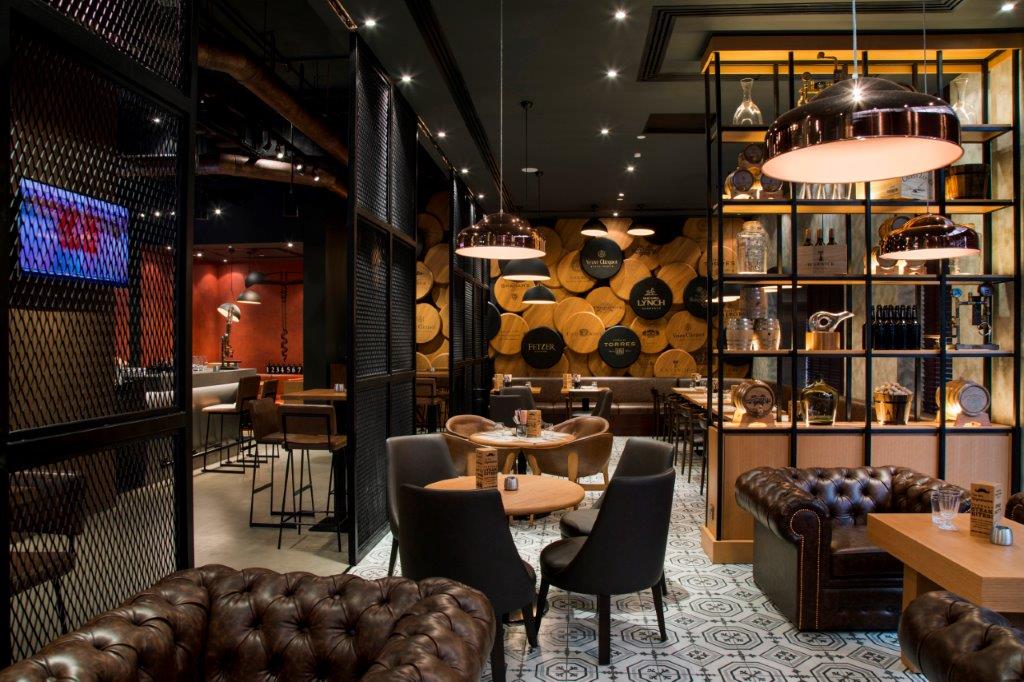 Tuesdays: 'Steak Bites'
Unlimited steak bites & accompaniment with selected house wines for 2 hours, AED 185. Available all day.

Wednesday: 'Ladies Night'
2 bites from the "light bites menu" and unlimited house beverages for 2 hours, every Wednesday, AED 110. Available All Day.

Thursdays: 'Tapas Night'
Featuring a selected Spanish Tapas menu accompanied by Classic Sangrias, Spanish Wines, Spanish Draught Beer and Selected House Spirits.
Live singer playing Spanish | Latin music on Thursdays Tapas Night
o Choose any 4 tapas from the Spanish Tapas Menu + 1 Pitcher of House Classic Sangria or Unlimited selected Spanish wines, Spanish Draught Beer or Selected House Spirits for 2 Hrs. AED 190
o Additional Spanish Tapas priced individually from AED 30
o 30% Off on all Sangrias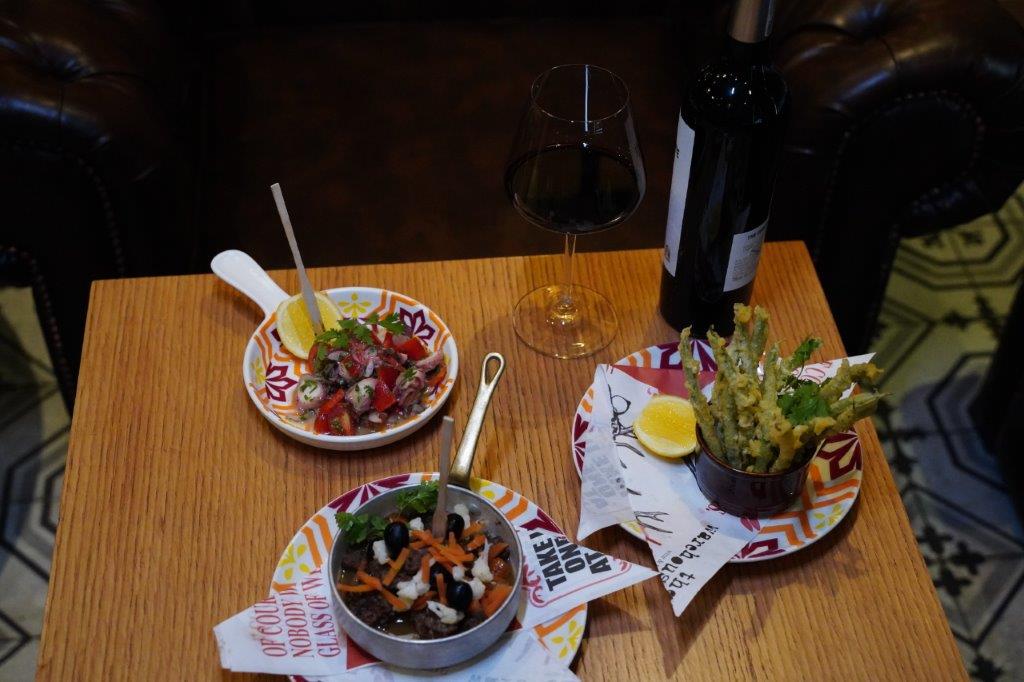 Teacher's Night (updated) 30% off on food & beverages
o Sunday to Wednesday – All Day
o Thursday, Friday & Saturday – 5 PM – 8 PM

Celebrate your birthday at The Warehouse…#Winenot?
A Birthday Package for 6 guests, inclusive of a sharing Tapas Menu with unlimited house beverages for 2 hours @ 1,100 AED.
o Including a complimentary Birthday Cake & a bottle of bubbly
o Packages available from AED 180 per person
o A Non-Alcoholic Package available from AED 950 for 6 guests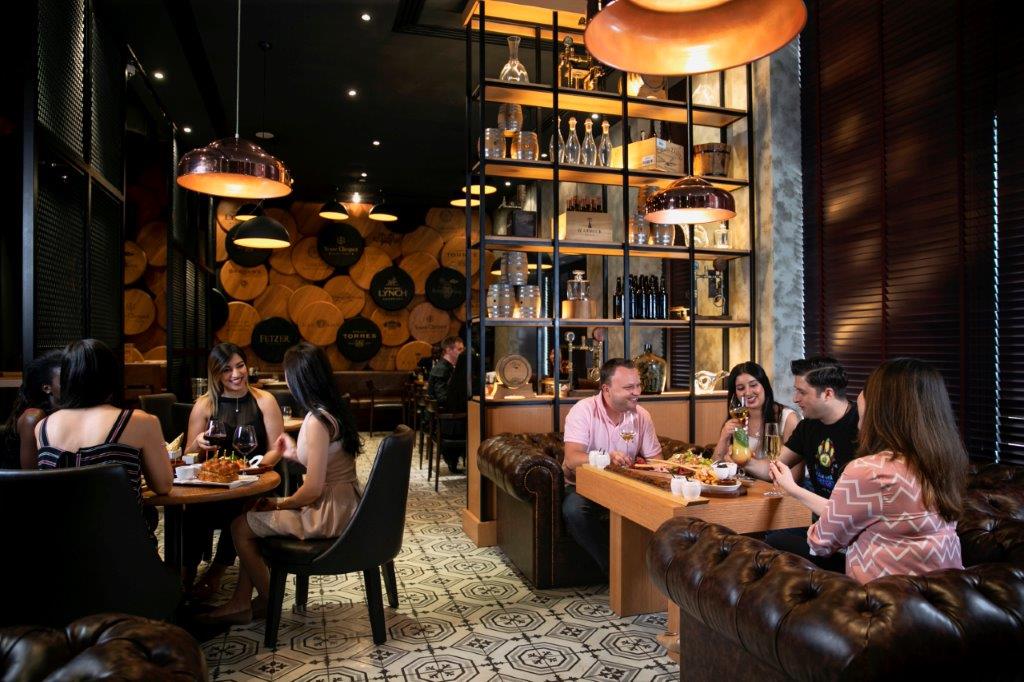 Dino's Bistro Italiano

An authentic Italian restaurant serving modern cuisine in a lively and casual setting. Our passionate chefs create Italian classics, from pasta to meat and fish dishes, all made from the finest and freshest ingredients, bringing a true taste of Italy on your plate.
Opening Hours:
Monday to Friday from 12:00 noon – 3:30 pm (lunch) Saturday & Sunday from 12:00 noon – 4:00 pm, last order 3:30 pm (brunch and à la carte) Daily from 6:00 pm – 11:00 pm (dinner)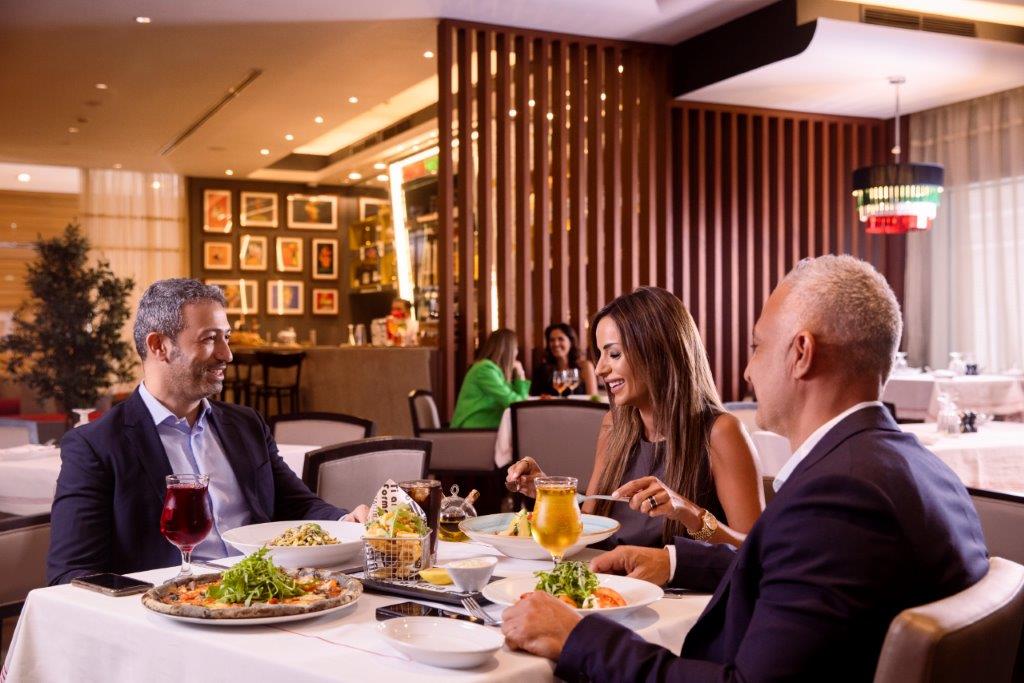 For the love of seafood at Dino's: 10 – 31 October

A promotional a la carte menu with a selection of seafood dishes inspired by the Italian love of fresh seafood catch from its coastlines, ranging from starters to main courses paired with the finest selection of grapes.
Priced individually from AED 54.
Dino's Weekend Brunch: Fridays, Saturdays and Sundays

With its warm, casual, and friendly atmosphere, Dino's brings you the finest flavors of Italy, paired with a selection of premium beverages to choose from. Come over with your friends or family on the weekends for our à la carte brunch served right to your table.
Choose from:
Fridays Evening Brunch from AED 190 NET including cheese & antipasti station, AED 250 NET including signature cocktails.
Saturdays & Sundays, Midday Brunch from AED 180 NET including soft beverages, AED 240 NET including signature cocktails.
Children between 6 -12 are entitled to 50% off, while kids up to 5 years dine for free.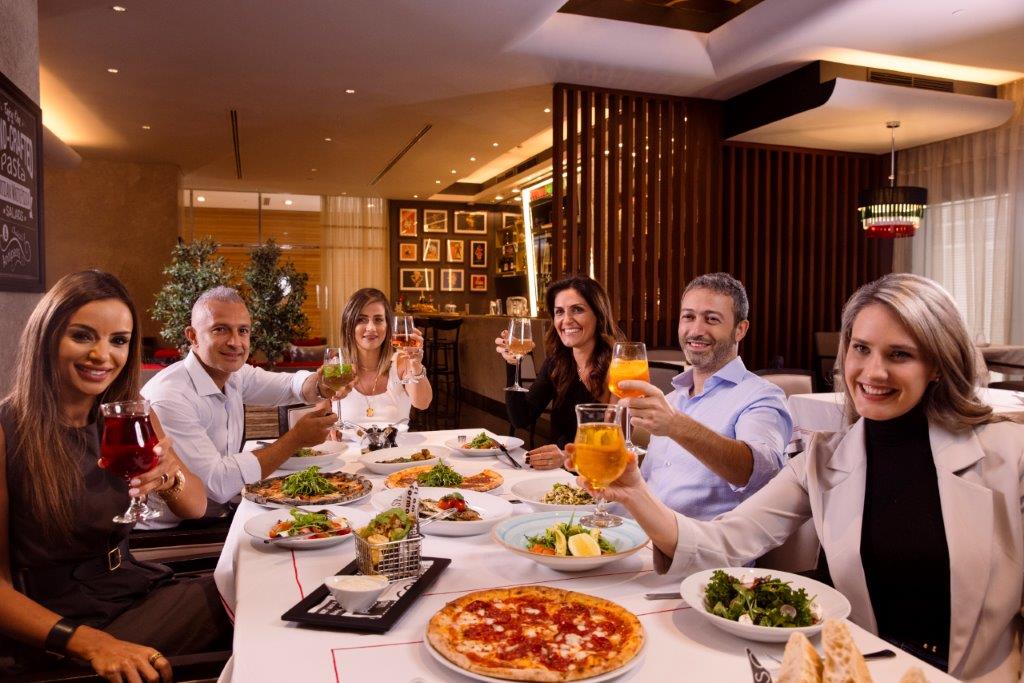 An Italian Business Lunch: Mondays to Fridays

A delicious business lunch at the only authentic Italian restaurant in Capital Centre, Abu Dhabi's business district. Pick one of the 2 set menu options along with regular à la carte options. From 12:00 noon to 3:30 pm.
 2 courses for AED 99 net including soft beverages
 3 courses for AED 115 net including soft beverages
Aperitivo Hour at Dino's: Mondays to Thursdays

Enjoy an Italian antipasti platter with 2 house beverages for AED 79 Additional serving from AED 15
Mondays to Thursdays, 6 – 7.30 PM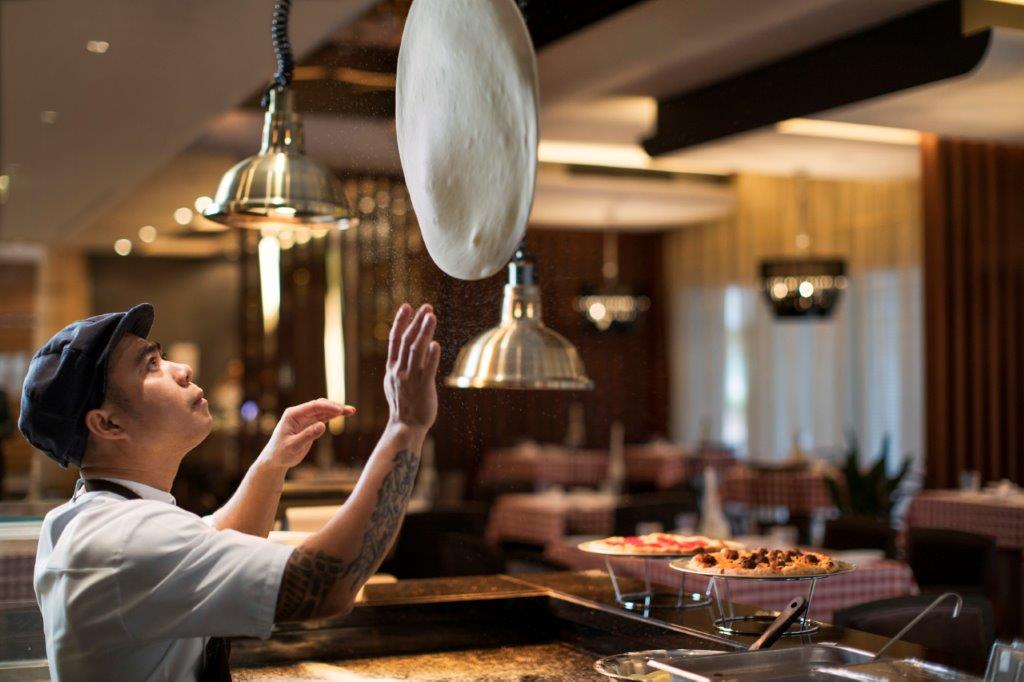 c.mondo bar
c.mondo… where I drink. The hotel bar is designed to provide a number of informal zones for business gatherings and entertainment. Whether unwinding at the end of a busy day, catching up with colleagues, meeting new friends or indulging in a spot of people-watching, c.mondo is a chic place to relax and mix and mingle. Sports fans can kick back and watch their favourite teams in action on our TV screens.
Opening Hours:
12:00 noon – 2:00 am (last order 12:30 am)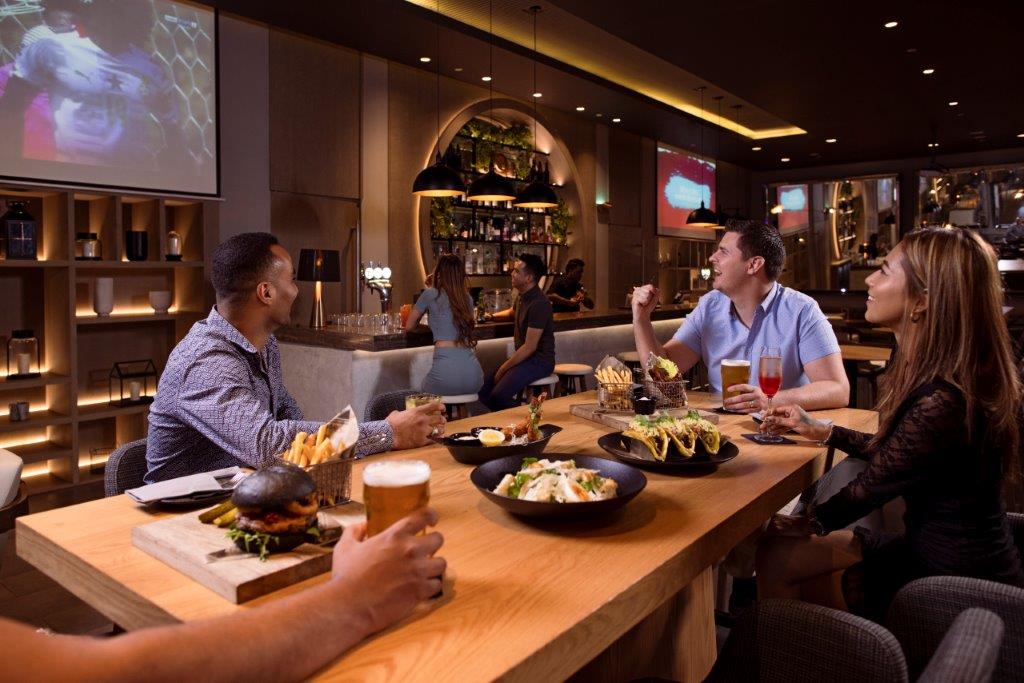 Football World Cup at c.mondo 20 Nov – 18 Dec

Cheer for your favourite teams & watch the world's biggest sporting action live on large screens at c.mondo bar with the opportunity to win big prizes!
Enjoy delicious bites and drinks in a funky environment and try out our offers, during the World Cup:
• World Cup Happy Hours – ALL DAY
All house selected beverages @ AED 25
house spirits, beer draughts & bottles, white & red wine
Buckets Promotion
• Any 1 Snack Bucket + 2 Pints @ AED 90
• Beer Bucket, 5 Heineken bottled beers @ AED 110
Prizes to be Won
• 1st Major Prize: 2 Tickets to Quarter final in Qatar with Airfare & Airport transfers All included (Raffle draws to be done at partner soccer fan zones)
• 2nd Major Prize: Play Station 5
• Scratch and Win opportunities on purchasing a Beer Bucket (Caps, Shirts, Footballs, Jerseys, Keyrings)
• Free Pints – Guess the first goal scorer / Final Score ('90 mins