Ride, explore and learn all about horses while experience the unique culture of this club.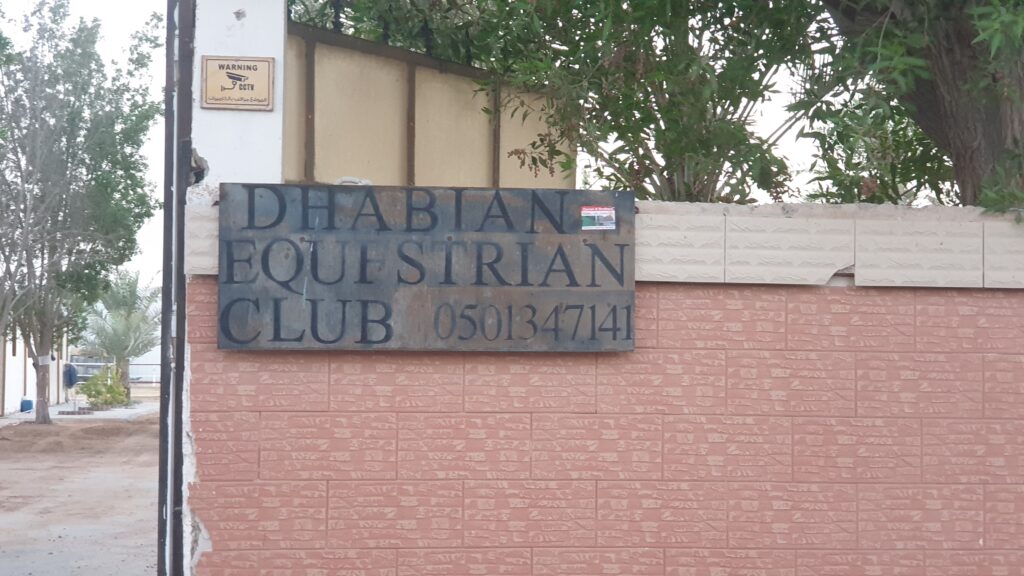 Dhabian Equestrian Club situated on a quaint farm in the Al Rahba area of Abu Dhabi is a fascinating place full of animals and people who are deeply passionate about horses.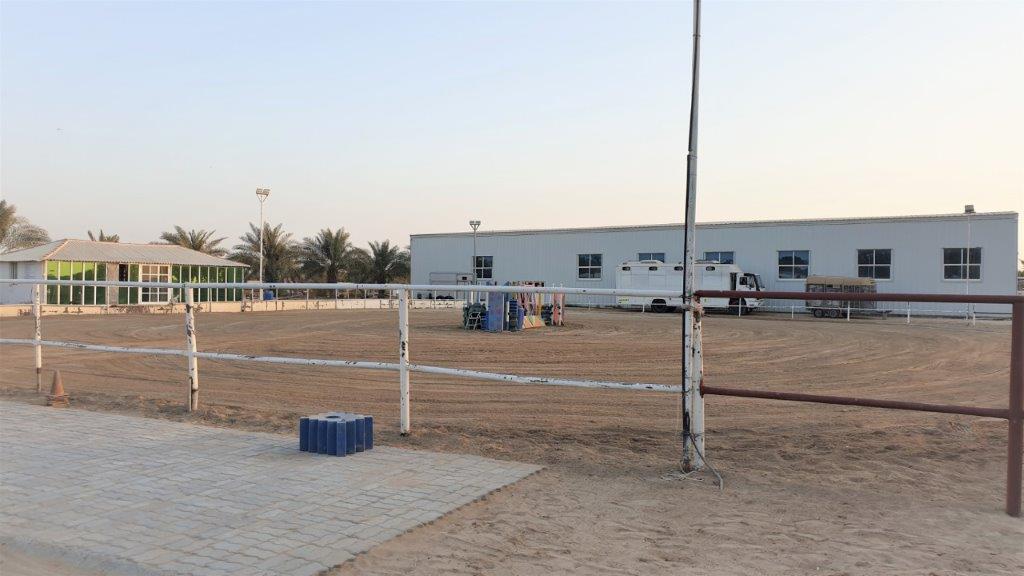 The Background
Tina Al Qubaisi, a larger than life personality, naturalist and homemaker has been around horses from her childhood in the UK, her days in Qatar and when she settled down in Abu Dhabi this love of horses drew her to go rescue horses in distress and care for them.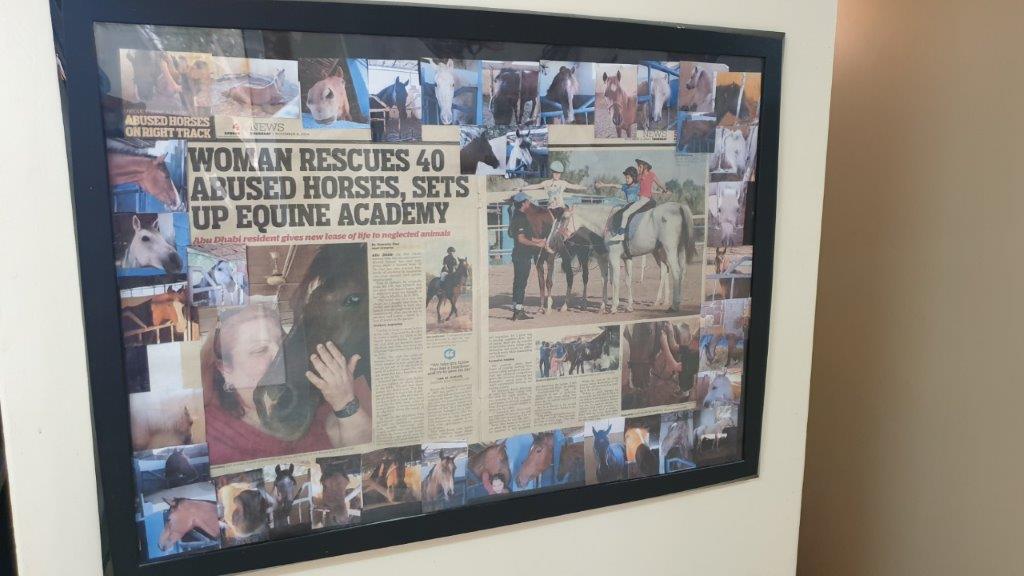 Soon the garden of her Khalifa City home had twelve horses in various stages of care completely taking over the place. Then a significant development occurred that led to the birth of Dhabian Equestrian Club.
Khaled Al Qubaisi, Tina's middle child who had been diagnosed from an early age with ADHD, took a shine to the horses and seemed to connect and bond with the horses in a unique way giving him an avenue to direct his energies.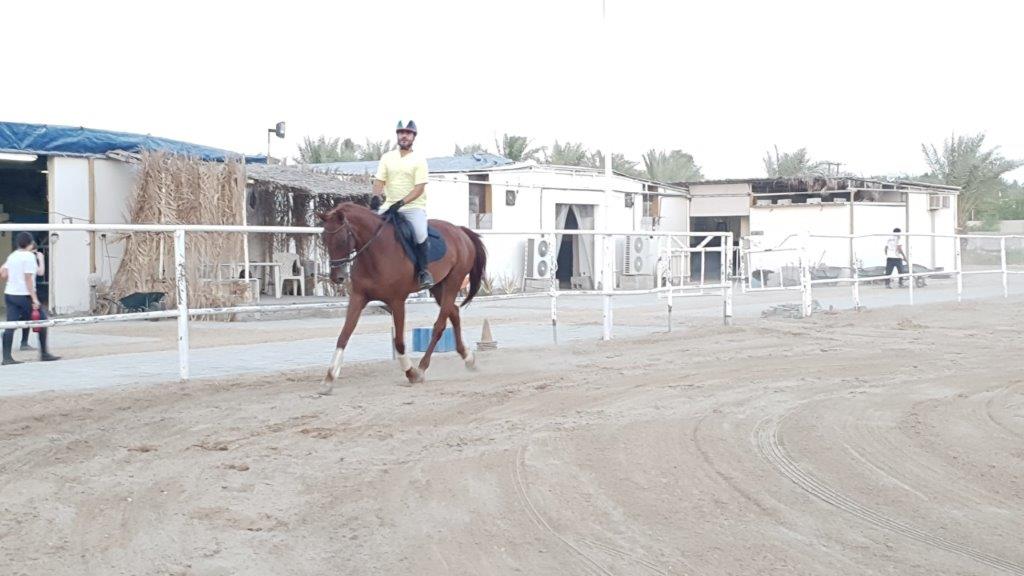 This prompted Tina, who felt she had to create a lasting legacy for Khaled, to move the horses to their farm in Al Rahba and the Dhabian Equestrian Club was born. Since then Khaled has bloomed and is now a trainer and deputy CEO of the club.
Named after Tina's first horse, Dhabian, a gift to her from an old local gentleman who had received the horse as a gift from the late Sheikh Zayed, there was no looking back.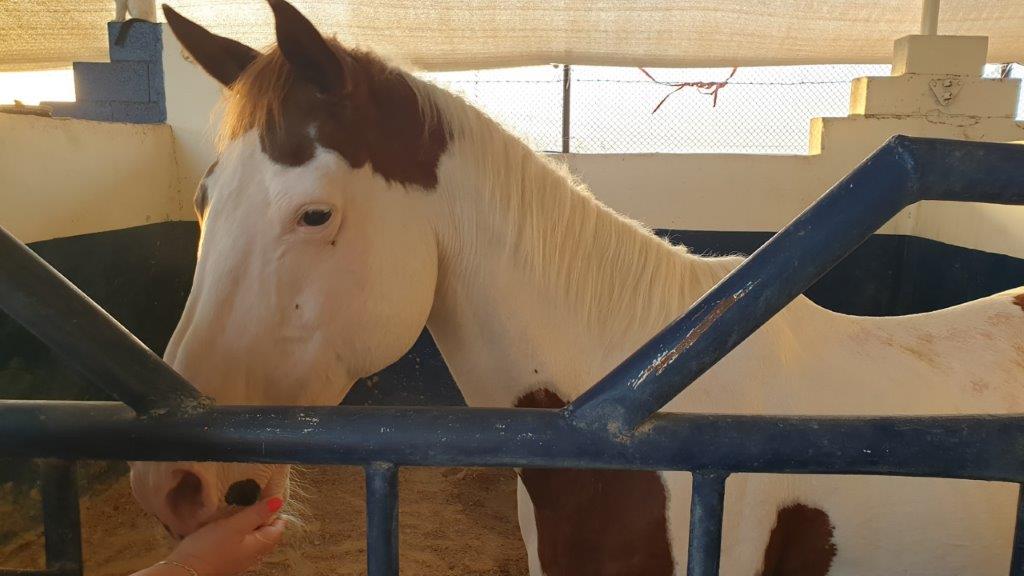 The Club
Started in 2007 the club has grown from 12 horses to over 40 now stabled in four blocks including one that is air conditioned and houses some of Tina's prized show jumping and endurance horses. It's a family-oriented place with activities for all ages.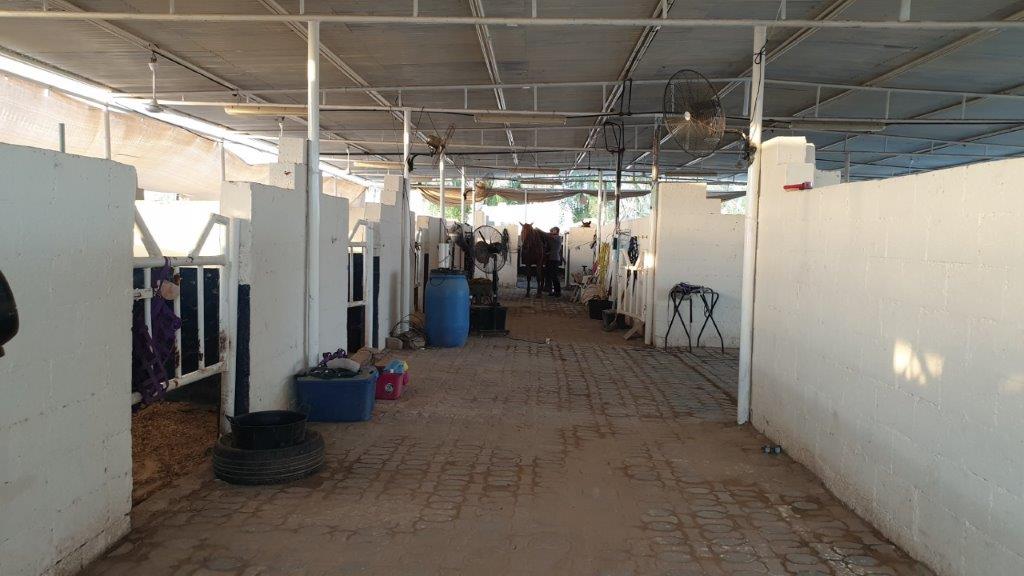 There are two paddocks for riding, one for the kids and ponies and one for the larger horses with jumping obstacles installed.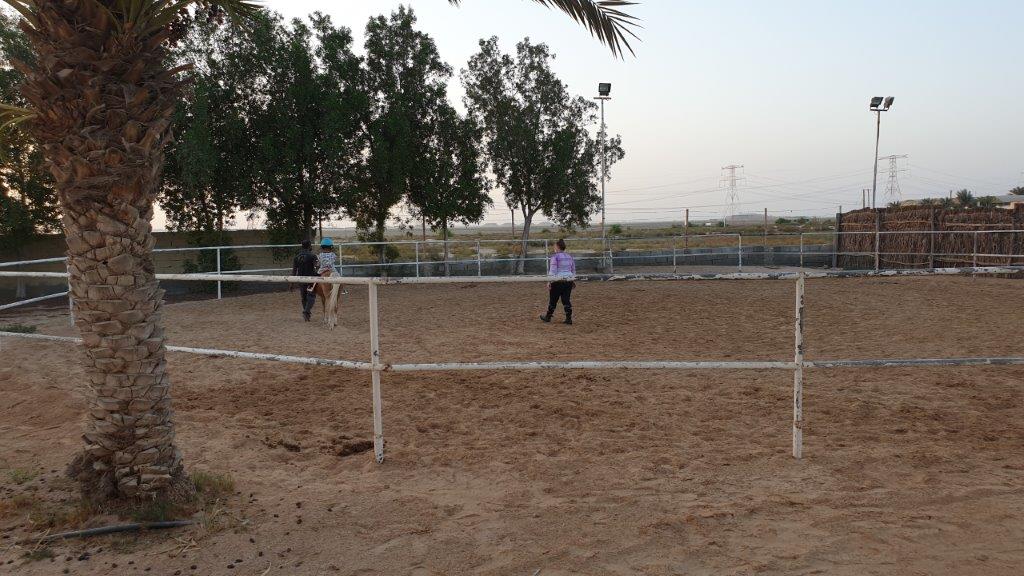 A large indoor arena enables indoor riding all year-round doubles as an events and activities space when needed.
The club has an old world. laid back charm, it feels like you are at a family ranch where everyone is passionate about the animals and their one goal is to ensure their wellbeing.
Tina believes people should be involved in all activities in order to appreciate the animals and the care they need so you will see guests working with the horses, helping in grooming, feeding, walking them apart from just coming in for a ride.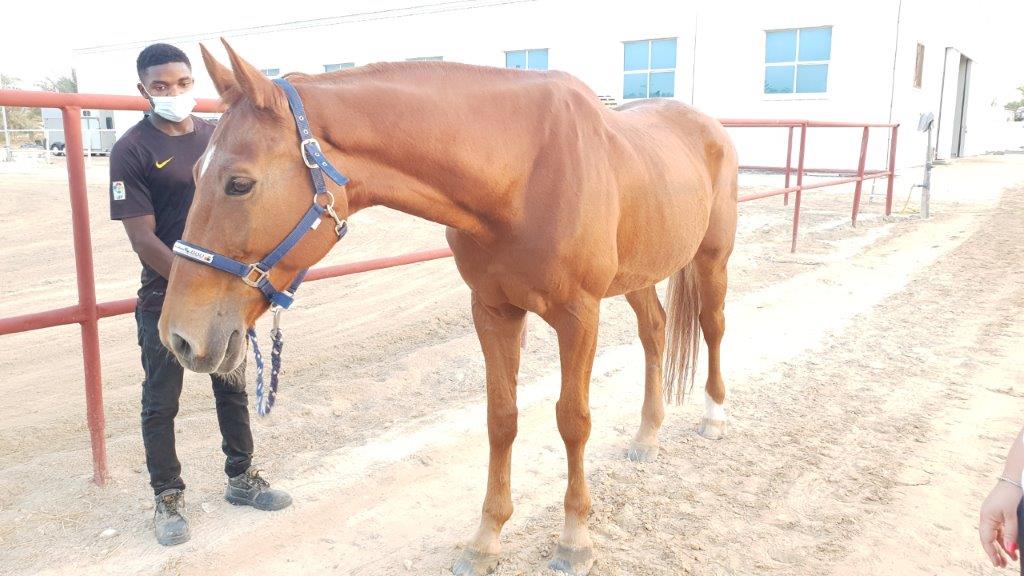 As you enter the compound you see a set of offices on the right with a garden with kids play equipment, as we waited to meet Tina we heard peals of laughter and found Tina in animated conversation with fellow equine enthusiasts, Elizabeth & Anais. The sense of tranquility and peace around the place is magical.
The club offers a huge variety of activities, from offering stabling facilities, care for the horses, riding lesson, instructor certification to taking part in show jumping, endurance events and exhibitions across the region.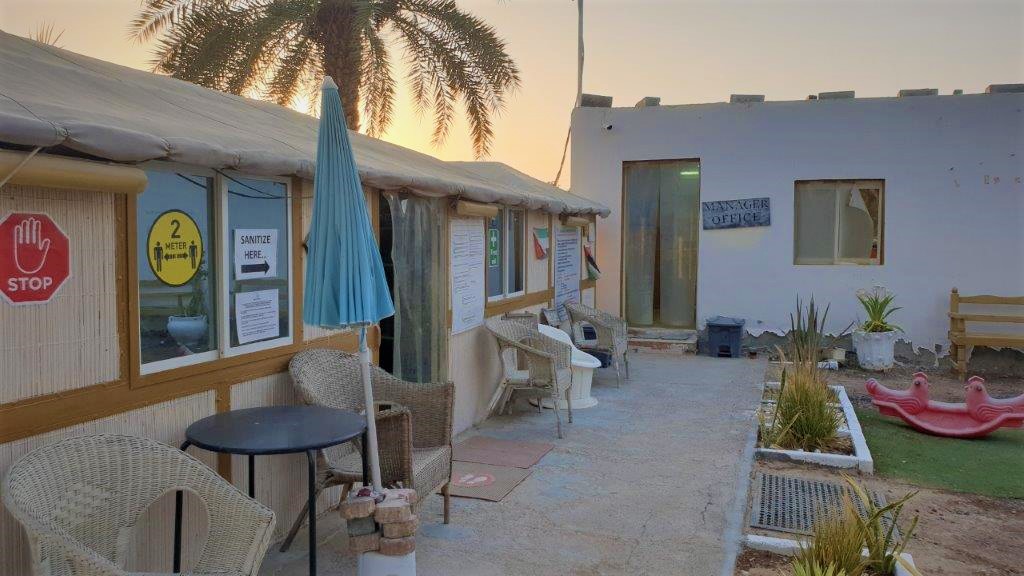 The Activities
As the weather is improving the club is in full swing with exciting new activities and things to do for the whole family.
Mums and Tots mornings – A Monday morning event for mums and kids to come out and enjoy an hour of pony riding and interaction with the team in the indoor arena, perfect for introducing your young ones to the pleasure of horse riding. Priced at only AED 30 it is a perfect option for toddlers and mums.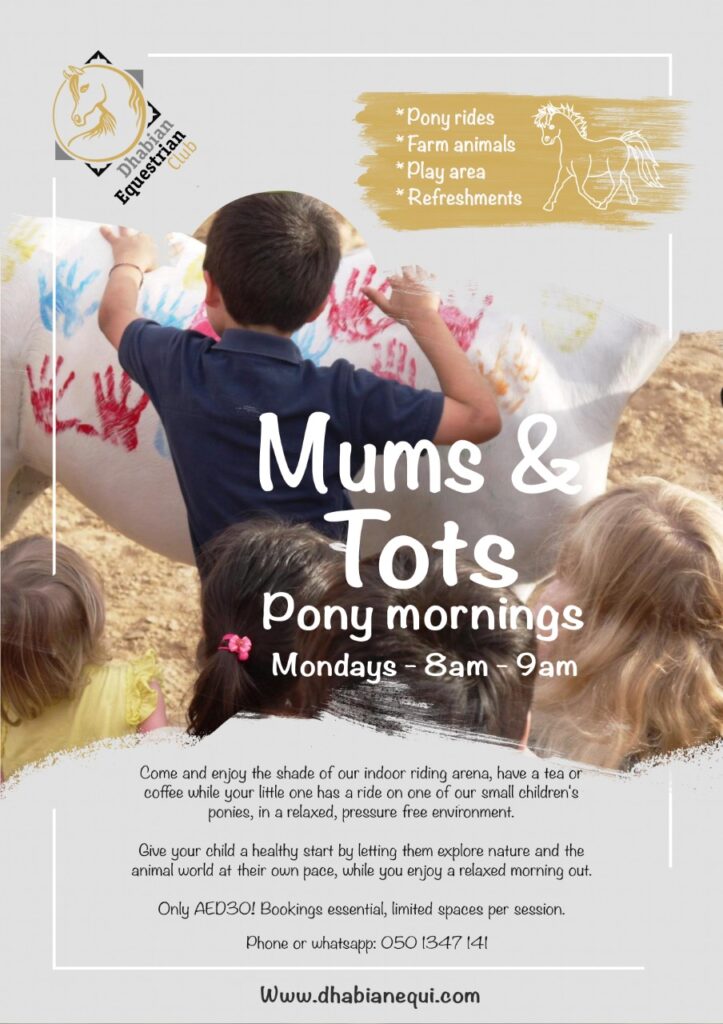 iRide – This is the flexible riding program; guest can choose the number of times / hours they want to ride each month and pay according. This caters to all ages starting from as low as age three.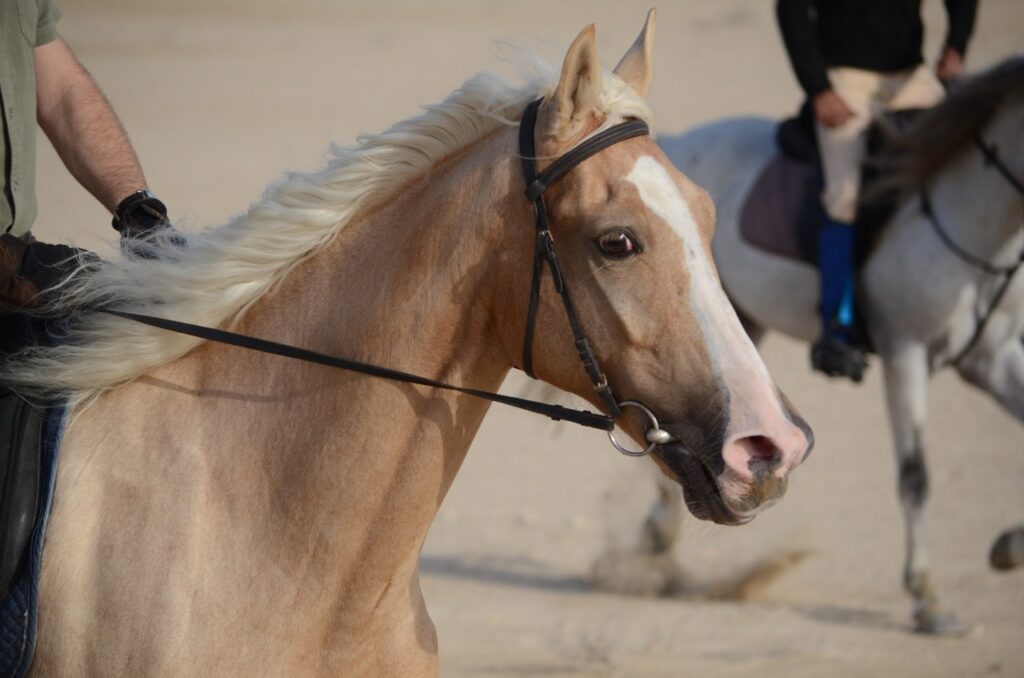 Dhabian Juniorz Club (DJ Club) – This is for the young ones who are mad about horses catering to kids form age 7 to 16. The kids come in on a Saturday, get to spend time with the horses working and learning all about them. This is a volunteer program where the kids get down and dirty with the horses and earn points, which can be used towards purchasing riding lessons or desert and beach rides.
Timings are 8 AM to 11 AM on Saturdays from October to April,
The pricing of activities and lessons at the club varies and members qualify for DEC Loyalty points which can be redeemed against lessons, beach and desert rides and more.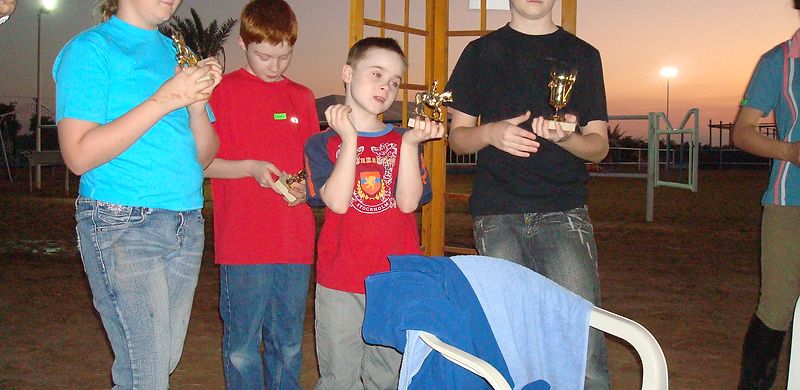 Mummiez Mornings – For mums who are passionate about riding, every Tuesday and Wednesday mornings mums come over for a 30-minute riding session and a cup of coffee.
Dhabian Moments – The club conducts a number of activities outside the club for seasoned riders, ranging form early morning or sunset beach trips to desert riding, perfect for the adventure seekers and the photographers.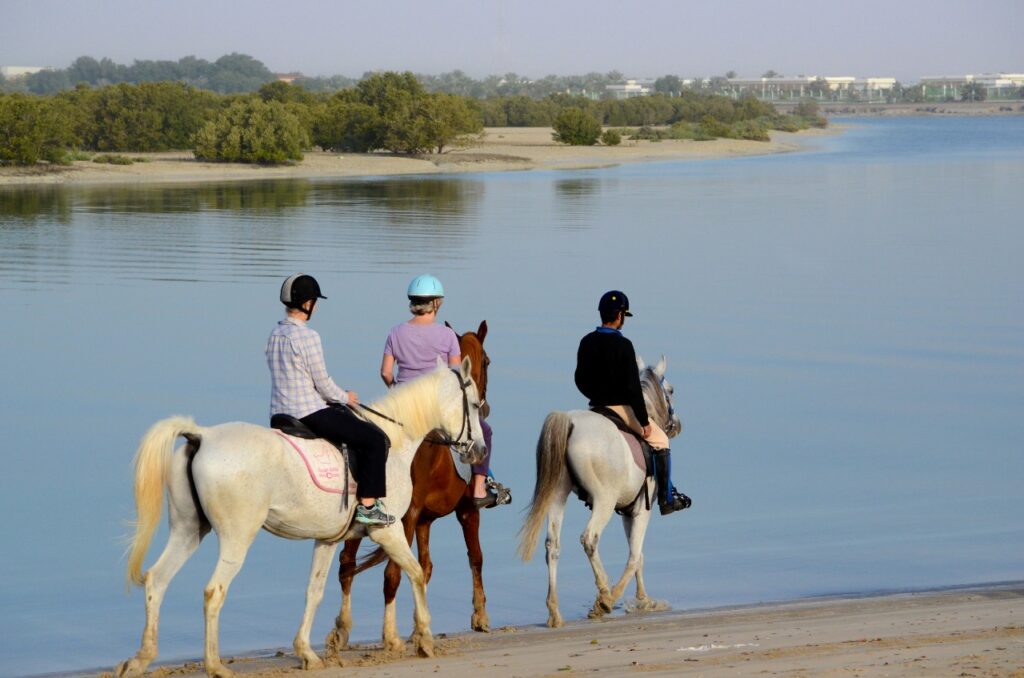 Trips are announced at regular intervals and one annual fixture is the trip to the Liwa Festival offering riders the chance to experience riding across the majestic red dunes of the Rub al Khali.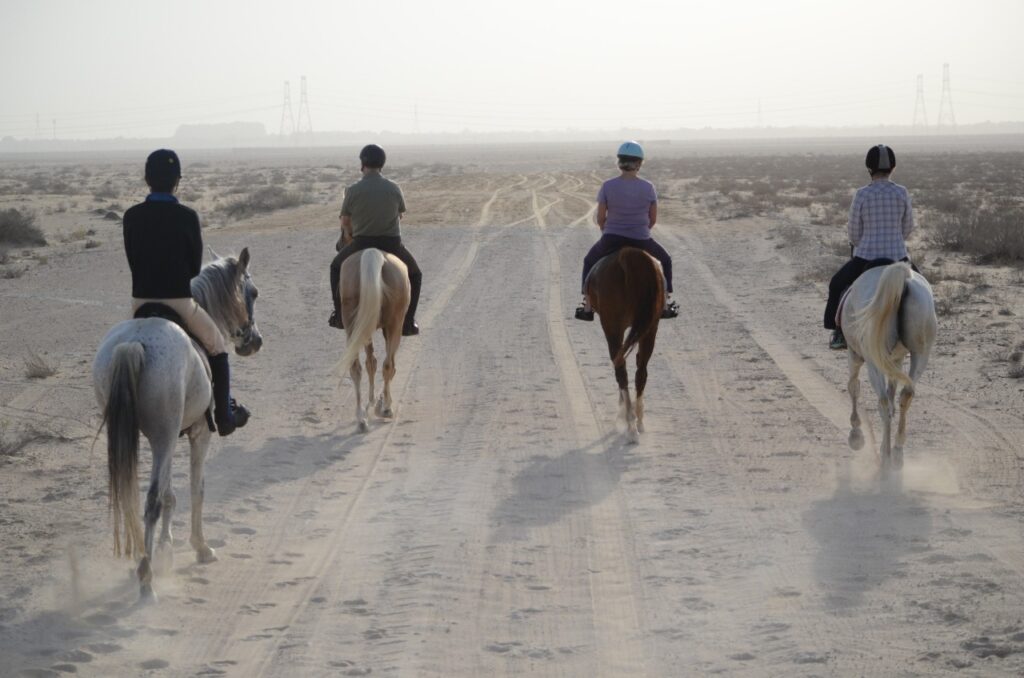 Dhabian Equestrian Academy – This is the teaching arm of the club that offers different programs catering to different ages including camp activities during the school breaks with the aim of teaching riding and caring for the horses from the ground up in a safe and educational environment.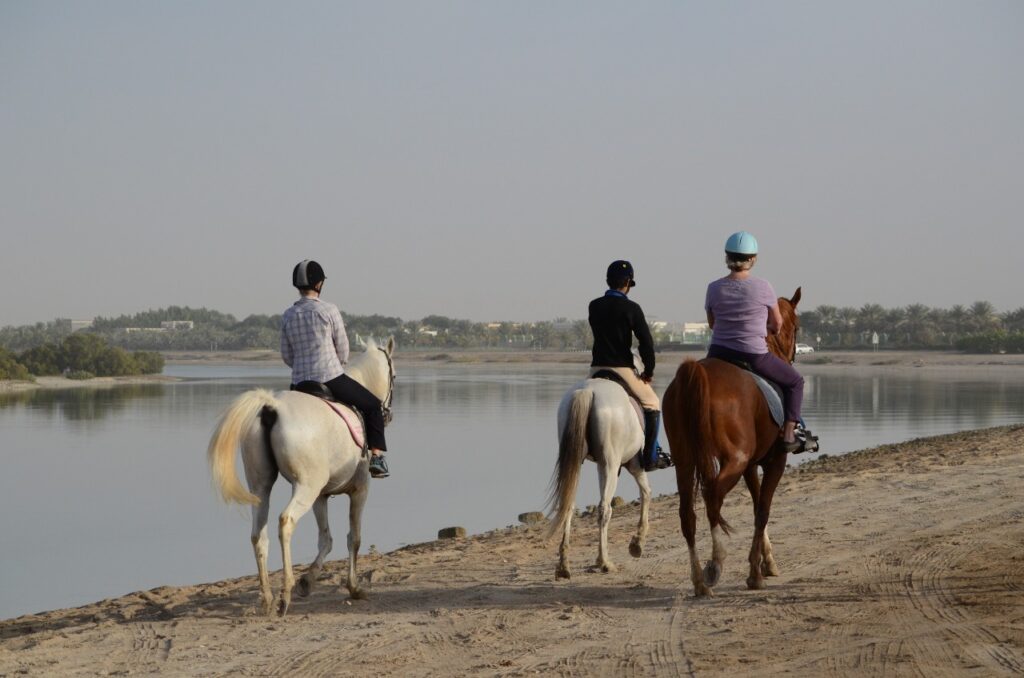 Filliez and Colts – This program caters to the ages 3 to 6 with lessons split over three sessions, the first 20 minutes is in the classroom, then 20 minutes of stable management and finally the last 20 minutes is for riding.
Equissentialz – Designed for the budding equestrian who wants to learn more, this is the foundation level of Dhabian Equestrian Club and all students will be assessed and then put in to the right level.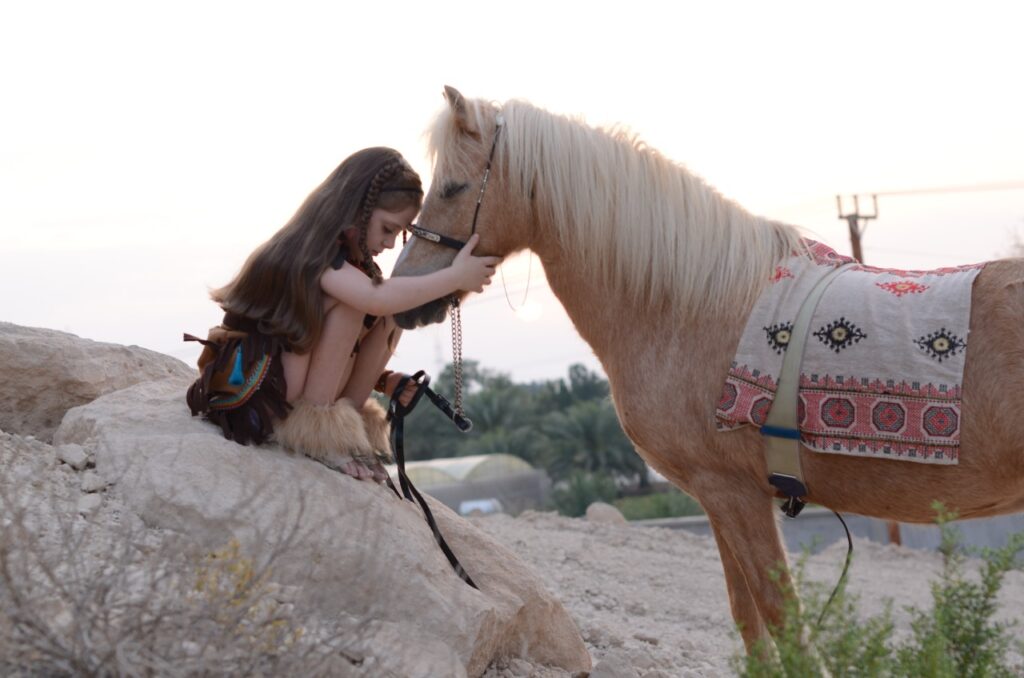 The program allows for 15 minutes in the stable and 30 minutes of riding to ensure that when the rider is learning about horse riding, they are learning from the ground up.
Camps – The academy also organizes camps for kids age 6 to 16 in school holidays.
The camps are one- and two-week programs where the students will learn everything from how to read a horse's body language to feeding treats and tacking up for their lesson.  
UKCC – The academy offers UK Equestrian Qualification courses in association with Horse Scotland. This is an equestrian coaching qualification perfect for budding instructors.
Endurance & Show Jumping – The club also has its own Endurance and Show Jumping team and take part in events regularly. Guests who are interested are encouraged to join.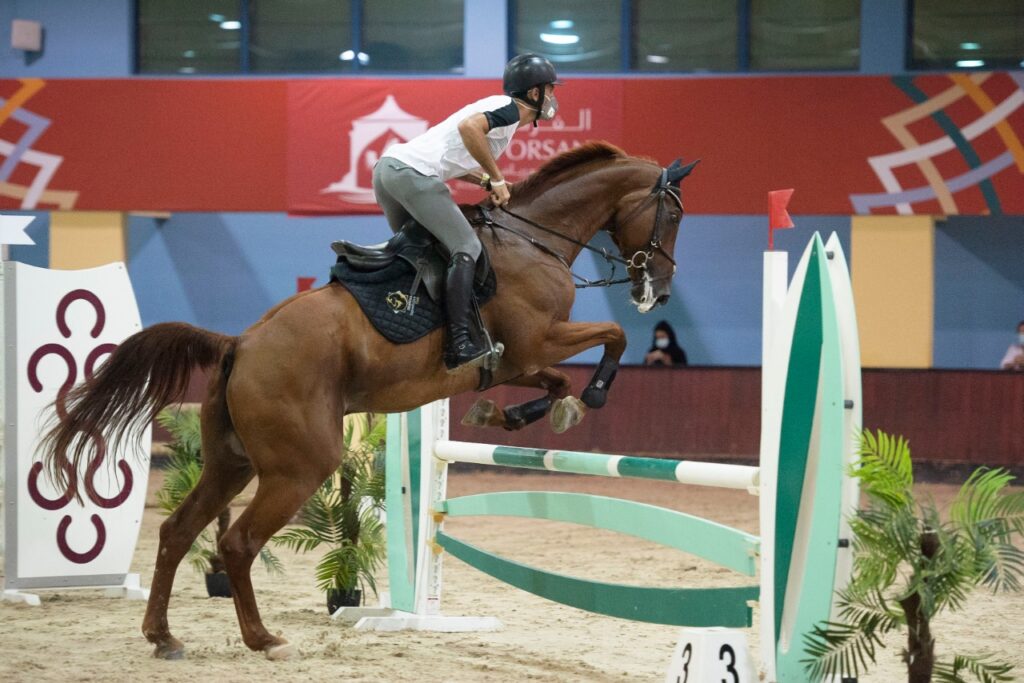 The Dhabian Al Khaleej Show Jumping lead by Khaled Al Qubaisi and the Endurance Team Lead by Tina Al Qubaisi can be seen competing regularly at major venues across the region with much success.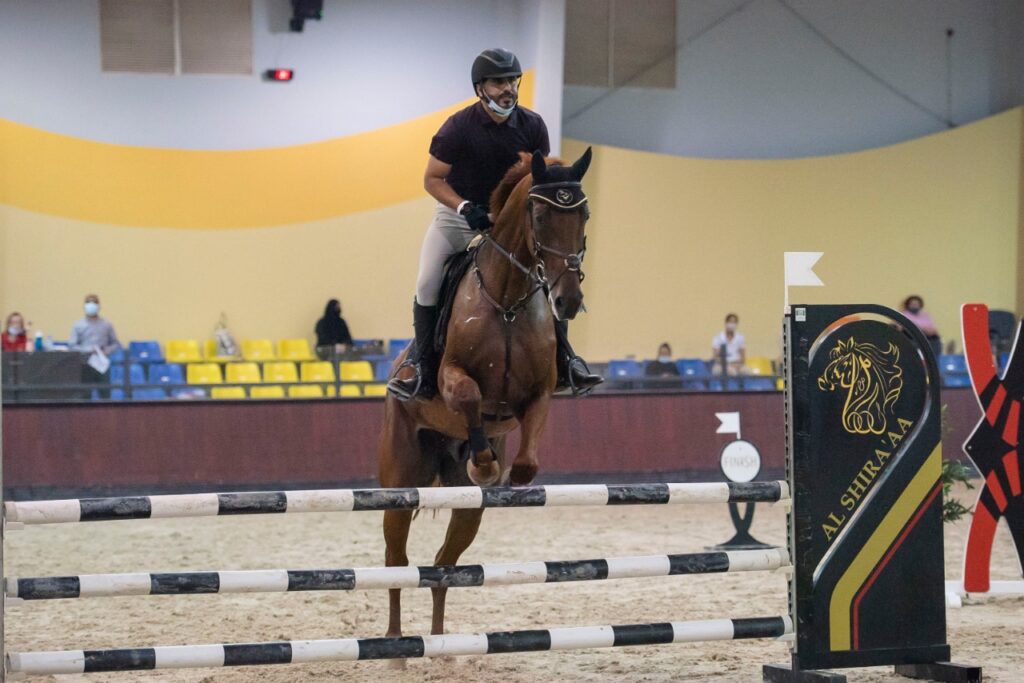 Hoofbeatz & Heartbeatz – Through this program Tina contributes to social causes, concentrating on one every month helping raise awareness.
The Dhabian Equestrian Club is not just about horses, apart from horses there are camels, goats and many more animals that kids can enjoy, they have plans for a petting zoo and growing their own fodder in the pipeline.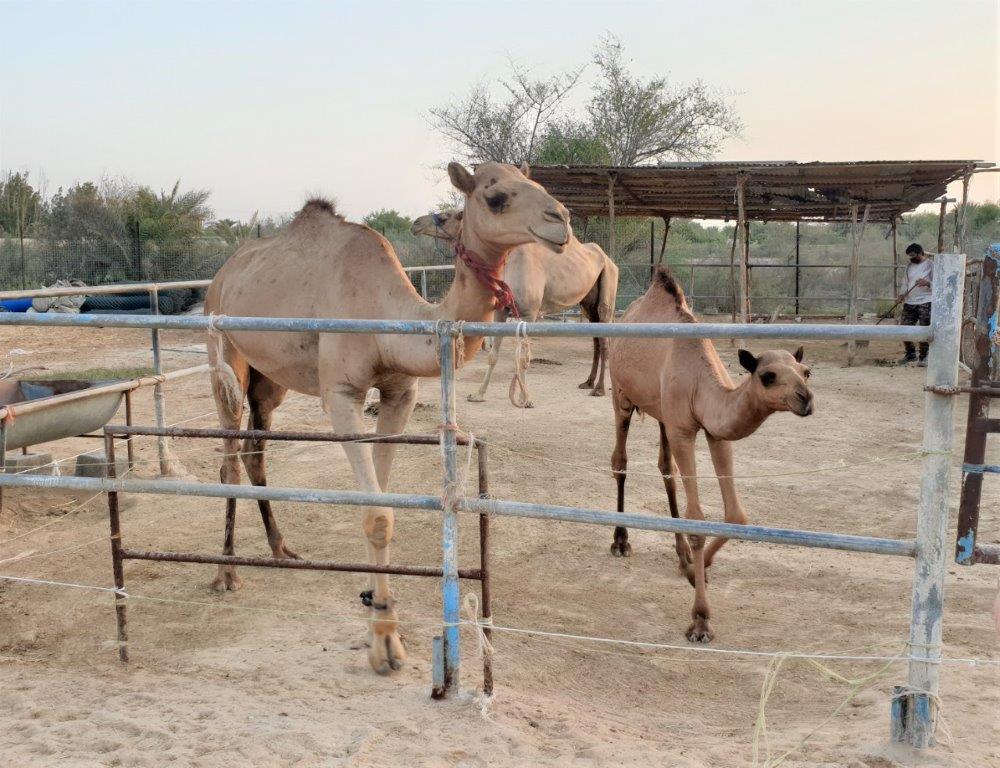 It is a destination in itself, be it riding, corporate events, private parties or just hanging out with animals and people who love them, the club offers it all.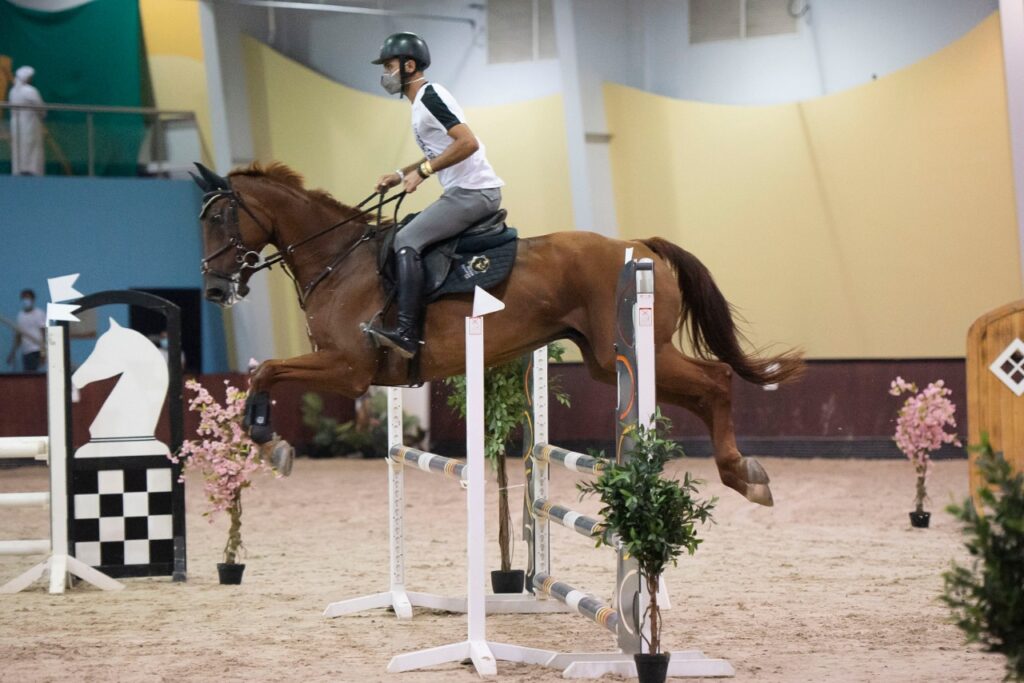 Come on over and hear horses whisper!
Contact
Phone – +971 56 331 3066 / +971 50 134 7141
Email – info@dhabianequi.com / info@dhabianec.ae
Website – https://www.dhabianequi.com/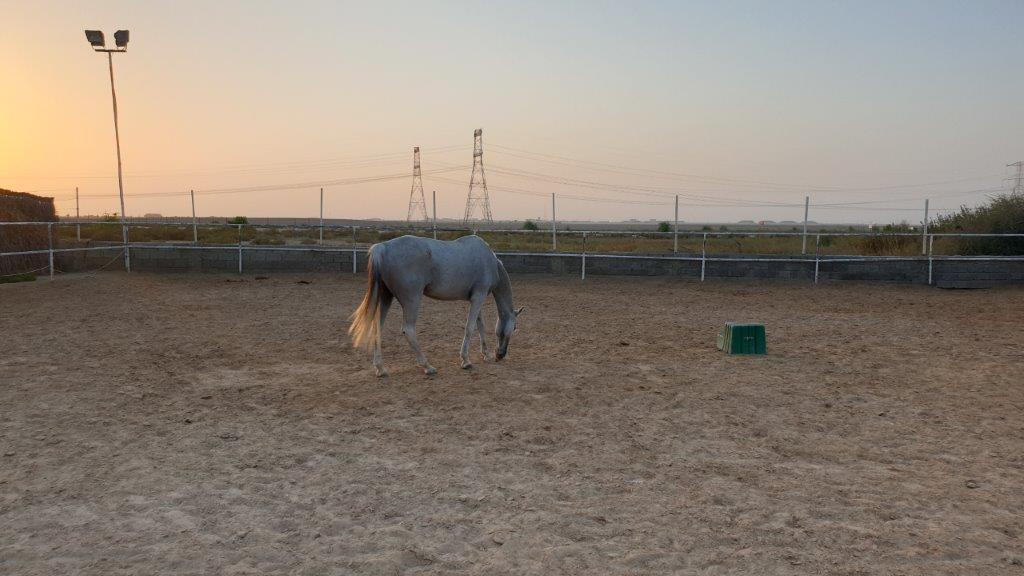 Map