UAE National Day Exclusive Staycation Offer at Andaz Capital Gate, Abu Dhabi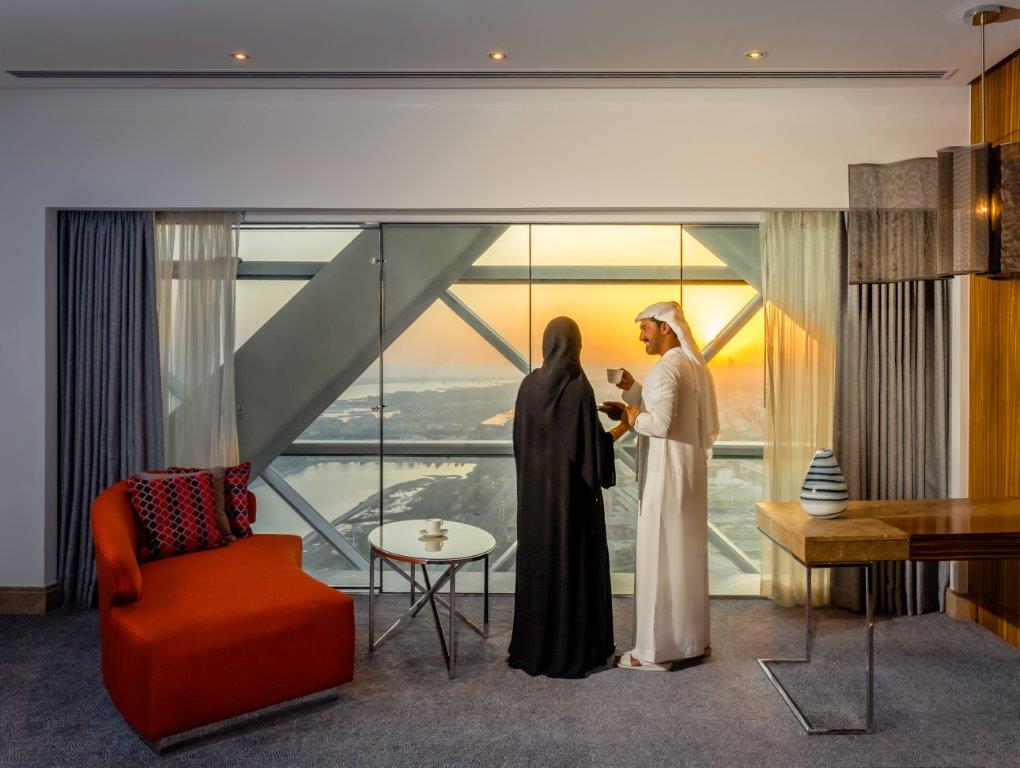 Andaz Capital Gate Abu Dhabi, the gateway to luxury and cultural immersion located in the world-renowned Guinness World Record-holding Leaning Tower of Abu Dhabi, invites you to commemorate the UAE National Day with an exclusive staycation offer in the heart of the iconic Leaning Tower of Abu Dhabi. This year, escape to the elegance of Andaz and create unforgettable memories with your loved ones.
Experience a National Day Staycation like no other, featuring a seamless blend of luxury, culture, and heritage. Andaz Capital Gate Abu Dhabi offers the perfect setting for both Emirati residents and guests from around the world to celebrate this significant day in the United Arab Emirates. This limited-time offer allows you to experience the very best in hospitality, sophistication, and comfort in one of the most distinctive landmarks in the region. Guests can revel in the following 2-night Iconic National Day Staycation package for just AED 999 per night:
Highlights of Andaz Capital Gate Abu Dhabi's Iconic National Day Staycation:
Luxurious Accommodation: Enjoy a lavish stay in our luxury art 5-star hotel, with stunning views of the Abu Dhabi skyline.
Special National Day Amenities: Receive a warm Emirati welcome with traditional sweets and Arabic coffee upon arrival.
Culinary Delights: Savor an exquisite record-breaking breakfast buffet at our signature restaurant, Cyan Brasserie, a French Arab restaurant, offering a rich array of locally-inspired and internationally blended delicacies. Apart from the complimentary breakfast, Staycation guests can avail 52% discount on food and soft beverages at Cyan Brasserie.
Heritage Experience: Immerse yourself in the local culture with a visit to the iconic landmarks nearby, including the breathtaking Sheikh Zayed Grand Mosque, just 10 minutes away from the hotel at your leisure.
Complimentary Parking: Enjoy hassle-free parking during your stay.
Late Checkout: Make the most of your National Day celebration with a late checkout at 4 pm, ensuring a leisurely departure.
Commenting on this special offer, Dominik Strobel, General Manager of Andaz Capital Gate Abu Dhabi, said, "The UAE National Day is a time of great pride and joy for all of us. We are thrilled to celebrate this important occasion with our guests by offering them a memorable and unique staycation experience. At Andaz Capital Gate Abu Dhabi, we believe in blending modern luxury with the essence of Emirati heritage, and our Iconic National Day Staycation embodies this spirit. We look forward to welcoming guests and creating lasting memories during this special time."
Andaz Abu Dhabi's National Day Staycation offer is valid from 1st December 2023 to 3rd December 2023 and can be booked by visiting our website https://www.hyatt.com/andaz/en-US/abdcc-andaz-capital-gate-abu-dhabi and using the special offer code UAE52 or by contacting our reservations team at [email protected] or +971 2 596 1234.