Extended brunches, drink deals and roaming entertainment for everyone heading to Yas Island, whether you're there for Race Week or not!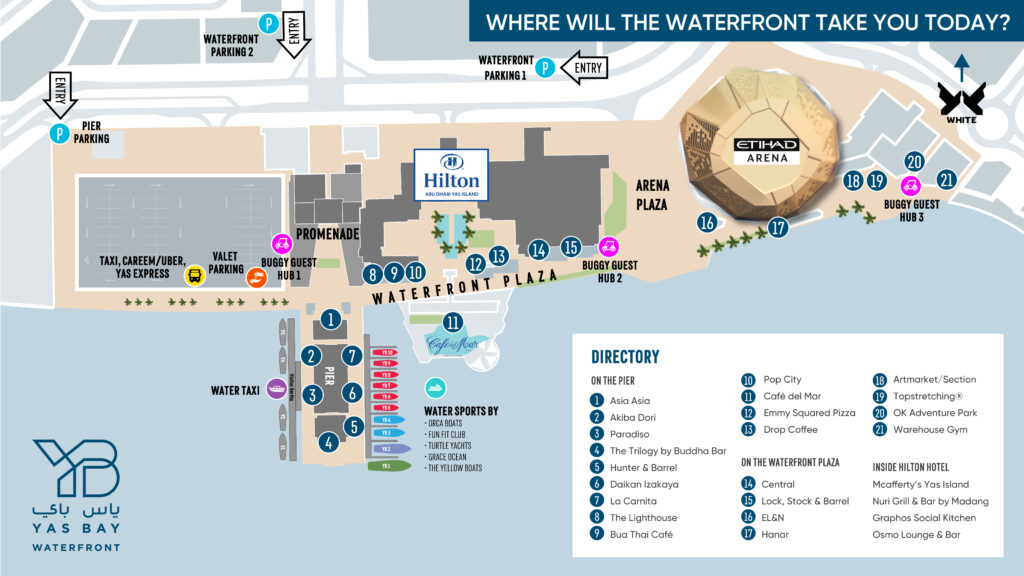 Since its opening two years ago, Yas Bay Waterfront on Yas Island has been popular for its irresistible offers. So, whether you're an F1 fan wanting to explore pre- and post-race hours or you're just looking to enjoy your week away from the overflow of crowd – here's why you should be heading to Yas Bay Waterfront.
Now, first step is heading there, if you're going by car, don't worry about the parking nightmare, just book a reservation at any of the 19 venues on Yas Bay Waterfront and enjoy free parking. Then hop on a buggy that will drop you right at your destination, because who wants to walk in killer heels right? If you don't have a car, Yas Bay Waterfront has got you covered!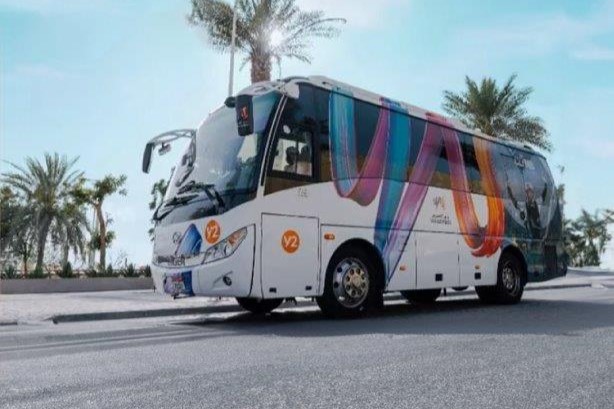 You can book a Careem and get 15% off your trip using the code YASBAY. You can also find plenty of free shuttle services with Yas Express and Abu Dhabi Bus dropping you right at your desired locations at Yas Bay Waterfront. But if you ask us what's our favourite way to get there, then it has got to be the water taxi, to make sure you arrive at your destination in style.
Every evening for race weekend from 24-26 November, you will be greeted by roaming entertainment and live music performances all over the boardwalk from 4:00pm onwards. Expect to bump into some magic acts, stilt walkers and buskers turning up the fun factor for kids and adults alike.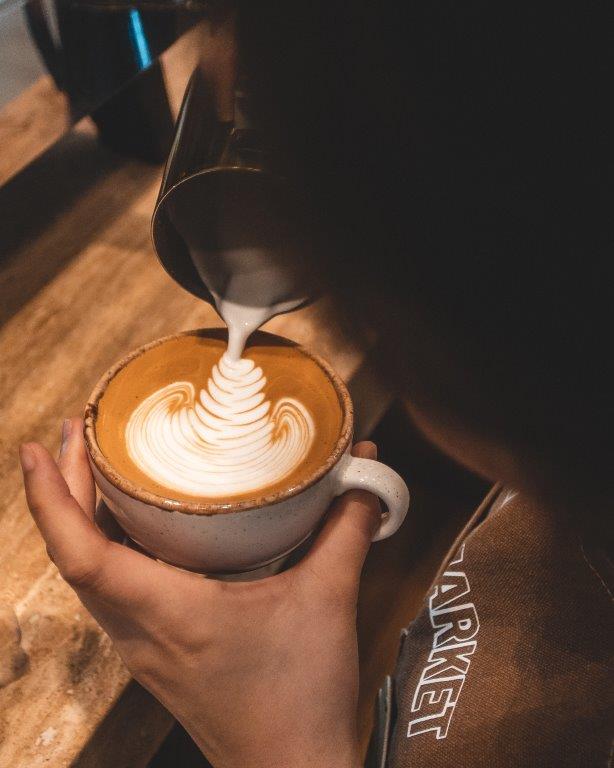 Artmarket
First pitstop is at Artmarket, fuelling up on their special F1 brunch offer that comes with their signature breakfast dishes combined with bottomless bellinis, Bloody Mary's and other selected cocktails starting at AED 199 from 9:00am till 1:00pm all race weekend from November 24 – 26.
For more information and reservations, please call 052 917 1523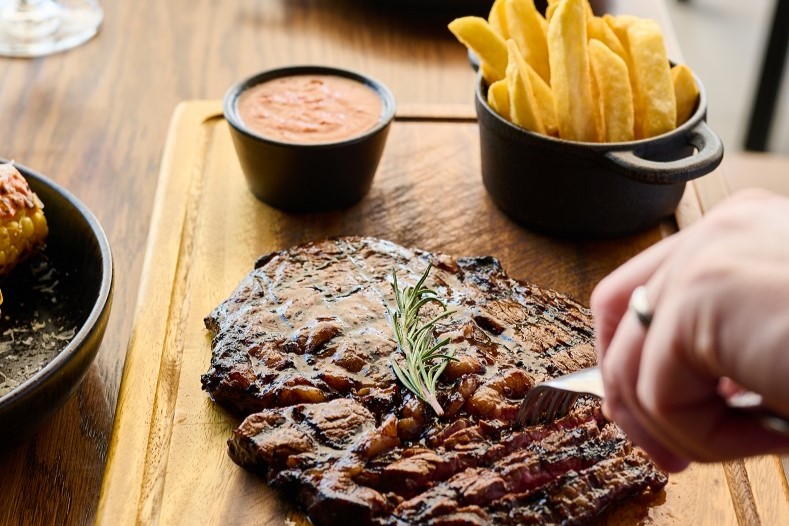 Lock Stock & Barrel
The UAE's most awarded and loved party bar, Lock Stock & Barrel is bringing its biggest and wildest brunch parties on Saturday November 25 and Sunday November 26. Join the fun and treat yourself to live music from 2:00pm to 5:00pm as they unleash confetti cannons, giant balloons and even a spot of bandeoke, all while feasting on unlimited food and drinks starting from AED 225. If you are just looking for a chilled evening of drinks with your friends, you can still enjoy their 'happy hour' offer with buy one get one free on selected beverages.
For more information and reservations, please email [email protected]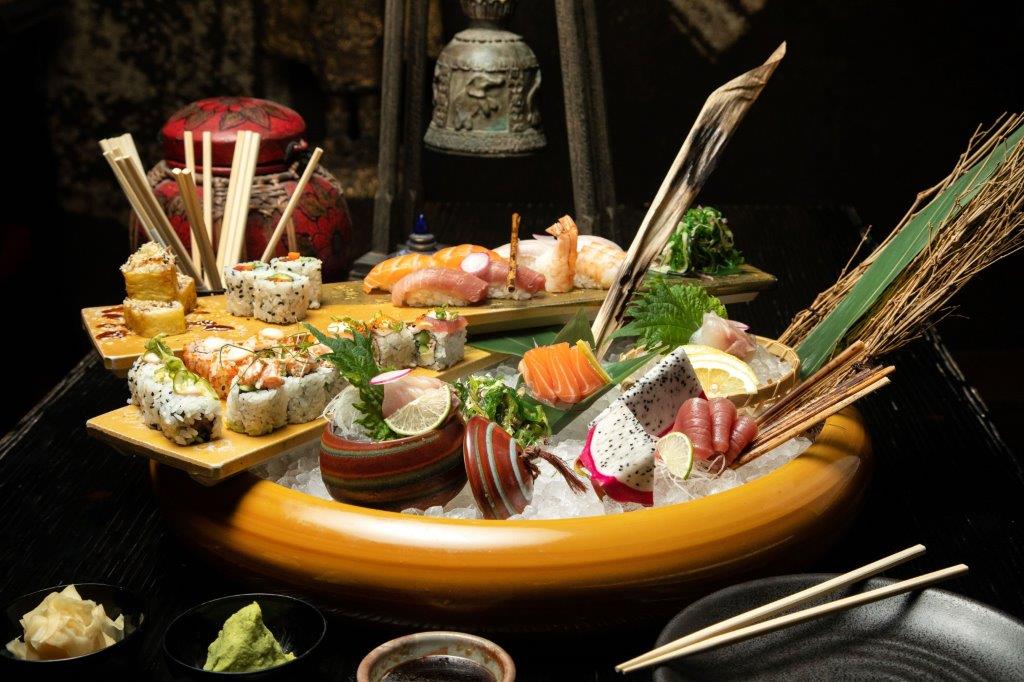 Asia Asia
Rev up your tastebuds for this culinary masterpiece and the country's most awarded Pan-Asian restaurant Asia Asia. Inspired by the ancient Spice Route and famed for its iconic waterfront views and stunning interiors, the Asian-themed restaurant is a checkpoint not to be missed during Race Week. Feast on their special 'Spice Route' brunch on Saturday and Sunday from 2:00pm – 5:00pm, where an eclectic four-course menu of chef's favourites is paired with bottomless cocktails, grape and spirits, starting from as low as AED 275.
For more information and reservations, please call 055 327 0430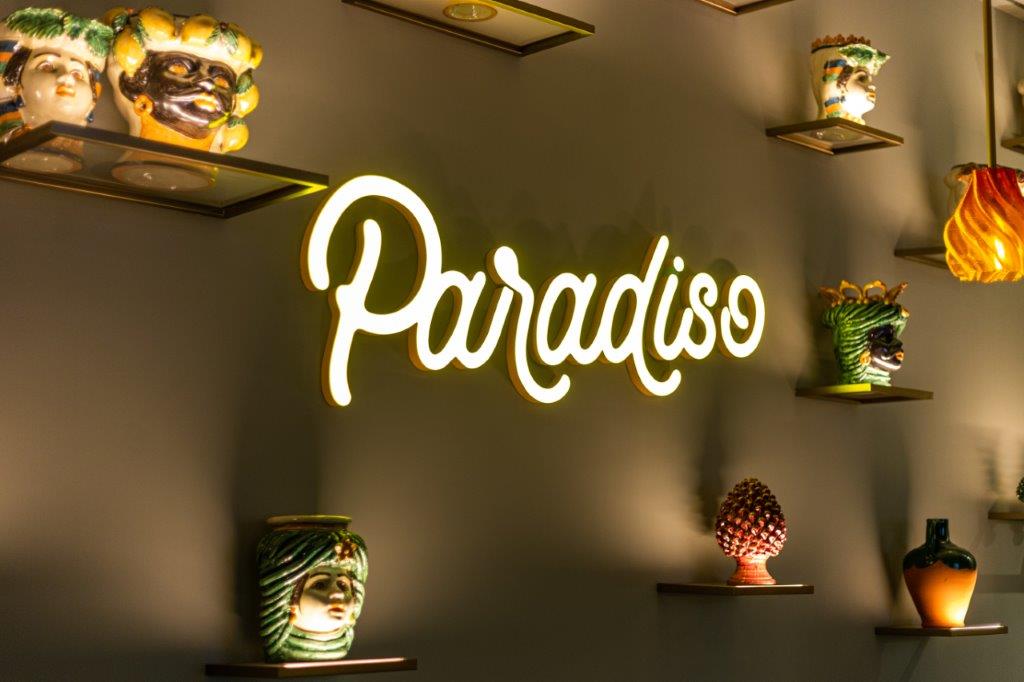 Paradiso
If you have a soft spot for flavours from Italy, then let's pull over the buggy at Paradiso and enjoy a unique experience based on love and passion for traditional Italian cuisine. During Race Week, you can enjoy any dish of your choice from their exquisite menu with a slashed priced in a special buy one, get one free offer.
Additionally, a 20% discount on the lounge menu allows you to sip away without worrying about breaking the bank. For F1 ticket holders, an exclusive set menu offer will be waiting for you for as low as AED 100 for the soft drinks package and AED 250 for the alcoholic beverages package. If you're not about the F1 hype and just here for business, invite your clients during Paradiso's 'Business Lunch' every Monday to Friday from 12:00pm – 4:00pm, starting at just AED110 per person.
For more information and reservations, please call 050 437 2869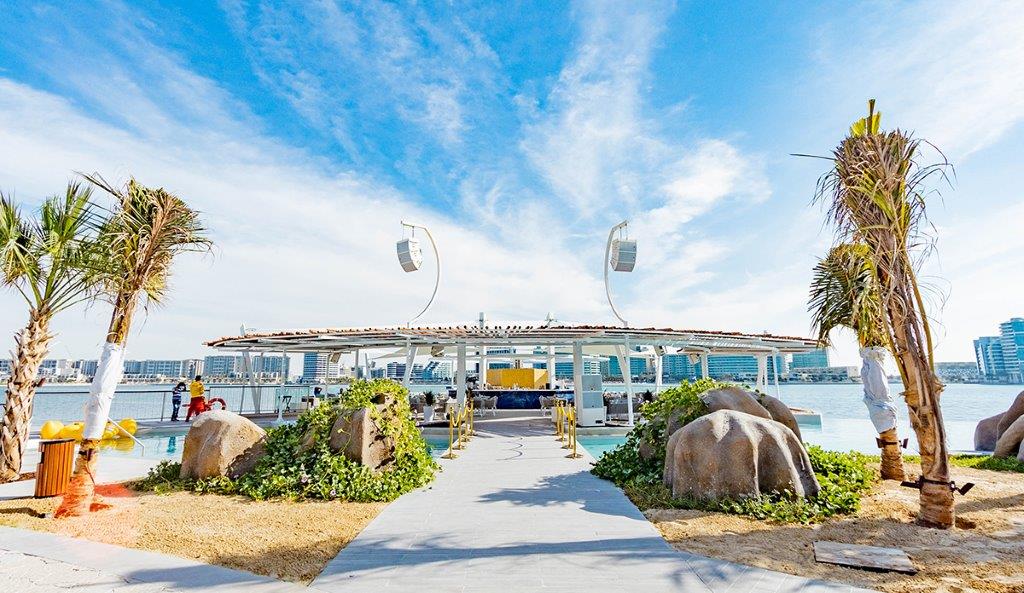 Café Del Mar's
We hope you brought your swimming suits because we'll be taking a dive into Café Del Mar's endless pool overlooking the mesmerising waters of the Arabian Gulf, perfect during sunset. Enjoy their poolside vibes with sizzling BBQ, live entertainment and endless selected bevvies during their F1 weekend 'Brunch by the Pool' offer at AED 499.
For more information and reservations, please call 050 402 2283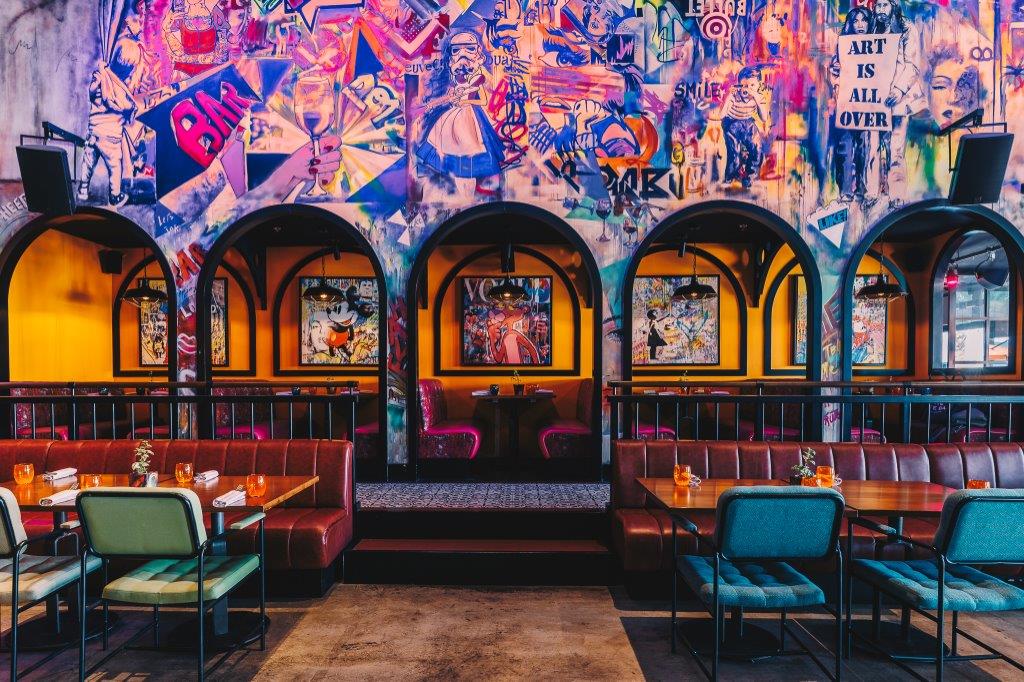 Central
Our next stop is the vibrant Central, best known for their burgers, beats and bowling. With an interior inspired by the bustling streets of New York City, Central is home to a huge arcade section loaded with epic games ranging from retro to futuristic. During Race Week, you can treat yourself with their special buy one, get one deal on selected beverages from 12:00pm – 8:00pm. For a casual family outing, ask about their 'Ready, Set Brunch' offer happening on Saturday November 25 from 1:00pm to 4:00pm with packages starting at just AED 150 for kids and AED 250 for adults, and for the cherry on top, kids under five eat for free!
For more information and reservations, please call 058 587 1765 or email [email protected]
The Lighthouse Restaurant & Bar
Next in line is our beloved hangout spot The Lighthouse Restaurant & Bar. You can enjoy a fresh breeze of air at their newly opened terrace while enjoying two bar bites and two drinks from their special pitstop menu for Race Week for only AED120.
For more information and reservations, please email [email protected]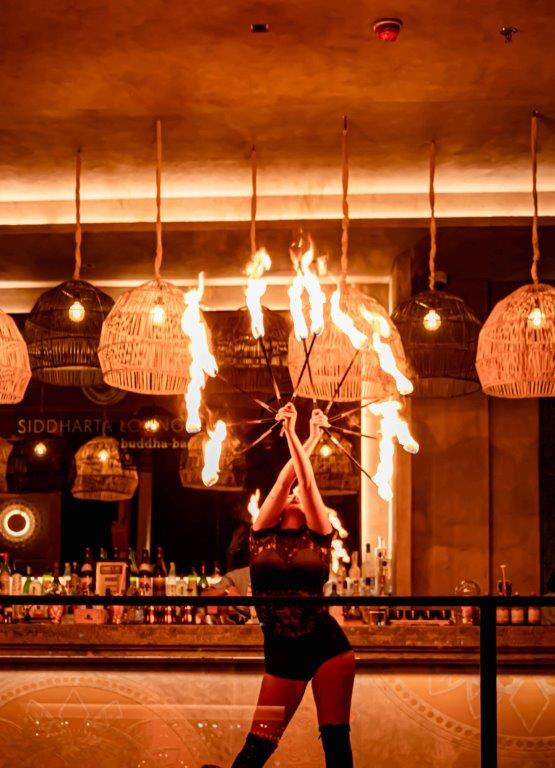 Siddhartha Lounge by Buddha Bar
What about a fine rooftop dine overlooking the crystal blue waterfront? Siddhartha Lounge by Buddha-bar is IT. Step into the enchanting world of boho as Darko De Jan spins the decks on Saturday, November 25 and get a chance to catch the F1 fireworks and show from Yas Island.
For more information and reservations, please call 050 601 1194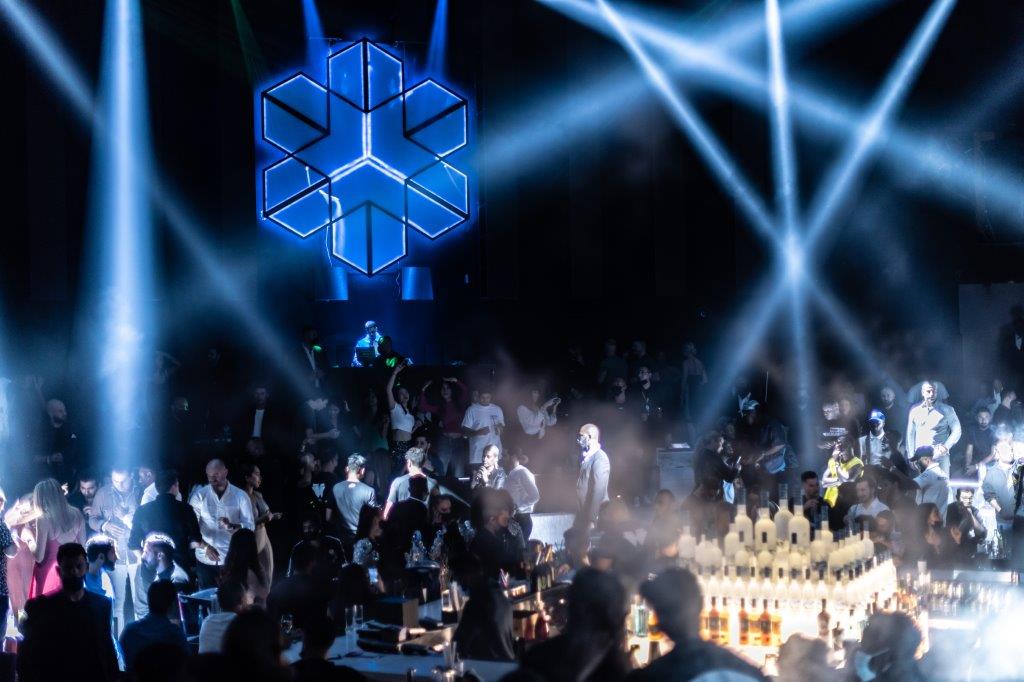 WHITE, Abu Dhabi
If you are still tagging along, this last stop will deplete all your energy as WHITE Abu Dhabi, the region's number one indoor night club is bringing in two very special guests during F1 weekend with JaRule bringing in his OG hip-hop style performance to the stage on Friday November 24. The following day will be as thrilling with the Grammy award winning artist Black Coffee gracing the stage with his house beats.
For more information and reservations, please call 050 639 8934